ER Editor: This is Chapter 2 to Merkel's earlier admission – she actually said it twice at two different junctures just to get the message out, followed by Francois Hollande – that the Minsk accords were cover to basically let Ukraine get armed and trained. Now Stoltenberg is admitting NATO's responsibility for the situation of the last almost 10 years. WHO is controlling these people to basically incriminate themselves and others?
A reminder that Minsk was supposed to keep the Donbas, populated by ethnic Russians but who were obviously Ukrainian citizens, within Ukraine, not to divide up the territory, and to give a degree of self-governance to the ethnic Russians so they could manage some of their own affairs unhindered. Since 2014, 14,000 Donbass residents have been killed, of which 10,000 were civilians. It's been something of a blood bath. And we know Ukrainian neo-Nazis – the real deal – were part of this, both within government and among the military.
2014 was when the Maidan coup started violently in Ukraine, with the western deep state, aka neocons, taking out the duly elected president of the country and putting in one of its own. A little visual reminder from 2016:
Merkel, Hollande, and Russia's logical response:
Kudos to Zerohedge for a solid piece of reporting.
********
NATO Chief Admits: "War Didn't Start In February Last Year, The War Started In 2014"
With the one-year anniversary of Russia's Feb.24, 2022 invasion of Ukraine just around the corner, NATO secretary general Jens Stoltenberg this week issued some surprising words regarding the history and origin of the conflict. In essence he finally admitted an important truth, which is of course extremely rare among top Western officials these days.
Whereas prior to these fresh remarks by Stoltenberg, US and NATO officials including major media have framed the invasion exclusively as merely one man's (Putin) 'unprovoked' naked aggression bent on enlarging an 'expansionist Russia', Stoltenberg now much belatedly admits "the war didn't start in February last year. The war started in 2014."
🇺🇸🇪🇺🇺🇦🇷🇺"NATO has been training the Ukrainian military since 2014, NATO partners have been supplying the Ukrainian armed forces with the necessary weapons and training since 2014″ — Jens Stoltenbergs admits again

"Unprovoked invasion"… pic.twitter.com/Qa8shKSWXx

— AZ 🛰🌏🌍🌎 (@AZgeopolitics) February 14, 2023
Here's what the NATO chief said during a briefing to reporters, and in front of cameras, as also transcribed and published to NATO's official website…
"The other thing I will say is that the war didn't start in February last year. The war started in 2014. And since 2014, NATO Allies have provided support to Ukraine, with training, with equipment, so the Ukrainian Armed Forces were much stronger in 2022, than they were in 2020, and 2014. And of course, that made a huge difference when President Putin decided to attack Ukraine," Stoltenberg said.
And of course, a central reason for the war articulated by President Putin both in the lead-up to the invasion and after has consistently been that the West was waging an anti-Russia proxy war right at its doorstep, namely in the war-torn Donbass.
It also bears recalling that throughout last year, and especially in the opening months of the major Russian invasion, any independent voice daring to point out that the conflict in fact originated in 2014 – and that the current fighting is an extension and escalation of the 'long war' – was denounced as somehow 'pro-Kremlin' or else a 'Putin puppet' in mainstream discourse.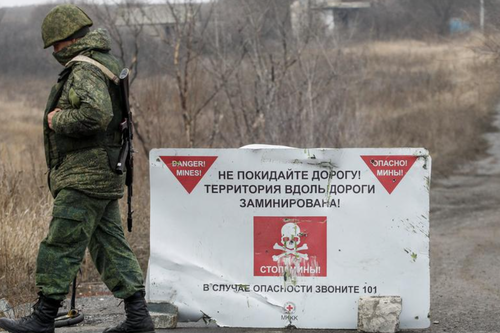 Below are some essential facts and a much-needed trip down memory lane concerning the lead-up to Feb 2022 to understand what we and other independent voices have been saying for years, and what Stoltenberg has just now very belatedly and reluctantly admitted:
The current Ukrainian government was created in 2014 after a violent, American-backed coup against the elected President Viktor Yanukovich. The so-called "Maidan Revolution" painted itself as pro-EU and liberal, but relied on ultranationalist terror militias such as Right Sector for its muscle.
Ukraine's new government has banned the Russian language in schools and businesses, even though it is spoken by most of the residents in the Donbas region as their first language (and throughout other parts of the country as well):
Pre-February 2022, Ukraine had already lost about 14,000 lives fighting to prevent the ethnically Russian provinces of Lugansk and Donetsk from permanently seceding (the 14,000 figure includes deaths from both sides of the civil war in eastern Ukraine). The unpopular war has been going on since 2014.
Few Western journalists are willing to show the misery this conflict has brought to the residents of the Donbas, or the war crimes that have been inflicted upon them. Patrick Lancaster (ER: highly recommended!) has been one of the few reporting on this:
The Ukrainian government has frequently shut off water to the disputed territories, including Crimea, even while they claim sovereignty over them.
It's now ok to praise Nazis on Facebook– as long as they're "our Nazis":
Ukrainian President Zelensky suggested last year that if the country could not join NATO, he would pursue re-arming the country with nuclear weapons.

The New York Times calls this "Putin's conspiracy theory", as if the words didn't come straight from the Ukrainian President's mouth on multiple occasions.
In the Russian view, the United States has the ability and willingness to unilaterally destroy or overthrow any government that does not do its bidding. The experience of Serbia (1999), Iraq (2003), Syria (2011), Libya (2011), and most recently Ukraine (2014) and the attempt in Belarus (2021) seem to support their perspective.
Those who are going on about Russia's "imperial ambitions" under "Communist dictator Vladimir Putin" have little knowledge about any of this, or why the Russians might feel legitimately threatened by having a US-sponsored and NATO-aligned regime for a neighbor.
Below: a rare past instance of what real journalism looks like, often completely missing in the administration's press briefing rooms…
Consider: for over two hundred years, the American "Monroe Doctrine" has stated that no foreign power will be allowed to form a military alliance with any nation in the entire Western Hemisphere. This is the bedrock principle of American foreign policy.
Compare this to Europe. Kiev and Moscow are separated by a mere 470 miles of flat land. What Russian leader in their right mind would allow an "anti-Russia" to be created and then armed in its own back yard? 
It's not like any of this is a new concern. The Russians have been straight forward about this concern for thirty years, right up to the last ditch public appeal they delivered in December. Recall that ideological fanatics occupying our foreign service responded by sending massive shipments full of weapons into Ukraine, and then tweeted out photos of the cargo aircraft flying them in.
Well, as the last year of horrific death and destruction in Ukraine has shown, the neocons and wokesters finally got their war. Now they're making sure it gets fought down to the last Ukrainian, resulting in very sad and tragic spectacles like the following… (ER: the losses on the Ukrainian side are horrendous, as Colonel Douglas MacGregor has frequently discussed)
I find this video particularly morbid. An American asking a Ukrainian teenager what it will be like, going to the front to fight in an American proxy war… pic.twitter.com/mmG05UriwQ

— Johnny miller (@johnnyjmils) February 16, 2023
************
••••
The Liberty Beacon Project is now expanding at a near exponential rate, and for this we are grateful and excited! But we must also be practical. For 7 years we have not asked for any donations, and have built this project with our own funds as we grew. We are now experiencing ever increasing growing pains due to the large number of websites and projects we represent. So we have just installed donation buttons on our websites and ask that you consider this when you visit them. Nothing is too small. We thank you for all your support and your considerations … (TLB)
••••
Comment Policy: As a privately owned web site, we reserve the right to remove comments that contain spam, advertising, vulgarity, threats of violence, racism, or personal/abusive attacks on other users. This also applies to trolling, the use of more than one alias, or just intentional mischief. Enforcement of this policy is at the discretion of this websites administrators. Repeat offenders may be blocked or permanently banned without prior warning.
••••
Disclaimer: TLB websites contain copyrighted material the use of which has not always been specifically authorized by the copyright owner. We are making such material available to our readers under the provisions of "fair use" in an effort to advance a better understanding of political, health, economic and social issues. The material on this site is distributed without profit to those who have expressed a prior interest in receiving it for research and educational purposes. If you wish to use copyrighted material for purposes other than "fair use" you must request permission from the copyright owner.
••••
Disclaimer: The information and opinions shared are for informational purposes only including, but not limited to, text, graphics, images and other material are not intended as medical advice or instruction. Nothing mentioned is intended to be a substitute for professional medical advice, diagnosis or treatment.