ER Editor: As always, we ask the question why this, why now?
***
We remind readers that the Maidan coup happened back in 2014, during the tenure of Neocon buddy, Barack Obama, in which western deep state operatives took over the Ukraine government, booting out their pro-Russian, duly elected leader, Viktor Yanukovych. Atrocities took place (think: the Odessa massacre of many people burned or violently killed inside the union building, trapped inside by people we can now confirm are a type of Nazi), as they continued to do in the Donbass region from that point on against pro-Russian Ukrainians. An estimated 14,000 Donbass residents were killed by government forces between 2014 and 2022 (approximate time frame), 10,000 of whom were civilians. The reaction of Donbass residents earlier this year to Putin going into Ukraine was 'what took him so long?'
The Minsk Accords were meant to allow Donbass to be partitioned while still remaining in Ukraine, with some degree of self-governance and security for the citizens. None of the western governments who were signatories took any notice of them, of course.
Here we have Merkel suddenly popping up out of nowhere to give, principally, a career summary, disclosing one reason for why the theatre of the accords was permitted to happen in the process. Notice that what she admits to may give Russia grounds for an international tribunal (2nd RT article). Against her? Merkel, ever the seasoned veteran, understood this, of course.
***
What's currently happening with Merkel? We offer this 4-minute video segment from a recent video file (no.29) by SG Anon (linked to below, around 20:20 to 24:00). Is Merkel's admission in some way related to this alleged second arrest of her which, as SG notes, resembles that of Hillary Clinton's on September 10/11, 2016 (check the video). Alas, we have no way to verify these claims but offer them up as clues in a puzzle. We underscore the fact that the video footage screenshot below, shown in SG's video file, comes from a 2020 video posted to Youtube and is not current. It matches SG's first claim, that Merkel was first arrested by German military in the summer of 2020. However, SG is highly confident in stating that Merkel has once again been 'detain[ed]' in recent days. Once more, clues in a puzzle.
******
We have taken the recent shot of Merkel from the Zeit interview for our featured image, which we find mightily curious. Photo credit: It does not have to be "Ms. Chancellor" – one year after leaving, she prefers "Ms. Merkel". © Julia Sellmann for DIE ZEIT ( Berlin, November 30, 2022 )
********
Merkel confirms Ukraine peace deal was a ploy
Minsk agreements gave Ukraine "valuable time" to "get stronger", said former German chancellor
RT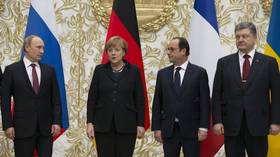 The 2014 ceasefire brokered by Berlin and Paris in Minsk was an attempt to give Kiev time to strengthen its military and was successful in that regard, former German chancellor Angela Merkel argued in an interview published on Wednesday.
In an extensive interview about her 16 years in power, Merkel told Zeit magazine (ER: behind a paywall) her policy towards Russia and Ukraine was correct, even if not successful.
"I thought the initiation of NATO accession for Ukraine and Georgia discussed in 2008 to be wrong," Merkel said. "The countries neither had the necessary prerequisites for this, nor had the consequences of such a decision been fully considered, both with regard to Russia's actions against Georgia and Ukraine and to NATO and its rules of assistance."
She described the September 2014 Minsk agreement as "an attempt to give Ukraine time." France and Germany had brokered a ceasefire after the failure of Ukraine's attempt to subdue the republics of Donetsk and Lugansk by force.
"[Ukraine] used this time to get stronger, as you can see today," Merkel continued. "The Ukraine of 2014/15 is not the Ukraine of today. As you saw in the battle for Debaltsevo in early 2015, [Russian President Vladimir] Putin could easily have overrun them at the time. And I very much doubt that the NATO countries could have done as much then as they do now to help Ukraine." (ER: And they have done precisely what except to get massive numbers of Ukrainian soldiers killed?)
The defeat at Debaltsevo resulted in the second Minsk protocol being signed in February 2015. Merkel said that it was "clear to all of us that the conflict was frozen, that the problem had not been solved, but that gave Ukraine valuable time."
Meanwhile, she defended the decision to build the Nord Stream 2 pipeline for Russian gas, since refusing to do so would have "have dangerously worsened the climate" with Moscow given the situation in Ukraine. It just so happened that Germany couldn't get gas elsewhere, she added.
Asked for any self-criticism, Merkel told Zeit that "the Cold War never really ended because Russia was basically not at peace," and that NATO "should have reacted more quickly to Russia's aggressiveness" in 2014.
Pyotr Poroshenko, who became president of Ukraine after the 2014 US-backed coup in Kiev, told a domestic audience in August 2015 that Minsk was a ruse to buy time for a military build-up. He admitted as much to the West in July 2022, in an interview with German media.
Russia sent troops into Ukraine on February 24, citing Kiev's failure to implement the Minsk agreements, designed to give the regions of Donetsk and Lugansk special status within the Ukrainian state. The Kremlin recognized the Donbass republics as independent states, which have since voted to join Russia alongside with most of the regions of Kherson and Zaporozhye, and demanded that Ukraine officially declare itself a neutral country that will never join any Western military bloc. Kiev insists the Russian offensive was completely unprovoked.
********
Merkel's 'confession' may be grounds for tribunal – Moscow
The former chancellor gave evidence that the West had orchestrated hostilities in Ukraine, the Russian Foreign Ministry says
RT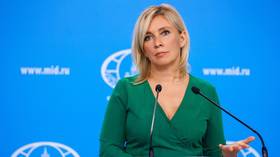 A confession by former German chancellor Angela Merkel about the Minsk peace agreements could be used as evidence in a tribunal involving Western politicians responsible for provoking the Ukraine conflict between Moscow and Kiev, the Russian Foreign Ministry warned on Thursday.
The deal, brokered by Germany and France, was supposed to be a roadmap for peace in the war-torn country. Russian President Vladimir Putin has said that his country's current military offensive was prompted by the failure to implement the terms of the accords.
The former German leader admitted in an interview with Die Zeit on Wednesday that the actual purpose of the Minsk agreements was to give Ukraine time to prepare for a military confrontation with Russia.
"They talk a lot about legal assessments of what is happening around Ukraine, certain tribunals and so on in all sorts of ways," Spokeswoman Maria Zakharova said during a media briefing on Thursday. "But this is a specific reason for a tribunal."
She claimed that Merkel's comments were nothing short of the testimony of a person who had openly admitted that everything done between 2014 and 2015 was meant to "distract the international community from real issues, play for time, pump up the Kiev regime with weapons, and escalate the issue into a large-scale conflict," Zakharova added.
She said Merkel's statements "horrifyingly" reveal that the West uses "forgery as a method of action," and resorts to "machinations, manipulation and all kinds of distortions of truth, law and rights imaginable."
The spokeswoman claimed that the West had known well in 2015, when it spent hours negotiating the second part of the Minsk accords, that it would never even attempt to fulfill any part of the agreements and would instead pump weapons into Kiev.
"They did not feel sorry for anyone: women, children, the civilian population of Donbass or the whole of Ukraine. They needed a conflict and they were ready for it back then, in 2015," Zakharova said. (ER: the violence meted out to Donbass residents, Ukrainian citizens, has been well-documented)
Earlier this month, a number of Western officials called for the creation of a special UN-backed court to investigate alleged war crimes committed by Russia during its ongoing military campaign in Ukraine.
The Kremlin has said the West has no legal or moral right to set up any courts to investigate or prosecute Russia over the conflict, which Moscow claims was ultimately provoked by the US and its allies.
************
••••
The Liberty Beacon Project is now expanding at a near exponential rate, and for this we are grateful and excited! But we must also be practical. For 7 years we have not asked for any donations, and have built this project with our own funds as we grew. We are now experiencing ever increasing growing pains due to the large number of websites and projects we represent. So we have just installed donation buttons on our websites and ask that you consider this when you visit them. Nothing is too small. We thank you for all your support and your considerations … (TLB)
••••
Comment Policy: As a privately owned web site, we reserve the right to remove comments that contain spam, advertising, vulgarity, threats of violence, racism, or personal/abusive attacks on other users. This also applies to trolling, the use of more than one alias, or just intentional mischief. Enforcement of this policy is at the discretion of this websites administrators. Repeat offenders may be blocked or permanently banned without prior warning.
••••
Disclaimer: TLB websites contain copyrighted material the use of which has not always been specifically authorized by the copyright owner. We are making such material available to our readers under the provisions of "fair use" in an effort to advance a better understanding of political, health, economic and social issues. The material on this site is distributed without profit to those who have expressed a prior interest in receiving it for research and educational purposes. If you wish to use copyrighted material for purposes other than "fair use" you must request permission from the copyright owner.
••••
Disclaimer: The information and opinions shared are for informational purposes only including, but not limited to, text, graphics, images and other material are not intended as medical advice or instruction. Nothing mentioned is intended to be a substitute for professional medical advice, diagnosis or treatment.