ER Editor: After problems with both the MMR and Gardasil vaccines in Japan, the Japanese are generally far more cautious with their vaccines. One lot of the Covid Moderna vaccines was found this week to have magnetized contaminants; two other associated lots have been sidelined, but the vaccination program continues. Complaints of the same phenomenon have been made around Japan according to the articles below. Zerohedge raises graphene oxide as a likely explanation.
For more information on this highly conductive, light yet tough substance, which is also extremely toxic to the human body, check this site under 'Graphene'. We also recommend the ORWELLITO channel on Rumble for more videos from the Spanish team, La Quinta Columna, who are making ongoing research efforts into this topic.
We ran into this video, showing how a large piece of graphene oxide reacts when a cell phone is activated to make a call. Not at all creepy …
While it has not been proven that graphene oxide is in these Japanese Moderna vials, vials from all four vaccine companies have been analyzed showing the presence of graphene oxide. We will be publishing on this shortly.
Graphene oxide renders us not only sick, with symptoms proven to mimic those associated with Covid, but it also renders us highly conductive and thus receptive to certain electromagnetic wave frequencies in our environment, such as those emitted by 5G antenna. This would clearly be a precursor for the transhumanist agenda.
Graphene oxide is likely to become the next fluoride, 'aluminum-barium-stronium', mercury-in-fillings type of problem, we predict. Researchers are coming to the conclusion that it might already be pervasive in our environment, including our food, medicines, water and cosmetics, but these findings are only yet tentative.
********
Japan Suspects Contaminant In Moderna Vaccines Is Metallic, 'Reacts To Magnets'
The Japanese Ministry of Health announced on Thursday that around 1.6 million doses of Moderna's Covid-19 vaccine have been taken out of use due to contamination in some vials that 'reacts to magnets,' according to a ministry official.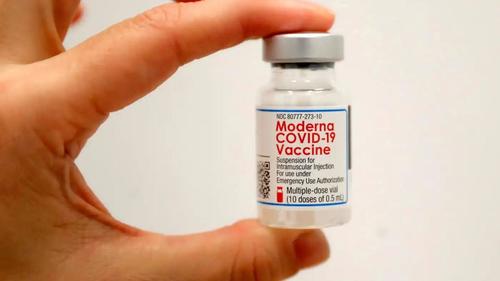 Several vaccination centers reported finding foreign matter in the doses.
"It's a substance that reacts to magnets," the official told Nikkei, adding "It could be metal."
Moderna, meanwhile, has confirmed receiving "several complaints of particulate matter" in vials distributed in Japan, but that "not safety or efficacy issues" were found related to the reports.
"The company is investigating the reports and remains committed to working transparently and expeditiously with its partner, Takeda, and regulators to address any potential concerns," a spokesperson told Nikkei, adding that a "manufacturing issue" at a plant in Spain was to blame.
After the complaints, the vaccine lot in question as well as two adjacent lots have been taken out of circulation "out of an abundance of caution," according to the spokesperson.
Prime Minister Yoshihide Suga told reporters on Thursday afternoon that he had instructed the ministry to look into the case with safety as the top priority, adding he had received reports that the withdrawal "won't have a significant impact on the country's vaccination campaign." –Nikkei
The foreign matter that 'reacts to magnets' is sure to revive speculation over the viral 'Covid-19 vaccine magnet challenge,' in which dozens of people recorded magnets sticking to their vaccine injection sites.
And while several 'fact-checking' websites have taken a crack at what's going on, the two most common explanations are 'they're faking it' or 'their skin was slightly wet.'
Some believe the reported magnetism can be explained by graphene oxide, a magnetic nanoparticle studied for its use as a drug delivery platform and other biomedical applications.
Critics note with the fact that that graphene oxide is not listed as an ingredient in any available Covid-19 vaccine, while skeptics counter with 'so what?' If random batches are tainted with foreign substances, on accident or on purpose, of course they wouldn't be listed in the ingredients. (ER: Karen Kingston addressed this topic with Stew Peters, noting that graphene oxide was listed in the Chinese patent but not in the UK and US ones. See Graphene Oxide: Gates' Trade Secret? Not Mentioned in the US, UK Vaccine Patents [VIDEO])
In any event, Moderna stock isn't too happy today: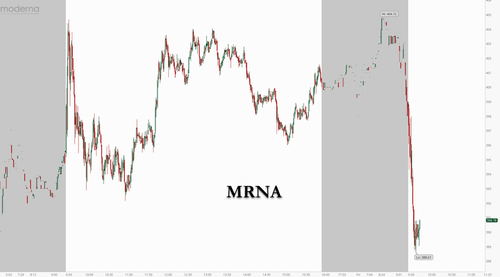 ********
Here is the Nikkei Asia article from which reports have been drawn:
About 1.6 million doses of Moderna's coronavirus vaccine have been taken out of use in Japan because of contamination reported in some vials, the Ministry of Health, Labor and Welfare said early Thursday.

Several vaccination centers have reported that vaccine vials contained foreign matter, according to an announcement from the ministry, which added it will seek to minimize the impact of the withdrawal on the country's inoculation program.

The ministry said later in the day that the substance that had been mixed in may have been metal. "It's a substance that reacts to magnets," a ministry official said. "It could be metal."

[…] Nasdaq-listed Moderna confirmed receiving "several complaints of particulate matter" in vaccine vials distributed in Japan but said it had found "no safety or efficacy issues" related to these reports.

"The company is investigating the reports and remains committed to working transparently and expeditiously with its partner, Takeda, and regulators to address any potential concerns," a Moderna spokesperson told Nikkei, saying the drugmaker believed a "manufacturing issue" at a plant in Spain was the cause.
************
••••
The Liberty Beacon Project is now expanding at a near exponential rate, and for this we are grateful and excited! But we must also be practical. For 7 years we have not asked for any donations, and have built this project with our own funds as we grew. We are now experiencing ever increasing growing pains due to the large number of websites and projects we represent. So we have just installed donation buttons on our websites and ask that you consider this when you visit them. Nothing is too small. We thank you for all your support and your considerations … (TLB)
••••
Comment Policy: As a privately owned web site, we reserve the right to remove comments that contain spam, advertising, vulgarity, threats of violence, racism, or personal/abusive attacks on other users. This also applies to trolling, the use of more than one alias, or just intentional mischief. Enforcement of this policy is at the discretion of this websites administrators. Repeat offenders may be blocked or permanently banned without prior warning.
••••
Disclaimer: TLB websites contain copyrighted material the use of which has not always been specifically authorized by the copyright owner. We are making such material available to our readers under the provisions of "fair use" in an effort to advance a better understanding of political, health, economic and social issues. The material on this site is distributed without profit to those who have expressed a prior interest in receiving it for research and educational purposes. If you wish to use copyrighted material for purposes other than "fair use" you must request permission from the copyright owner.
••••
Disclaimer: The information and opinions shared are for informational purposes only including, but not limited to, text, graphics, images and other material are not intended as medical advice or instruction. Nothing mentioned is intended to be a substitute for professional medical advice, diagnosis or treatment.