ER Editor: Zelensky has become quite the European traveller, hopping from one western European country to another, cap in hand throughout this month. Is this even the real guy? Here are a few tweets:
While Ukraine's air-defense systems continue to fail to stop Russian aircraft and missile strikes, Zelensky is making sure not to return to Ukraine.

He was in Finland, Italy, Germany, now he's headed to France.

Zelensky knows he is not safe in Ukraine. He is hiding. https://t.co/za2D3lHnO8

— Clandestine (@WarClandestine) May 14, 2023
The Charlemagne Prize, which was awarded to #Zelensky today, fell to the floor during his speech.
The box with the medal suddenly fell off its stand for no apparent reason.
Something similar happened during his inauguration too pic.twitter.com/LNXD8eVGsE

— Arthur Morgan (@ArthurM40330824) May 14, 2023
Kiev will receive dozens of armored vehicles and heavy tanks AMX-10RC
This was stated by French President Emmanuel Macron at a meeting with Zelensky in Paris.
According to the French leader, Paris intends to increase support for Ukraine's air defense " to protect its population…

— Spriter (@Spriter99880) May 15, 2023
Zelensky in Italy made again an unfortunate statement that sparked discontent in Europe & United States!

"If war comes to Italy or any other Western country, you should know that you will have to send your citizens, your sons and your fathers to that war".. pic.twitter.com/Pv9VtCyECi

— Geo_monitor (@colonelhomsi) May 15, 2023
Results of Zelensky's trip to Italy-
-signed a universal declaration of accession to the European Union
-discussed the supply of air defense
-Zelensky called the conversation with the Pope a historical event that could help stop the "evil of aggression." pic.twitter.com/w8w6Ysx49p

— Spriter (@Spriter99880) May 14, 2023
Zelensky thanked Scholz for Ukraine's military support, but noted that Kyiv needed more weapons to continue the war. pic.twitter.com/ciC52GAHe6

— Spriter (@Spriter99880) May 14, 2023
Zerohedge below chooses to spin his visits as requesting money and aid, the EU giving him additional reasons, but we feel this is just cover. The public optics are poor for Zelensky and for our governments welcoming him, dishing out our tax money (allegedly) for a deep state sinkhole losing badly to Russia — is this the point? The reputation of the Charlemagne Prize just took an even bigger nosedive.
********
Germany Unveils €2.7BN Ukraine Arms Package As Zelensky Tours Europe
Over the weekend Germany unveiled a a new weapons package worth 2.7 billion euros ($2.95 billion) for Ukraine, at a moment President Volodymyr Zelensky is meeting with Western leaders in Europe.
"An important visit for approaching victory of Ukraine!" Zelensky tweeted after arriving in EU and NATO member Italy on Saturday. He met with Prime Minister Giorgia Meloni for 70 minutes, thanking her for "for helping to save lives", after which he met with Pope Francis in the Vatican, reportedly lobbying the pontiff to back Kiev's own peace plan.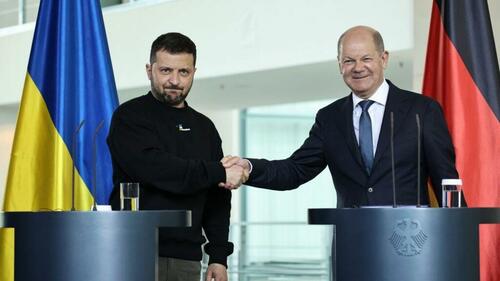 Via EFE
Zelensky then traveled to Germany on Sunday, the day after Berlin confirmed the massive new defense aid package.
Naturally, the Ukrainian leader is already pressing for more – as The New York Times writes of the trip to meeting with Scholz: "Speaking to journalists side by side at the chancellery on Sunday morning, Mr. Zelensky and Chancellor Olaf Scholz traded remarks of gratitude and praise. But their responses to some questions — namely on fighter jets — reflected that Kyiv is still struggling to gain traction with Berlin and other Western allies on some of its key demands."
Apparently German could only roll out the red carpet for Zelensky in a guilt-free way only after pledging the billions in new arms:
Mr. Zelensky was escorted to Berlin by German fighter jets for his first trip to Germany since Russia's full-scale invasion of Ukraine began more than a year ago. He met first with President Frank-Walter Steinmeier at Berlin's Bellevue Palace and was then received with military honors by Mr. Scholz at the chancellery.

The grand reception came a day after Germany had announced its largest package of military aid yet for Kyiv and as the two nations seek to turn the page on months of rocky relations.
Zelensky wrote on Twitter in conjunction with his Berlin visit Sunday: "German air defense systems, artillery, tanks and infantry fighting vehicles are saving Ukrainian lives and bringing us closer to victory," and stressed: "Germany is a reliable ally!"
All of this is a huge about-face for Germany, which has been hesitant since the start of the conflict to jump headlong into a proxy war situation which may eventually escalate into a direct Russia-NATO clash. But Berlin grew bolder with the supply of Leopard II battle tanks. Zelensky attempted to address German concerns Sunday:
Ukraine has no plans to hit targets in Russia, President Volodymyr Zelensky has said in Germany, where Kyiv secured a big new defence aid package.

"We are not attacking Russian territory," he said after talks in Berlin with Chancellor Olaf Scholz.

"We are preparing a counterattack to de-occupy the illegitimately conquered territories," Mr Zelensky added.
But the past couple months of increasing drone attacks from Ukraine, particularly on Russian oil facilities, show differently.
Pentagon leaks examined by The Washington Post also reveal that Zelensky has secretly greenlighted attacks inside Russian territory:
The leaked documents confirm Zelensky favors occupying Russian villages to gain leverage over Moscow, bombing a pipeline that transfers Russian oil to Hungary, a NATO member, and privately pining for long-range missiles to hit targets inside Russia. https://t.co/f7yFPD4Vqx

— Max Abrahms (@MaxAbrahms) May 14, 2023
On Saturday there were multiple Russian aircraft downed in the same border region near Ukraine, with many observers saying this may have been a cross-border shoot-down situation which would mark a huge advance in Ukraine's capabilities.
************
Featured image, Macron & Zelensky: AFP
Featured image, Scholz & Zelensky: Matthias Schrader AP
Featured image, Meloni & Zelensky: Alessandra Tarantino AP
Featured image, Pope & Zelensky: Vatican News via AP
••••
The Liberty Beacon Project is now expanding at a near exponential rate, and for this we are grateful and excited! But we must also be practical. For 7 years we have not asked for any donations, and have built this project with our own funds as we grew. We are now experiencing ever increasing growing pains due to the large number of websites and projects we represent. So we have just installed donation buttons on our websites and ask that you consider this when you visit them. Nothing is too small. We thank you for all your support and your considerations … (TLB)
••••
Comment Policy: As a privately owned web site, we reserve the right to remove comments that contain spam, advertising, vulgarity, threats of violence, racism, or personal/abusive attacks on other users. This also applies to trolling, the use of more than one alias, or just intentional mischief. Enforcement of this policy is at the discretion of this websites administrators. Repeat offenders may be blocked or permanently banned without prior warning.
••••
Disclaimer: TLB websites contain copyrighted material the use of which has not always been specifically authorized by the copyright owner. We are making such material available to our readers under the provisions of "fair use" in an effort to advance a better understanding of political, health, economic and social issues. The material on this site is distributed without profit to those who have expressed a prior interest in receiving it for research and educational purposes. If you wish to use copyrighted material for purposes other than "fair use" you must request permission from the copyright owner.
••••
Disclaimer: The information and opinions shared are for informational purposes only including, but not limited to, text, graphics, images and other material are not intended as medical advice or instruction. Nothing mentioned is intended to be a substitute for professional medical advice, diagnosis or treatment.