ER Editor: This is definitely a topic worth revisiting, as LifeSite News does in picking up Steven Mosher's recent report.
We had covered this ourselves way back, first publishing the Old Microbiologist's observations on many things, including the fact that the US participants in the Wuhan military games, normally of Olympic status, were unusually poor performers in 2019. That infections broke out around the hotel area of the participants. See
There were various breakout places in the US and US territory (Hawaii) in 2019 before the Wuhan games in October 2019, which we had published on. Plus a Taiwanese virologist, earlier during 2019, had alerted the CDC to a possibly new lung pathogen, similar to pulmonary fibrosis but not identical, on American soil. Which was ignored. We don't believe Covid-19 is of exclusively Chinese origin, but we know that Wuhan was involved, with infections within its territory but curiously not beyond.
What is new about the report below is that there is a whistleblower inside the Wuhan Institute of Virology, Dr. Shan Chao, who alleges that some of his staff had been deployed to plant the pathogen among the young athletes. We had published on some of these athletes and their temporary experience of sickness. See here.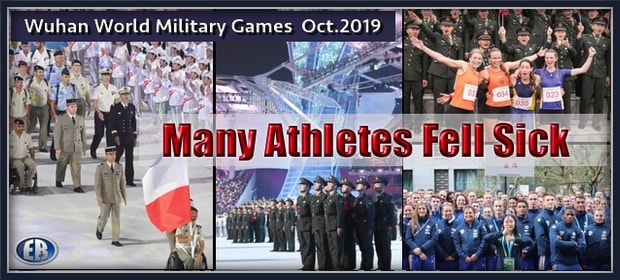 As we know, those US biolabs in Ukraine will have a lot to answer for regarding Covid. Russia has apparently all the evidence.
***
We remind readers that 'China' is not one thing, neither is 'Russia'. According to our research, both countries have had destructive deep state mechanisms long embedded into them, following the same agendas. While unprovable, it is rumoured that both Xi and Putin are white hats executing the same swamp-cleaning tasks. The so-called Prigozhin 'mutiny' is taken to be recent evidence of that. Xi had an attempt made on his life in Singapore back in 2022 or possibly earlier. Soros / Rothschild affiliate Hu Jintao was forcibly ejected from the party conference in October of last year. See Former Chinese President Hu Jintao Abruptly Escorted from Party Congress
********
New report suggests COVID was deliberately released during 2019 Military Games in China
---
Journalist Jennifer Zeng was told by an informant that 'one of the guys (from the Wuhan lab) was asked to inoculate people from other countries during the event so that they can be infected and carry the pathogen back to the country they came from.'
STEVEN MOSHER via LIFESITE NEWS
Ureem2805/Wikimedia Commons
(Population Research Institute) — The Military World Games were held in the now-infamous city of Wuhan from October 18 to October 27, 2019, just before the Covid pandemic erupted around the world.
Many of the 9,308 athletes representing 109 countries who participated in the Games — among the most healthy and fit members of the human population — came back with flu symptoms. Now, a new report suggests that they may have been deliberately infected with Covid.
The report comes from Jennifer Zeng, a Chinese dissident journalist who interviewed an informant close to Dr. Shan Chao (单超 ), who serves as the deputy director of the Wuhan Institute of Virology's high containment lab.
According to the informant, Dr. Shan relayed that he had been given four variants of SARS-CoV-2 in February 2019 by his boss and was asked to determine which one was the most infectious to humans. These "bioweapons" — as he called them — were not natural variants but had been engineered in the lab, he said.
Dr. Shan further reported that several of his colleagues were absent from their regular workstations during the 2019 Military World Games in Wuhan. One later explained to him that they had been sent ostensibly to "check the hygiene conditions" of the hotels where the athletes were staying, but that their real purpose was the spread the coronavirus that he had identified as most infectious.
Zeng's informant's exact words were, "One of the guys was asked to inoculate people from other countries during the event so that they can be infected and carry the pathogen back to the country they came from with only minor symptoms, which is pretty common in late autumn."
Now all of this comports well with evidence I first reported in my The Politically Incorrect Guide to Pandemics, where I wrote that "Sources in China have not only confirmed that the SARS-CoV-2 virus was not only a product of the lab, but also that by early 2019 it was ready to be deployed against human subjects, … As first reported by Dr. Lawrence Sellin, scientists from the Wuhan Institute of Virology were involved in testing the transmissibility of the China Virus in monkeys, a coronavirus release and response drill at Wuhan's Tianhe airport in September 2019, and an actual release of COVID-19 at the 2019 Military World Games from October 18–27, 2019. According to Dr. Sellin's source, this was intended to be a small, short-term test release of Covid-19, and special health screenings of the athletes would be used to monitor the results."
Well-known Chinese dissident Wei Jingsheng has independently confirmed from his own sources in China that the virus was intentionally released on the athletes at the Games.
Some of visiting athletes later recounted having fallen ill in Wuhan, and how they had to be quarantined during and after their return flights to their home countries. Canadian athletes were apparently especially hard hit, with about one-quarter of Canada's team falling so ill during their sojourn in Wuhan that they were quarantined in the back of the plane on their return flight to Canada.
Many other athletes from around the world developed symptoms that we now recognize as characteristic of Covid-19. It is strange that so many extremely fit young people would fall ill at once, unless they were deliberately infected.
Indeed, as part of their effort to blame the U.S. for the pandemic, the Chinese authorities themselves inadvertently confirmed that Covid was spread at the Wuhan games, although they attempted to blame U.S. athletes for bringing it in. (ER: see our comment above)
As Dr. Sellin's source explained, "The release of COVID-19 at the Military World Games was also a test of the longer-term effects of that type of bioweapon because foreign visitors to the Games would carry it back to their own countries and the consequences could be observed. … [T]he subsequent outbreak in Wuhan was entirely unexpected. That is, there was no laboratory leak, but the unintended spread among the Chinese population of Wuhan of a virus (ER: really, a virus?) for which they had underestimated its transmissibility."
There is no doubt about what happened next: Once China itself was unexpectedly in the grip of Covid, the CCP in desperation used its own people as "human disease vectors" to speed the release of its "unrestricted bioweapon" on the world.
Corrupt Joe Biden will, of course, never call the Chinese Communist Party to account for any of this, since he has been compromised by Communist money.
Donald Trump, however, has promised to do just that.
****
Steven W. Mosher is the president of the Population Research Institute and the author of The Politically Incorrect Guide to Pandemics (Regnery).
••••
The Liberty Beacon Project is now expanding at a near exponential rate, and for this we are grateful and excited! But we must also be practical. For 7 years we have not asked for any donations, and have built this project with our own funds as we grew. We are now experiencing ever increasing growing pains due to the large number of websites and projects we represent. So we have just installed donation buttons on our websites and ask that you consider this when you visit them. Nothing is too small. We thank you for all your support and your considerations … (TLB)
••••
Comment Policy: As a privately owned web site, we reserve the right to remove comments that contain spam, advertising, vulgarity, threats of violence, racism, or personal/abusive attacks on other users. This also applies to trolling, the use of more than one alias, or just intentional mischief. Enforcement of this policy is at the discretion of this websites administrators. Repeat offenders may be blocked or permanently banned without prior warning.
••••
Disclaimer: TLB websites contain copyrighted material the use of which has not always been specifically authorized by the copyright owner. We are making such material available to our readers under the provisions of "fair use" in an effort to advance a better understanding of political, health, economic and social issues. The material on this site is distributed without profit to those who have expressed a prior interest in receiving it for research and educational purposes. If you wish to use copyrighted material for purposes other than "fair use" you must request permission from the copyright owner.
••••
Disclaimer: The information and opinions shared are for informational purposes only including, but not limited to, text, graphics, images and other material are not intended as medical advice or instruction. Nothing mentioned is intended to be a substitute for professional medical advice, diagnosis or treatment.