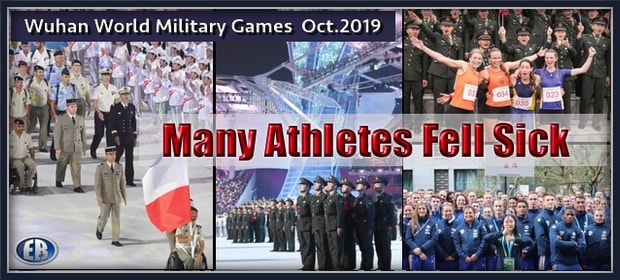 COVID: Why We Need to Be Paying Very Close Attention to Those Wuhan Military Games
Pam Barker | Director of TLB Europe Reloaded Project
It's looking more and more like something extremely suspicious was happening in and around the world military games in Wuhan during October 2019.
We're not sure why this particular news item has taken so long to get out. But an interview over
the upcoming Japanese Olympic Games with French modern pentathlete Elodie Clouvel (pictured in Wuhan, on Twitter) way back on March 25 has revealed, apparently by chance, that she, her partner and many of the athletes on the French team, as well as others, were sick for several days after arriving in Wuhan. This was reported on 2 days ago via Le Parisien, partially copied below. Another member of the 402-strong French team was interviewed about this anonymously 2 days ago on our CNN-equivalent here, BFMTV, reporting on his own short bout of sickness.
As the piece from Le Parisien reminds us, the first recorded case of the virus in China was on or around November 17; the games ran from October 18 – 27. 10,000 athletes from 100 countries would have been in Wuhan in early October most probably. How many of a whopping 10,000 total number of contestants would get sick and then transmit this back to their countries? The report below also cites cases of sickness among the Swedish and Luxembourg teams during this period.
Now there seems to be something of a gag order on the young athletes. The military has clearly lied to them by retrospectively reassuring them that while they left Wuhan on the 28th, one day after the games finished, the virus only arrived there on November 1. Whew, just in time. What a close call! The French military clearly takes them for idiots. Further, some unnamed French minister has since declared that "within the French delegation of the WMBD," there were "no cases declared to the Army Health Service (SSA) of influenza or hospitalization during and upon return from the WMBD, which could be similar, a posteriori, to cases of Covid-19."
It bears noting that these athletes, while sick, recovered pretty quickly and went about their business. The games were not stopped nor was a complete lockdown of their lives ordered despite widespread health problems.
So, are they going to test these athletes (with repeat PCR testing as this test is not reliable)? Will we see revamped reporting on the theorized origins of this 'China virus'? We probably shouldn't hold our breath.
We remind readers of an interesting piece we ran a while back, originally a long commentary below a piece on The Saker blog which Unz Review picked up for publication, by someone calling himself Old Microbiologist, with 40 years in biodefense research, who claimed to have been an erstwhile participant in the world military games himself (See Was Coronavirus a Biowarfare Attack Against China? A Veteran Insider Speaks Out). If you try to tweet this article, the Twitter platform will automatically reject it. Of note:
It could have been released during the 7th CISM military games held in Wuhan October 18-27, 2019 and that fits perfectly into the time scale for the actual infections. Now interestingly enough, I was a participant in several CISM competitions in Europe for skiing (I was on active duty for 26 years), so I am very well versed in who these athletes are. In general, the best are Olympic competitors who are ostensibly part of the National Guard of their states who pay for their training by extended military active duty periods where their sole job is sports training. I used to lose every year to one of these guys, and generally I placed a distant second place in cross country skiing. I also participated in the biathlon competitions, and our soldiers were the very top level because they were in fact Olympic athletes. Rumor is that the US participants at CISM were atrocious, which is very atypical, so one wonders who these "athletes" were. I am reminded of the US military mission in Brazil to help flood victims which, coincidentally, was the exact same time that all the power transmission stations in Venezuela were destroyed. So, again, a hackle or 2 rise when I heard about that. However, it is the perfect opportunity to release a virus on a target population.
His next paragraph is important vis-a-vis 'covid' being an engineered biological agent (or several types, since different strains have been found in different areas of the world?):
I will also like to add that not all biological warfare agents are lethal. In fact, the worst are non-lethal as it consumes vast amounts of resources in treatment and lost productivity. Deaths are actually cheaper. So, a high communicability, low lethality disease is perfect for ruining an economy. As Trump's administration claims, they are waging war against economic enemies (currently China heads the list) using all possible actions. This fits perfectly into that; however, it may end up destroying the American economy, which would be ironic.
And to close, engineered strains can become more lethal over time. See the Zerohedge report of yesterday titled Coronavirus Mutates Into Now-Dominant, More Contagious Form As Doctors Ponder 'East Coast vs. West Coast' Strains. On this topic, the Old Microbiologist has this to say:
It is possible that this virus has mutated over time to become more virulent. In particular, engineered strains are generally unstable over multiple passages through multiple hosts.
We also remind readers that we've reported on strange cases of lung problems among a relatively small group of vapers and in a care home not far from Fort Detrick in the April to August period, all in the United States.
So far, the hunches of the Old Microbiologist seem to be serving as a useful guide.
Covid-19 : des athlètes français contaminés à Wuhan en octobre ?
Plusieurs sportifs, de retour des Jeux mondiaux militaires organisés fin octobre en Chine, se sont plaints de symptômes à leur retour. Ils pourraient avoir contracté le Covid-19.
DAVID OPOCZYNSKI
Ce sont des mots qui n'ont pas fait de bruit sur le moment. Pourtant, ils pourraient offrir un éclairage capital dans la difficile recherche des origines du Covid-19. Lors d'un entretien accordé le 25 mars au JT de la chaîne locale Télévision Loire 7, pour évoquer l'actualité liée au report des Jeux olympiques de Tokyo, Elodie Clouvel, la championne du monde de pentathlon moderne, a glissé une réponse précieuse. Ce témoignage pourrait s'avérer tout aussi troublant que l'analyse rétroactive de tests conservés à l'hôpital de Bondy qui a permis d'identifier un porteur du virus dès le 27 décembre en France.
Elodie Clouvel venait d'être interrogée sur son éventuelle inquiétude à envisager un été au Japon, « sur un continent où s'est déclarée la maladie ». « Non, parce que je pense qu'avec Valentin (NDLR : Belaud, son compagnon, pentathlète lui aussi) on a déjà eu le coronavirus, enfin le Covid-19 », a-t-elle alors lancé.
« On n'en parlait pas encore »
Et la jeune femme de 31 ans d'expliquer : « On était à Wuhan pour les Jeux mondiaux militaires fin octobre. Et, en fait, il s'avère qu'après on est tous tombés malades. Valentin a loupé trois jours d'entraînement. Moi j'ai été malade aussi. […] J'ai eu des trucs que je n'avais pas eus avant. On ne s'est pas plus inquiété que ça parce qu'on n'en parlait pas encore. »
Sa conclusion est là aussi sans équivoque : « Il y a beaucoup d'athlètes des Jeux mondiaux militaires qui ont été très malades. On a eu un contact avec le médecin militaire récemment qui nous a dit : je pense que vous l'avez eu parce qu'il y a beaucoup de gens de cette délégation qui ont été malades. »
Pour rappel, jusqu'à aujourd'hui, le premier cas reconnu de Covid-19, en Chine, remonte au 17 novembre. Les Jeux mondiaux militaires – près de 10,000 athlètes représentant 100 nations – se sont, eux, déroulés du 18 au 27 octobre. Ils étaient déjà apparus dans la chronologie des événements lorsque Zhao Lijian, porte-parole du ministère chinois des Affaires étrangères, avait laissé entendre sur Twitter, le 12 mars, que le coronavirus pourrait avoir été introduit par la délégation américaine y ayant participé.
Ce mardi, BFMTV a aussi fait état, sous couvert d'anonymat, du témoignage d'un des 281 athlètes français présents à Wuhan et « tombé malade tout comme plusieurs membres de la délégation française » à son retour.
Elodie Clouvel, de son côté, n'a pas souhaité donner suite à nos sollicitations pour reparler du sujet. Sa sortie médiatique du 25 mars n'aurait pas forcément été du goût de la hiérarchie militaire. Depuis, il a d'ailleurs été demandé à la plupart des athlètes de ne plus répondre aux journalistes sur le sujet. Comme plusieurs nous l'ont confié : consigne leur a été donnée de renvoyer les questions à la direction de la communication des armées. Des athlètes tricolores, présents à Wuhan, avaient pourtant reçu, il y a quelques semaines, un appel de l'armée pour les rassurer. « On nous dit : il n'y a pas de risque, vous êtes repartis le 28 octobre et le virus est arrivé le 1er novembre », témoigne l'un d'entre eux.
Dans un tel contexte, les Français n'ont aucune raison d'avoir été les seuls athlètes potentiellement contaminés…
******

••••
The Liberty Beacon Project is now expanding at a near exponential rate, and for this we are grateful and excited! But we must also be practical. For 7 years we have not asked for any donations, and have built this project with our own funds as we grew. We are now experiencing ever increasing growing pains due to the large number of websites and projects we represent. So we have just installed donation buttons on our websites and ask that you consider this when you visit them. Nothing is too small. We thank you for all your support and your considerations … (TLB)
••••
Comment Policy: As a privately owned web site, we reserve the right to remove comments that contain spam, advertising, vulgarity, threats of violence, racism, or personal/abusive attacks on other users. This also applies to trolling, the use of more than one alias, or just intentional mischief. Enforcement of this policy is at the discretion of this websites administrators. Repeat offenders may be blocked or permanently banned without prior warning.
••••
Disclaimer: TLB websites contain copyrighted material the use of which has not always been specifically authorized by the copyright owner. We are making such material available to our readers under the provisions of "fair use" in an effort to advance a better understanding of political, health, economic and social issues. The material on this site is distributed without profit to those who have expressed a prior interest in receiving it for research and educational purposes. If you wish to use copyrighted material for purposes other than "fair use" you must request permission from the copyright owner.
••••
Disclaimer: The information and opinions shared are for informational purposes only including, but not limited to, text, graphics, images and other material are not intended as medical advice or instruction. Nothing mentioned is intended to be a substitute for professional medical advice, diagnosis or treatment.