ER Editor: See also this Al Jazeera report, China's Xi secures third term, stacks leadership team with allies.As veteran Italian journalist Cesare Sacchetti points out on his Telegram channel,
Former Chinese President Hu Jintao was escorted out of the Congress of the Communist party under the eyes of Xi Jinping, who seems to be completely aware of what's going on. Most likely, we are witnessing a draining of the Chinese Communist party swamp. Xi wanted everyone to see this. Xi sent a message to Soros: "I'm in charge and those who will undermine China's sovereignty will end up like Hu Jintao."
As if to confirm, this is what Benjamin Fulford had to say in his Monday, Oct.24 blog post (behind a paywall):
China is run by technocrats who really do seem to be trying to make the country a better place. It is true Xi Jinping has made himself a dictator for life but, it is also true he is really just a symbol of unity and has no real power since that is held by a Chinese collective group mind. 

Also, in case you didn't notice, here is a video of former Chinese President Hu Jintao being escorted out of the big CCP meeting. (VIDEO)

My own sources tell me Hu was a member of the Soka Gakkai Buddhist cult. In Japan, members of this group were asked to write countless ballots to help steal elections on behalf of the KM, according to the Japan independence party. Our Chinese sources say Hu was working for the Rothschilds and that was why he was purged. 
************
Former China President Abruptly Escorted From Party Congress
The former leader of the Chinese Communist Party (CCP) was ushered from his seat beside General Secretary Xi Jinping during the final session of the 20th National Congress Saturday.
As WSJ reports, midway through the otherwise carefully-choreographed closing session, Hu Jintao, 79, Xi Jinping's immediate predecessor, was helped out of his chair next to Mr. Xi and inexplicably led out of the hall.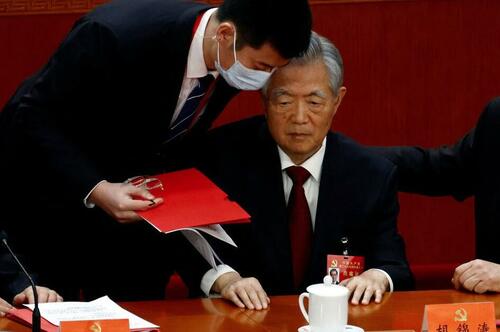 Footage shot by foreign media in the hall, which wasn't included in the official China Central Television broadcast, showed Mr. Hu seemingly reluctant or unable to stand up when an aide tried to lift him off his chair.
In the commotion, Mr. Xi leaned toward Mr. Hu and appeared to speak with him.
Mr. Hu was ushered off the center dais, briefly looking back at Mr. Xi and patting outgoing Premier Li Keqiang on the shoulder as he departed.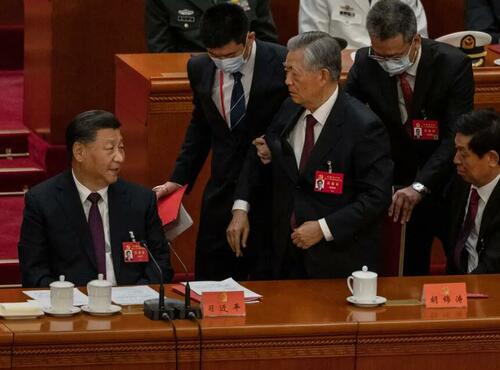 It wasn't clear why Mr. Hu left or where he went. The incident has gone unmentioned in Chinese state media coverage of the event.
By Saturday evening, however, the comments section of almost all Weibo posts containing Hu's name were no longer visible, according to a Reuters review.
On Twitter, Xinhua news agency suggested Mr. Hu's issue was health related.
In English, indicating the report was aimed at an international audience, the government-run agency said Mr. Hu "was not feeling well during the session" and left to rest in a room next to the meeting venue. "Now, he is much better," the account said.
Reuters also adds that Hu had appeared slightly unsteady last Sunday when he was assisted onto the same stage for the opening ceremony of the congress.
As some China-watchers have noted, if Hu were really "purged" as some are speculating "I highly doubt that CCTV would show him like this in the report."
Still… does this look like the face of a man who 'wants' to leave for health reasons?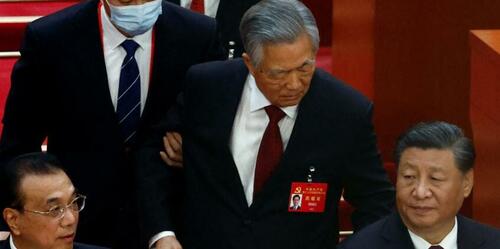 Meanwhile, Xi has set the stage to extend his rule into a second decade, and on Saturday the Communist Party announced new names for some top spots as some of his rivals head toward retirement.
Michael J. Abramowitz, president of Freedom House, warned China's human rights situation would deteriorate in a statement issued on Oct. 12.
"Another five years of Xi's leadership is bad news for the cause of democracy and freedom, and worse news for the Chinese people," Abramowitz said.

"If past is prologue, a third term for Xi will result in more human rights abuses within China and more aggressive suppression of free speech globally, even as his domestic and foreign policies backfire and public outrage intensifies." 
As a reminder, Hu advocated maintaining good relations with the U.S., and was also an opponent of a military solution to the Taiwan issue. As SouthFront suggests, the former CPC Chairman's escorting out of the hall is a clear demonstration of the renewed anti-Western foreign policy of Beijing, which, apparently, is ready for all measures, defending its sovereignty and the role of a superpower in the modern world.
Of course, the question remains, is it now in the Deep State's favor to make it seem like there is political discord at the top in China – remember, an unstable China is a 'dangerous' China, that will require much bigger State and Defense Department budgets to battle not to mention serve as a generous source of revenue for the Lockheeds and Raytheons of the world for years to come.
************
••••
The Liberty Beacon Project is now expanding at a near exponential rate, and for this we are grateful and excited! But we must also be practical. For 7 years we have not asked for any donations, and have built this project with our own funds as we grew. We are now experiencing ever increasing growing pains due to the large number of websites and projects we represent. So we have just installed donation buttons on our websites and ask that you consider this when you visit them. Nothing is too small. We thank you for all your support and your considerations … (TLB)
••••
Comment Policy: As a privately owned web site, we reserve the right to remove comments that contain spam, advertising, vulgarity, threats of violence, racism, or personal/abusive attacks on other users. This also applies to trolling, the use of more than one alias, or just intentional mischief. Enforcement of this policy is at the discretion of this websites administrators. Repeat offenders may be blocked or permanently banned without prior warning.
••••
Disclaimer: TLB websites contain copyrighted material the use of which has not always been specifically authorized by the copyright owner. We are making such material available to our readers under the provisions of "fair use" in an effort to advance a better understanding of political, health, economic and social issues. The material on this site is distributed without profit to those who have expressed a prior interest in receiving it for research and educational purposes. If you wish to use copyrighted material for purposes other than "fair use" you must request permission from the copyright owner.
••••
Disclaimer: The information and opinions shared are for informational purposes only including, but not limited to, text, graphics, images and other material are not intended as medical advice or instruction. Nothing mentioned is intended to be a substitute for professional medical advice, diagnosis or treatment.