Make Turkey great again: Erdogan trumpets more Syria ops & '100% local arms' in bold manifesto
RT
Ankara will conduct more cross-border military operations in Syria and will focus on developing a fully self-sufficient defense industry, the Turkish president said, unveiling his ruling party's manifesto ahead of June elections.
"Turkey will launch new operations in the new period, like Operation Euphrates Shield and Operation Olive Branch, to clear its borders from terrorists," president Recep Tayyip Erdogan said, outlining the ruling Justice and Development Party (AKP) manifesto, ahead of a snap general election on June 24.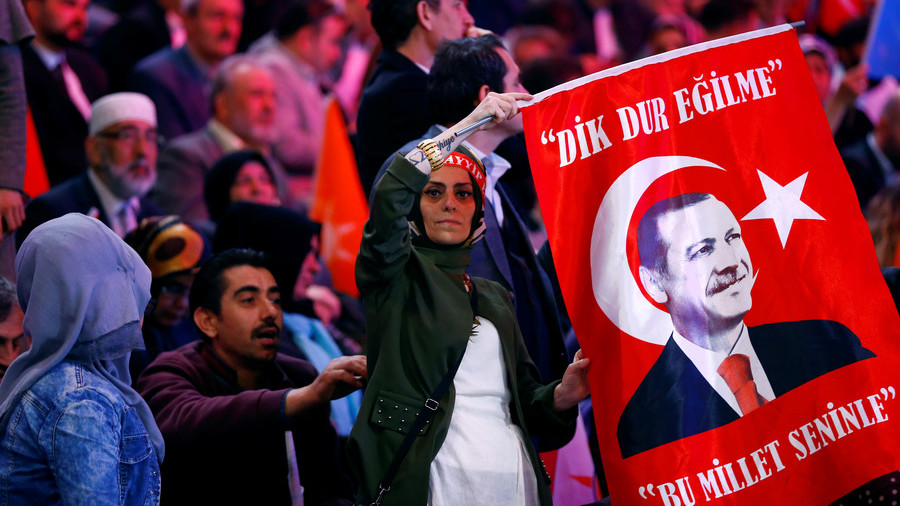 The country's priorities for the next five years will focus, among other things, on military production, an independent foreign policy and on border security.
"Turkey is becoming an important power in the world. Turkey will be a global power, a leading force," Erdogan said Sunday, noting that the country aims to enter the ranks of the world's top 10 economies by 2023.
Part of the domestic development would focus on achieving complete "independence" in defense, as NATO allies continue to hinder weapons-supply and technology-sharing with Ankara.
"Turkey's goal is to have 100 percent indigenously-made land, air and sea defense systems," Erdogan said. "We will continue to produce our own weapons to become a global power. We will increase our defense industry [assets], like our ALTAY tank, ATAK helicopter, drones, armed drones."
"The basic principles of our foreign policy will continue to be independence, national interest, national security and a conscientious stance," the president added, addressing thousands of AKP's loyalists in Istanbul.
Erdogan's pledge to conduct further incursions into a neighboring country comes in the middle of the ongoing cross-border 'Olive Branch' operation in the north-western Syrian region of Afrin, which began in January.
Besides fighting the remnants of radical Islamists in the region, the Turkish offensive is also focused on rooting out the Kurdish-led Democratic Union Party (PYD), and especially its armed wing People's Protection Units (YPG), from the border areas.
Ankara considers Syria's Kurdish entities an extension of the Kurdistan Workers' Party (PKK), which has been a thorn in Turkey's side for decades. The Afrin campaign is the country's second such operation in Syria, after the so-called 'Euphrates Shield' was completed in early 2017.
Turkish persecution of the Kurds on Syrian territory has further deteriorated its relations with the United States, which has long relied on the Syrian Democratic Forces (SDF), comprising mainly Kurds, to do its bidding along Turkish borders. Ankara has repeatedly criticized the US and other NATO allies for their support of Kurdish militias to keep a foothold in Syria, reiterating on an almost daily basis that it views them as a national security threat.
In addition to the Kurdish issue, Ankara has locked horns with its NATO allies over their criticism of Ankara's 'undemocratic' post-2016 coup-attempt crackdown and their increasing refusal to sell arms and share military technology with Turkey. The reluctance by the West to cater to the needs of NATO's second largest armed contingent has led Turkey to develop its indigenous arms production and even to seek arms supply from Russia – which has, in turn, evoked anger in Washington.
************
ER recommends other articles by RT
Featured photo credit: AP/Lefteris Pitarakis