ER Editor: Hungary has been in the news a lot this past week. Kudos to Orban. Here is a selection, working backwards —
Hungary won't permit Sweden's accession to NATO currently despite Turkey clearing the way from its side

Hungary won't discontinue co-operation with, and economic reliance on, Russia and the East, on the contrary

The EU is a political-economic bloc and thus cannot consider Ukraine accession to the EU based on security reasons; the Ukraine conflict needs a negotiated peace, not more EU funding for war

The EU tries to copy Soviet era heavy-handedness but does so impotently; Hungary will face it down
… for Hungarians, freedom is a "life instinct," and they're not willing to give up their identity
********
Hungarian parliament refuses new vote on Sweden's NATO accession
Hungary will make a sovereign decision on Sweden's application without pressure from abroad, Turkish ratification will 'change nothing'
Tensions over Sweden's membership of NATO have been reignited after Turkish President Erdogan on Monday submitted a protocol to the Turkish parliament approving the country's accession to NATO, bringing the Scandinavian country a step closer to joining the military alliance.
Following Erdogan's move, international attention has again turned to Hungary.
In order for Sweden to join, it needs the support of all 31 allied countries. That is why many were caught off guard by the decision of the Hungarian parliament on Tuesday to once again refuse to vote on Sweden's application for membership.
One reason why Hungary is dragging its feet on ratification is the fact that lawmakers from Hungary's governing Fidesz party believe that Swedish politicians have spread "preposterous lies" about the state of Hungarian democracy, accusing the country of democratic backsliding, reported the Associated Press.
The Hungarian position has long been clear
Speaking from New York ahead of Tuesday's U.N. Security Council meeting, Hungarian Foreign Minister Péter Szijjártó said that the ratification process in the Turkish parliament "does not change anything" and that Hungarian lawmakers "will make a sovereign decision on this issue."
Prime Minister Viktor Orbán also confirmed last month that Hungary was "in no hurry" to ratify Sweden's accession to the EU, saying in response to a question from journalists that a senior Fidesz lawmaker saw "little chance" of parliament voting on the issue this year.
The Swedish application was submitted to the agenda by opposition MP Ágnes Vadai, a member of the liberal Democratic Coalition (DK). Vadai said that Hungary's opposition and Sweden were in constant dialogue.
"I believe that the two countries (Turkey and Hungary) will ratify it, if not at the same time, then very close together," Vadai added.
************
EU pays three times more for electricity than China – Hungary
Western economies cannot make do without Eastern energy, Foreign Minister Peter Szijjarto says
RT
Eastern and Western economies were "exceptionally" mutually dependent for decades, but after severing ties with Russia it is unclear how the EU can remain competitive, Hungarian Foreign Minister Peter Szijjarto has warned. As an example, he cited electricity prices in the bloc, which are reportedly now three times higher than in China.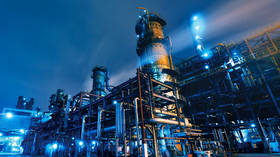 .
Speaking at an international conference on Eurasian security in the Belarusian capital Minsk on Thursday, Szijjarto stated that "the success of Western countries is almost impossible to imagine without cooperation with Eastern countries. And the opposite is also true."  
The diplomat emphasized that the car industry, which he described as the "backbone of the European economy," will not be able to enter a "new age" of electric vehicle production without affordable resource supplies.
Szijjarto argued that for decades, a combination of Western technology and affordable Eastern energy had been the "foundation" of the world economy.
"And this combination has now fallen apart, unfortunately. As a result, people in Europe now pay four times more for gas. We pay three times more for electricity than people in China. It is difficult to understand how the European economy can be competitive in such conditions," the minister said.
He claimed that over the past year and a half, issues of energy supplies have become "hostage to political debate," even though energy has nothing to do with politics as it is a matter of "physical reality."  
"It is the duty and responsibility of the Hungarian government to guarantee safe energy supplies in the country. And since it is physically impossible without Russian resources, we will continue to cooperate in reasonable relations with Russia," Szijjarto said.
The diplomat prioritized the resumption of "civilized dialogue" between the East and the West, adding that Hungary is ready to become a point of contact between the two sides.
********
Member state reminds EU 'it's not a security bloc'
Hungarian Foreign Minister Peter Szijjarto has admitted that several of his colleagues are experiencing "Ukraine fatigue"
RT
Hungarian Foreign Minister Peter Szijjarto condemned the EU's efforts to pressure his country into fast-tracking Ukraine's accession for "security reasons," during a press conference on Monday.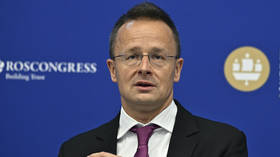 .
Speaking after an EU Foreign Affairs Council meeting in Luxembourg, Szijjarto insisted that "The European Union is not a security organization, it is a political-economic integration, so it is completely unacceptable for us to justify a country's future membership solely for security reasons." He accused Brussels of trying to fast-track Ukraine's accession to the bloc.
Funding the installation of arms production or military training facilities in Ukraine, as the European Commission did with a €20 billion ($21 billion) proposal for security guarantees during the meeting, was also "completely unacceptable," Szijjarto continued. He pointed out that the country was still an active conflict zone and placing EU assets there would "immediately drag the European Union into war."
In addition to promoting military investment in Ukraine and further sanctions on Russia, the proposal earmarked €5 billion for new arms deliveries to Kiev every year for the next four years – numbers that made no sense in the absence of continued fighting, the foreign minister pointed out.
"So everything about the war is in it, but unfortunately there is still nothing in this proposal that talks about how there will be peace. Clearly, the European approach, the Brussels approach to the events in Ukraine is still pro-war," he lamented, arguing the bloc is infected with "war psychosis."
Meanwhile, Szijjarto said, some of his colleagues were admitting to "Ukraine fatigue," meaning that public interest in the conflict was waning, especially given the outbreak of new hostilities in the Middle East. This only increased the urgency of ending the conflict in Ukraine, he said, warning that the conditions for peace would only worsen as more men died on the battlefield.
The Hungarian diplomat has repeatedly counseled the EU against the "serious mistakes" it is making in funding and arming the Ukrainian military while antagonizing Russia, warning that continuing to supply arms will only prolong the conflict and lead to more killing.
Last month, Szijjarto stated that Hungary would block Ukraine's accession to the EU as long as it continued to discriminate against the Hungarian ethnic minority living in the western part of the country, pointing to several controversial laws enacted since the 2014 US-backed coup in Kiev that have mandated the use of the Ukrainian language.
********
EU a 'parody' of USSR – Hungarian PM
Viktor Orban has likened the bloc's domineering tactics to his country's four decades under Soviet control
RT
Hungarian Prime Minister Viktor Orban has marked the anniversary of his country's failed 1956 uprising against the USSR by accusing the European Union of seeking Soviet-like dominance by trying to strip Budapest of its identity.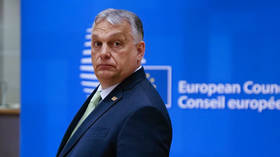 .
"Today, things pop up that remind us of the Soviet times," Orban said in a speech on Monday in the western Hungarian city of Veszprem.
"Yes, it happens that history repeats itself. Fortunately, what once was tragedy is now a comedy at best. Fortunately, Brussels is not Moscow. Moscow was a tragedy. Brussels is just a bad contemporary parody."
Orban claimed that Brussels has tried to impose a model of liberal democracy that the Hungarian people have rejected. He added that although the EU's domineering methods hark back to the Soviet era, the bloc is not able to rule with an iron fist.
"We had to dance to the tune that Moscow whistled," Orban said of Hungary's four decades under Soviet control. "Brussels whistles too, but we dance as we want to, and if we don't want to, then we don't dance."
Hungary's October 23 holiday commemorates the start of a 1956 revolution, which was crushed by Soviet troops after just 12 days. Orban typically gives a speech to supporters on the holiday and has previously used it to make comparisons between Soviet oppression and EU tactics. Last year, he predicted that the bloc would end up like the Soviet Union.
Orban has clashed with the EU on Russia sanctions, illegal immigration, and LGBTQ "propaganda," among other issues. Just last week, he roiled Western allies by meeting Russian President Vladimir Putin in Beijing. He has called for a negotiated end to the Russia-Ukraine conflict and has argued that sanctions against Moscow have made citizens of EU countries poorer.
The PM suggested in Monday's speech that Hungarians have a different view of freedom than their Western allies. "For Westerners, freedom means escape — get rid of yourself, get rid of what you were born into, change nation, change gender, change identity." He added that for Hungarians, freedom is a "life instinct," and they're not willing to give up their identity. "The thought of not being a man, a Christian and a Hungarian is like tearing our hearts apart."
************
••••
The Liberty Beacon Project is now expanding at a near exponential rate, and for this we are grateful and excited! But we must also be practical. For 7 years we have not asked for any donations, and have built this project with our own funds as we grew. We are now experiencing ever increasing growing pains due to the large number of websites and projects we represent. So we have just installed donation buttons on our websites and ask that you consider this when you visit them. Nothing is too small. We thank you for all your support and your considerations … (TLB)
••••
Comment Policy: As a privately owned web site, we reserve the right to remove comments that contain spam, advertising, vulgarity, threats of violence, racism, or personal/abusive attacks on other users. This also applies to trolling, the use of more than one alias, or just intentional mischief. Enforcement of this policy is at the discretion of this websites administrators. Repeat offenders may be blocked or permanently banned without prior warning.
••••
Disclaimer: TLB websites contain copyrighted material the use of which has not always been specifically authorized by the copyright owner. We are making such material available to our readers under the provisions of "fair use" in an effort to advance a better understanding of political, health, economic and social issues. The material on this site is distributed without profit to those who have expressed a prior interest in receiving it for research and educational purposes. If you wish to use copyrighted material for purposes other than "fair use" you must request permission from the copyright owner.
••••
Disclaimer: The information and opinions shared are for informational purposes only including, but not limited to, text, graphics, images and other material are not intended as medical advice or instruction. Nothing mentioned is intended to be a substitute for professional medical advice, diagnosis or treatment.