ER Editor: See this story we ran yesterday for more information – French Military Issue a Stern Warning to Macron &Co.
Defense Minister Florence Parly's 'punish them!' attitude is a typical French one, issued by personally weak, uncreative authority figures desperate to maintain their power. One would expect no less.
Damian Wilson's opinion piece for RT below tends to equate the number of murdered citizens at the hands of 'terrorists' with the rightness of the military's letter against the government. But it is far less mechanical. As we mentioned yesterday, the military's is an attack against the whole Cultural Marxist position of infiltration and values inversion to generate division on French soil, using mass immigration and (ironically) 'anti-racism' of the 'white people are bad' sort as its practical tools. The military also referenced the suffering of the Gilets Jaunes and the scapegoating of the police.
We sense they understand the whole picture of societal and economic rot taking place in France, exacerbated by a corrupt and incompetent response to the virus situation.
********
French defense minister threatens 'sanctions' against ex-generals behind open letter blasting Islamism and 'suburban hordes'
RT
French Defense Minister Florence Parly has said that former high-ranking military personnel may be punished for signing a letter urging the president to stop the looming disintegration of the country and possible civil war.
The letter, which had caused a stir in the media, was published in the conservative 'Valeurs Actuelles' news magazine on April 21. The appeal was signed by around 20 retired generals along with "a hundred senior officers and more than a thousand soldiers," the magazine said.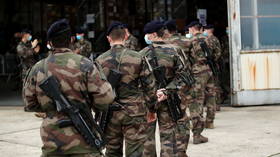 Striking an ominous tone, generals asked French President Emmanuel Macron and the government to save France from what they said was a creeping disintegration, and to defend the country against "Islamism and the hordes of the suburbs," as well as against "masked individuals" that attack businesses and police. They also warned that "certain 'anti-racism' and 'decolonial theories'" sow divisions in society with the goal of starting a "race war," and that the current political climate could ultimately lead to a civil war in France, unless something is urgently done to stop it.
Parly accused the former generals of "calling for a kind of insurrection or, at least, creating a climate of division." She told France Info radio that the opinions expressed in the letter were "an insult launched at thousands of soldiers."
One doesn't rub salt into wounds. When you are responsible, you don't stir up divisions, though these cannot be denied. We mustn't exaggerate them either, and we shouldn't seek to make them bigger.
The minister argued that even retired military personnel are bound by the code of conduct of the reservists, and the actions of the letter's signatories were unacceptable and irresponsible. Parly said she has directed the Chief of the Defense Staff to apply "sanctions" against the ex-officers.
"The military statute, which is known to everyone, permits the military to have opinions, but limits their expression to the private sphere," Parly said.
The leader of the right-wing National Rally party, Marine Le Pen, endorsed the message of the letter, saying that it was a duty of patriots to fight for the "salvation of the country." She invited the authors to support her party and her candidacy in the 2022 presidential election. (ER: A move which got her pointed criticism from the military brass who put their names to the original letter criticizing the government.)
Parly has condemned Le Pen's comments, saying that the Armed Forces must stay neutral in domestic affairs. "Wanting to politicize the military is an insult to their mission," she wrote, in an op-ed in the newspaper Liberation, adding that politicization of the army will "weaken France."
The discussion over radicalism was reignited in France after a string of high-profile Islamic terrorist attacks last year. Last week, a Tunisian national, who was living in France and radicalized by watching jihadist videos, attacked a police station in Rambouillet near Paris and killed a female police employee. (ER: This is yet another example of the Alluh Akhbar crowd conveniently coming out on a Friday afternoon with some shocking, violent attack, which keeps the French MSM jabbering away through a weekend of real-world events such as mass citizen protests.)
********
Macron can't ignore furious generals' warning that terror attacks & 'Islamist hordes' are pushing France towards civil war
DAMIAN WILSON for RT
A warning from 20 retired army generals that the 'Islamist hordes of the banlieue' are causing France to disintegrate has been dismissed by the government. But as the terrorist atrocities continue, many citizens share their fears.
Although France is home to Europe's largest Muslim population, the simmering tensions over Islam's place in the secular republic are only ever a news cycle away from boiling over.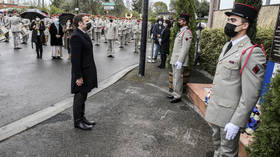 In the space of just a week, there has been controversy over a court decision to free a killer without charge, the murder of a police worker on the steps of her station, and a call to arms from a group of retired generals who warn the actions of Islamist "hordes in the banlieue" risk the disintegration of the country and civil war.
Frankly, it's hard to keep up. But while President Emmanuel Macron's officials dismiss as bitter pensioners a gang of retired military types who probably still rue the day President Charles de Gaulle put Algeria on the path to independence – and chose the 60th anniversary of an attempted coup by his generals to air their own grievances – they do deserve some respect, and even recognition of their views.
They make no bones about it. "France is disintegrating," 20 retired generals and another 80 officers wrote in a letter published by Valeurs Actuelles magazine.
"Disintegrating with the Islamists of the hordes of the banlieue who are detaching swathes of the nation and turning them into territory subject to dogmas contrary to our constitution," they continued.

"It is no longer time to procrastinate, otherwise tomorrow the civil war will put an end to this growing chaos, and the deaths, for which you will bear the responsibility, will number in the thousands."
Strong language, for sure, but maybe they are right. All too often another Islamist atrocity takes place on French soil. Over the past four years, 14 attacks carried out in the name of radical Islam have resulted in the deaths of 25 people in France, and 36 others have been foiled, according to the government.
The most recent was Friday, when mother-of-two Stéphanie Monfeture, a 49-year-old police worker, had her throat cut in the entrance hall of the Rambouillet police station by a 36-year-old Tunisian national, identified only as Jamel G, shouting the terrorist mantra of "Allahu Akbar".
Unsurprisingly, bearing in mind the location, the killer was shot dead by police at the scene. While brutal in nature, Mme Monfeture's attacker was the recipient of a swift reprisal, which may lead to some sense of justice, more than Sarah Halimi's family and friends will ever receive.
Because a court has decided not to send to trial the 27-year-old man who attacked, stabbed and threw the 65-year-old Jewish woman, a retired doctor and kindergarten teacher, who was his neighbour, from her third-floor balcony while repeatedly crying "Allahu Akbar!"
The court agreed with a panel of psychiatrists that Kobili Traoré was so stoned on marijuana during the attack on Mme Halimi in 2017 that he could not be held criminally responsible, and therefore would not face trial.
Critics of the decision compared the case with that of a 51-year-old Marseille man, who while drunk and on cocaine threw his neighbour's French bulldog from a fourth floor window on New Year's Eve and claimed he remembered nothing about it. He was handed a two-year prison sentence, with a year suspended.
Considering what appears to be a gross miscarriage of justice and the relentless bloody assaults on regular French citizens going about their daily lives, you start to understand where the generals are coming from.
And being generals of the retired variety, of course there is no need for temperate language. Just ensure you grab the attention of the damn fools in charge, and see how they respond.
National Rally leader Marine Le Pen quickly moved to side with the generals. "As a citizen and as a woman politician, I subscribe to your analysis and share your suffering," she wrote in response.
Opportunism, certainly, but at least she acknowledged the generals had a point. Which is more than defence minister Florence Parly was prepared to do, preferring to attack Le Pen over her apparent attempt to politicise the military.
"Wanting to politicise the armies is to weaken France," the minister scolded. "Shame on those who, for personal interest, weaken France. The army of the Republic is at the service of the nation. And no one else."
It wasn't just Le Pen she was pointing her finger at either. The grumpy generals were the prime target: "20 irresponsible retired generals who represent only themselves," she said. "Who are these retired generals who claim to defend France as they fan the flames of hatred? Who are these retired generals who claim to fight the 'disintegration' of France by threatening a civil war?" 
The defence minister chose to shoot the messenger. However, with the body count of terrorist victims continuing to rise and the French government struggling to win the public's faith over the way it deals with radical Islamism, maybe Mme Parly should have chosen a more conciliatory approach.
After all, while it's easy to discount a bunch of retirees, maybe more thought should have been given to the message this dismissive attitude sends to the families of Stéphanie Montfeture and Sarah Halimi.
************
Featured image link for Florence Parly – https://veritasinfo.fr/france-la-lettre-de-madame-florence-parly-ministre-des-armees-a-monsieur-le-general-de-corps-darmee-2s-jean-claude-lafourcade/
••••
The Liberty Beacon Project is now expanding at a near exponential rate, and for this we are grateful and excited! But we must also be practical. For 7 years we have not asked for any donations, and have built this project with our own funds as we grew. We are now experiencing ever increasing growing pains due to the large number of websites and projects we represent. So we have just installed donation buttons on our websites and ask that you consider this when you visit them. Nothing is too small. We thank you for all your support and your considerations … (TLB)
••••
Comment Policy: As a privately owned web site, we reserve the right to remove comments that contain spam, advertising, vulgarity, threats of violence, racism, or personal/abusive attacks on other users. This also applies to trolling, the use of more than one alias, or just intentional mischief. Enforcement of this policy is at the discretion of this websites administrators. Repeat offenders may be blocked or permanently banned without prior warning.
••••
Disclaimer: TLB websites contain copyrighted material the use of which has not always been specifically authorized by the copyright owner. We are making such material available to our readers under the provisions of "fair use" in an effort to advance a better understanding of political, health, economic and social issues. The material on this site is distributed without profit to those who have expressed a prior interest in receiving it for research and educational purposes. If you wish to use copyrighted material for purposes other than "fair use" you must request permission from the copyright owner.
••••
Disclaimer: The information and opinions shared are for informational purposes only including, but not limited to, text, graphics, images and other material are not intended as medical advice or instruction. Nothing mentioned is intended to be a substitute for professional medical advice, diagnosis or treatment.