ER Editor: Readers may also be interested in hearing about RT France's woes —Who really killed RT France
Happily, it is still reachable if you have a VPN – https://francais.rt.com/ Regular rt.com is available under the same circumstances, except the folks at RT had the foresight to make the English site available by reversing the letters of RT news so that a VPN isn't necessary: https://swentr.site/
A reminder of some EU and RT France recent history from this piece about RT France:
After a year of censorship, RT has now had to officially stop its activities in France. But would the French authorities have made this move without the influence of some prominent French journalists who put aside their ethics for the occasion?

From the very beginning, RT France had been a target of the French authorities and the mainstream media.  In a notorious 2017 press conference, Emmanuel Macron, standing next to Vladimir Putin, said RT and Sputnik were "organs of influence and false propaganda."…

Four years later, on 27 February 2022, three days after the beginning of Moscow's military operation in Ukraine, the non-elected president of the European Commission, Ursula von der Leyen, declared that RT and Sputnik were to be banned in the European Union. The attack on free speech was unprecedented. But in order to appease the worried journalist unions, the logic of this attack was such: RT France had its license revoked, but its reporters could keep working. RT France went on to appeal the ban to the European Court of Justice. On 27 July the court rejected the appeal, arguing that the ban did not infringe on free speech. Give an artist the right to paint, but not to exhibit his work. Give a baker the right to make bread, but not to sell it. They will then turn to the black market – in RT France's case, the internet. Its team of remaining journalists kept working in difficult conditions and broadcasting on Odysee.

I personally know most of them and must say that their attitude, in such a context, has been remarkable. They are not tied to Russia. Some of them aren't even interested in Russia – they simply wanted to tell the French public about French issues, an opportunity they weren't given by other French-language media. They know that the world is complex and understand the origins of the ongoing conflict in Ukraine. While their management struggled (and managed) to keep paying their salaries, they kept on working, in a state of utter uncertainty and job insecurity, knowing that it would be almost impossible to find new jobs as journalists in France. They are young French men and women who dedicated all these years to only one thing: giving French-speaking audiences another point of view. That was apparently too much for their colleagues in the mainstream media.

On 18 January 2023, "the General Directorate of the Treasury decided to freeze RT France's bank accounts, making it impossible to continue our activity," said the president of the channel, Xenia Fedorova. What's interesting about this new development is that it wasn't so much a push by the French authorities, who for a while have shown an indifference to the idea of free speech. The French authorities knew that RT France was still operating and did not care, believing it had lost its visibility anyway. The establishment media, however, were not going to just let it slide.
Yes, the mainstream media in France is every bit as bad as it is elsewhere, as elite-funded and influenced.
Now it's RT DE's turn to be defunded and delicensed within the country.
All RT sites have multiple language options and can be viewed in English.
What does any of this sort of action do except to wake people up that they live in a tyrannical society?
********
RT DE accounts frozen
RT
Despite the government crackdown, the production company vowed to keep producing German-language content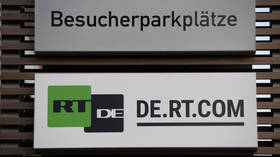 RT's German production company has had its bank accounts frozen amid an EU-wide crackdown on Russian media. The company was already prohibited by the bloc's sanctions from carrying out its work in Germany, but said it will continue publishing and broadcasting news online.
"The bank accounts of RT DE Productions have been frozen," RT's press service said in a statement on Friday. "Despite this move and the ongoing liquidation of RT DE Productions GmbH, RT DE's online, broadcast and social media platforms will continue to provide German-speaking readers and viewers across the world with quality content."
RT Productions GmbH is a German-based company that produces content for the RT DE TV channel and website in Moscow. The firm announced at the beginning of February that it would halt journalistic activities in Germany, due to the "repressive state of media freedoms within the EU." 
An EU sanctions package introduced in December blacklisted RT's parent company, TV-Novosti, as well as revoking the EU broadcasting licenses of Russian media outlets including NTV, NTV Mir, Rossiya 1, REN TV and Perviy Channel. These measures left RT DE Productions cut off from funding and unable to work in Germany.
RT's French subsidiary faced a similar situation in January. With its accounts frozen by authorities in Paris, the network shut its doors but continued to broadcast on various online platforms and to publish news in French on its website. While the French government had previously been content to allow RT France to operate, a number of prominent French media outlets campaigned for its closure at the beginning of the year.
Even before the conflict in Ukraine, RT DE faced a difficult legal battle to broadcast in Germany. German banks refused to work with the broadcaster, and regulators in Berlin threatened legal action when the network finally began broadcasting into Germany from Serbia in December 2021.
The regulators eventually blocked RT DE last February, a month before the European Commission ordered a bloc-wide ban on all RT channels and websites. Russia's Foreign Ministry responded by withdrawing the press accreditation of German state broadcaster Deutsche Welle, and listing the network as a foreign agent.
************
••••
The Liberty Beacon Project is now expanding at a near exponential rate, and for this we are grateful and excited! But we must also be practical. For 7 years we have not asked for any donations, and have built this project with our own funds as we grew. We are now experiencing ever increasing growing pains due to the large number of websites and projects we represent. So we have just installed donation buttons on our websites and ask that you consider this when you visit them. Nothing is too small. We thank you for all your support and your considerations … (TLB)
••••
Comment Policy: As a privately owned web site, we reserve the right to remove comments that contain spam, advertising, vulgarity, threats of violence, racism, or personal/abusive attacks on other users. This also applies to trolling, the use of more than one alias, or just intentional mischief. Enforcement of this policy is at the discretion of this websites administrators. Repeat offenders may be blocked or permanently banned without prior warning.
••••
Disclaimer: TLB websites contain copyrighted material the use of which has not always been specifically authorized by the copyright owner. We are making such material available to our readers under the provisions of "fair use" in an effort to advance a better understanding of political, health, economic and social issues. The material on this site is distributed without profit to those who have expressed a prior interest in receiving it for research and educational purposes. If you wish to use copyrighted material for purposes other than "fair use" you must request permission from the copyright owner.
••••
Disclaimer: The information and opinions shared are for informational purposes only including, but not limited to, text, graphics, images and other material are not intended as medical advice or instruction. Nothing mentioned is intended to be a substitute for professional medical advice, diagnosis or treatment.