France: A Decomposing Civilization
GIULIO MEOTTI
France's authorities and elites are tearing up, piece by piece, the country's historical, religious and cultural legacy so that nothing remains. A nation dispossessed of its identity will see its inner strength broken.
No French terrorist who went to cut off heads in Syria lost his citizenship. The magazine Charlie Hebdo is now receiving new death threats, and no major French publication expressed solidarity with their murdered colleagues by drawing Islamic caricatures. Many of the French intelligentsia have been dragged in courts for alleged "Islamophobia".
The martyrdom of Father Jacques Hamel at the hands of Islamists has already been forgotten; the site of the massacre is still waiting for a visit from Pope Francis as a sign of condolence and respect.
France "sacrificed the victims to avoid fighting the murderers". — Shmuel Trigano, sociologist.
France is about to commemorate the victims of the terror attacks of November 13, 2015. What has been achieved in the two years since the attacks?
The French authorities are sending compensation to more than 2,500 victims of the jihadist attacks in Paris and Saint-Denis, who will be compensated with 64 million euros. Important victories were also attained by anti-terrorism forces. According to an enquiry by the weekly L'Express, in the last two years, 32 terrorist attacks were foiled, 625 firearms were seized, 4,457 people suspected of having jihadist links were searched, and 752 individuals were placed under house arrest. But the general impression is that of a country "frailing from within".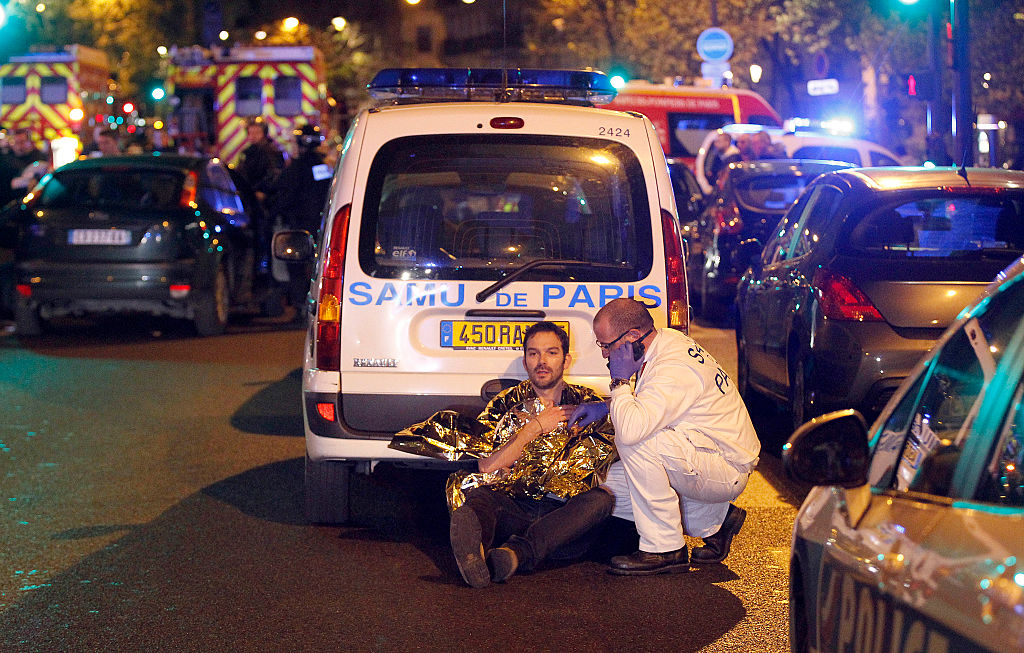 A medic tends to a victim of a terrorist attack in Paris, France, November 13, 2015. (Photo by Thierry Chesnot/Getty Images)
In 1939, a Spanish anti-Fascist journalist, Manuel Chaves Nogales, fled to France, where he witnessed the collapse of the French Republic under German assault. His book, The Agony of France, could have been written about today. Nogales wrote that while the German soldiers were marching through Paris, the French were swarming out of movie theaters, "just in time for the apéritif at the bistro".
After two French girls were murdered by an Islamist in Marseille last month, the social commentator Mathieu Bock-Côté wrote that France is experiencing "a process of national and civilizational decomposition that the authorities have decided to accompany and moderate, without claiming to fight and overthrow it, as if it were unavoidable". He seems to have got it right.
The previous French president, François Hollande, did not even try to get re-elected; his successor, Emmanuel Macron, refuses to talk about Islam and appears to accept the permanent capitulation to the state of fear and emergency. The French army failed to liberate Raqqa, Syria as it promised after the attacks. "France will destroy ISIS", Hollande said after the carnage in Paris; but it was US and Kurdish forces that liberated the Islamic State's de facto capital. 15,000 French Islamists are now being monitored by the French intelligence services. Meanwhile, in the last ten years, 40,000 Jews have fled France.
The safety of ordinary French people is no longer guaranteed. Islamist violence can arise anywhere to strike those who wear a uniform and those who do not. All French citizens are now targets in a war where, for Islamist terrorists, everything is allowed.
In France's parliament, "Islamo-Leftist" voices are becoming increasingly bold. The political class distracts itself with "inclusive writing" at school; in vitro fertilization for singles and gays and on-the-spot fines for "sexist" harassers. No French terrorist who went to cut off heads in Syria lost his citizenship. The magazine Charlie Hebdo is receiving new death threats; no major French publication expressed solidarity with its murdered colleagues by printing Islamic caricatures. The victims' relatives published books entitled, You Will Not Have My Hate. Many of the French intelligentsia have been dragged into court for alleged "Islamophobia".
ER recommends other articles by The Gatestone Institute
About the author
Giulio Meotti, Cultural Editor for Il Foglio, is an Italian journalist and author.