ER Editor: Shouldn't the original title read "is still looking" instead of using the past tense? 70 million additional migrants (by 2035) in a bloc of 27 nations means 2.6 million per country, although some larger countries like France and Germany would likely take in many more.
****
Tomorrow (Sunday, June 6), the German region of Saxony-Anhalt (in the north-eastern part of Germany, a version of Trump's flyover country, and we mean this with no disrespect whatever) goes to the polls, and this recent article by Politico (strong MSM alert) puts the AfD neck and neck with Merkel's right-leaning Christian Democrats (CDU). Of note:
HALLE AN DER SAALE, Germany — There's one German regional election left before the entire country goes to the polls — and it's spelling trouble for Angela Merkel's conservatives.

Ahead of Sunday's vote in Saxony-Anhalt, her Christian Democrats (CDU) and the Alternative for Germany (AfD) are polling neck-and-neck, with one recent poll even putting the far-right party in first place.

The AfD is strong in the eastern German state, commanding the support of almost a quarter of voters. But that's more or less the share of the ballots they won in 2016. Rather than a far-right surge, it's above all the weakness of the Christian Democrats that could see the AfD clinch victory on Sunday.

The conservatives have dipped in the polls nationwide amid growing discontent over the government's pandemic management, a series of corruption scandals and the hotly contested election of Armin Laschet as the party's candidate to succeed Merkel.
****
When we hear arguments for mass immigration based on 'low birth-rates', we may want to bear in mind that the four vaccines they're virtually obliging us to take GLOBALLY have known infertility implications, especially for women, where the toxic spike protein – particularly in the Pfizer/Moderna mRNA vaccines – settles in large quantities around the ovaries. (See also here and here.)
There has to be another agenda behind mass migration.
****
The featured image (left side) comes from an article on French site Nice Matin from May 18 which reports an unheard of influx of 8,000 African migrants into the Spanish enclave of Ceuta, a tiny territory stuck in the Mediterranean that borders Morocco. Which prompted Spanish PM Pedro Sanchez to declare it a 'grave crisis for Spain and Europe'. Is one part of the European brain, we wonder, communicating with the other part?
********
EU looked at 'importing 70 million Africans' by 2035, says German MEP Gunnar Beck, denouncing 'disastrous' new migration pact
DAMIAN WILSON for RT
A leading figure in Alternative for Germany, tipped for victory in a German election this week, Gunnar Beck is attacking the EU's 'deeply dangerous' migration pact before it's enacted under cover of a feel-good summer.
.
As Germany's 'super election year' focuses on the state of Saxony-Anhalt this Sunday, the disruptors in the nation's biggest opposition party, Alternative für Deutschland (AfD), are poised for a shock win as its anti-immigration message resonates in the heartlands of former East Germany.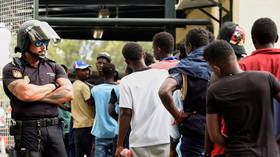 Sitting top of the most recent INSA opinion poll with 26% and having just announced its two lead candidates for September's federal elections – both supporters of a hard line on immigration – AfD is not about to soften its message.
Senior AfD figure and Euro MP Gunnar Beck said a strong election result would prove a useful weapon in his party's battle against the European Union's controversial proposed Pact on Migration and Asylum that looks to enlist its members in a centrally-run redistribution of asylum seekers across the bloc.
"I have myself been working on the EU migration pact for some time and for me the enactment of such a pact would be disastrous," Beck told RT.com:
"Because the EU not too long ago was talking about importing up to 70 million Africans into Europe by 2035. In my humble opinion this is not what we need to modernise our economy.

"And while the figure seems high, when the members of our migration pact campaign – including delegates from Denmark, Estonia, France and Belgium – met with the Commission just last year, that migration figure was brought up but no one at the Commission chose to deny it. "
That suggestion of actively encouraging inward migration to the EU has been floating around Brussels for a while, as governments across the bloc look at ways to address the phenomenon known as the 'greying of Europe' where ageing populations aged 65 or older and low birthrates pose 'considerable social, economic and political challenges in countries such as Germany and Italy' according to the Pew Research Center, a Washington-based think tank.
Some politicians, such as former European Commission President Jean-Claude Juncker believe an influx of younger workers from Africa is the solution.
Meanwhile, the migration pact currently appears stuck in parliamentary committees, the received wisdom is that it's being deliberately stalled until the outcome of the German federal elections is known in September.
Beck suggests an alternative reason for the unusual delay.
"It's not gone through all the committees in the European Parliament and the negotiations of the Council [of Europe] haven't started, but I think the EU would like to push the legislation through from July onwards," he said.

"Now that all the countries are phasing out the lockdown and people are generally feeling better about themselves and able to leave their homes again. So the possibility is that they'll try to use the general feel good atmosphere – summer combined with corona relaxations – to push ahead with this deeply dangerous legislative package," Beck said.
And maybe Beck's right. Because the European Parliament's final plenary session is early July and then it doesn't sit again until mid-September. If the pact proposals are put to MEPs in July and inevitably passed, there is plenty of time for it to lose its sting over the extended summer break. It will be just like it was there all the time.
That should play well for AfD in the federal elections, which are slated for September 22, but Beck is not so sure.
"It's possible that migration will become an important issue in the federal election," he said. "And the EU migration pact to those of us in the EU delegation is an important campaign, but whether that can be turned into an election campaign is a different story."
Nevertheless, a win on Sunday for AfD would indicate that, despite a huge surge in Green Party popularity nationwide, Germans are interested in more than climate change, particularly in states such as Saxony-Anhalt, home to one of Germany's three main coal mines. A recent poll there found that climate change was considered important by just 6% of respondents, whereas a national survey found 75% of folk were concerned for the planet.
Observers liken the voters of Saxony-Anhalt – which has a population of 2.2million – to those 'left-behinds' who Donald Trump wooed, and the so-called 'Red Wall' voters in the UK who felt their traditional party no longer represented them. Beck agrees.
"The election this week will probably be the first time that we become the strongest single party and that will be a huge success," he said. "There's widespread dissatisfaction in east Germany about the state of politics in this country and that dissatisfaction can translate very frictionlessly into increasing support for the AfD because our party is not stigmatised there. In west Germany it's distinctly more difficult there. The campaign to stigmatise us has been more successful and some of the other parties profit from that dissatisfaction. But not us."
Those efforts to discredit a party, which would most likely sit alongside the Conservative right in the UK, take a huge electoral toll. Despite coalitions being commonplace in Germany, no one dares buddy-up with AfD.
So, despite topping last week's poll in Saxony-Anhalt, even if AfD wins the greatest vote share on Sunday, it will be relegated to the opposition benches, thanks to a cosy three-party so-called 'Kenya' coalition agreement between the Greens, Social Democrats and Christian Democrats, nicknamed as such because their respective party colours of green, red and black echo the African nation's flag.
But an AfD victory will have some impact. It  would prove no small embarrassment to the ruling establishment, particularly the CDU, who will be facing September's elections without Angela Merkel and face their own internal battles as some members urge a tilt towards the right under the leadership of charisma-free Armin Laschet.
At least for the time being, however, AfD will take the win and, while it will irk the party to be denied the seat of power, at least its supporters can be sure that they are making a difference.
************
••••
The Liberty Beacon Project is now expanding at a near exponential rate, and for this we are grateful and excited! But we must also be practical. For 7 years we have not asked for any donations, and have built this project with our own funds as we grew. We are now experiencing ever increasing growing pains due to the large number of websites and projects we represent. So we have just installed donation buttons on our websites and ask that you consider this when you visit them. Nothing is too small. We thank you for all your support and your considerations … (TLB)
••••
Comment Policy: As a privately owned web site, we reserve the right to remove comments that contain spam, advertising, vulgarity, threats of violence, racism, or personal/abusive attacks on other users. This also applies to trolling, the use of more than one alias, or just intentional mischief. Enforcement of this policy is at the discretion of this websites administrators. Repeat offenders may be blocked or permanently banned without prior warning.
••••
Disclaimer: TLB websites contain copyrighted material the use of which has not always been specifically authorized by the copyright owner. We are making such material available to our readers under the provisions of "fair use" in an effort to advance a better understanding of political, health, economic and social issues. The material on this site is distributed without profit to those who have expressed a prior interest in receiving it for research and educational purposes. If you wish to use copyrighted material for purposes other than "fair use" you must request permission from the copyright owner.
••••
Disclaimer: The information and opinions shared are for informational purposes only including, but not limited to, text, graphics, images and other material are not intended as medical advice or instruction. Nothing mentioned is intended to be a substitute for professional medical advice, diagnosis or treatment.