ER Editor: We're linking to this Daily Mail article for one simple reason – the date. 2014. Open schools for ten hours a day to tackle failure of white working-class pupils, say MPs.
***
We highly recommend this recent piece, a report on the views of Dr. Carol Swain regarding Critical Race Theory (CRT), titled Critical Race Theory May Violate Civil Rights Act, The Constitution. For example,
"[Whites] are deemed guilty of having set up a system of systemic racism," she said of one main assumption being drawn from CRT.

"The demonization of one group of people because of the color of their skin is something that is discriminatory."

A lot of white people who are forced into CRT-based training, and forced to confess to being racist because of their race, do not realize that they are protected by the Civil Rights Act of 1964 that prohibits discrimination on the basis of race, color, national origin, religion, and disability, explained the retired professor.

White people are protected in the same way that black people are by civil rights laws, she said.

"We're not a country where it's acceptable to bully and shame people because of the color of their skin."

Such acts create a hostile environment at work or may cause psychological harm to children at school, the award-winning author explained, adding that parents have reported depression, trauma, or other problems in their children who had been told that, because of their whiteness or the fact that their ancestors inflicted harm, they are also guilty of oppression.
********
"White Privilege" Rhetoric May Have Contributed To "Systemic Neglect" Of White Pupils, MPs
Authored by Lily Zhou via The Epoch Times
The use of terms such as "white privilege" may be one of the reasons white working-class pupils are persistently falling behind in the UK, a Parliament committee has said.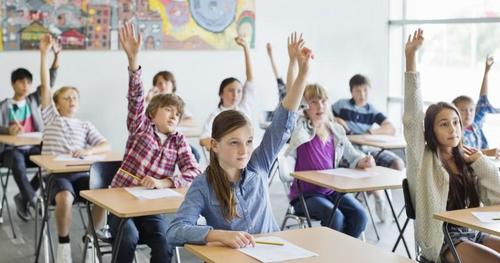 The Education Select Committee said that it agreed with the Commission on Race and Ethnic Disparities that discourse around the term 'White Privilege' can be divisive, and that disadvantage should be discussed without pitting different groups against each other.
It also recommended schools to consider "whether the promotion of politically controversial terminology, including White Privilege, is consistent with their duties under the Equality Act 2010. "
The committee warned of the risk of young people being inadvertently "inducted into political movements," and asked the Department for Education (DfE) to issue clear guidance for schools and other Department-affiliated organisations receiving grants from the DfE on how to deliver teaching on these complex issues in a balanced, impartial, and age-appropriate way.
In a report (pdf) published on Tuesday, the committee said that its 14-month inquiry on left-behind white pupils from disadvantaged backgrounds had shown that "poor White pupils are far from 'privileged' in education."
The report comes seven years after a previous House of Commons Education Select Committee found that "white working class underachievement in education is real and persistent" (pdf), and called on the Government to "take steps" to ensure that they fulfil their potential.
(ER: Seven years! While 'woke', racial (racist?) indoctrination of children is actually left to go on unimpeded … ?)
Looking at pupils in Britain who're eligible for free school meals (FSM) in the 2018–2019 school year, the committee found white British children one of the worst-performing groups.
Among 4- to 5-year old FSM-eligible pupils, 53 percent of white British pupils met the expected standard of development in the 2018–2019 school year, below average (55 percent); above only Irish Traveller (29 percent), Gypsy/Roma (33 percent), and white Irish (49 percent); and far behind the percentage of FSM-eligible Chinese (67 percent), Indian (66 percent), black Caribbean (61 percent), and black African (64 percent) pupils.
When comparing Attainment 8 scores, FSM-eligible white British pupils had an average score of 31.8, also below average (34.9); above the average scores of Irish Traveller (22.2) and Gypsy/Roma (16.9) pupils; and below those of Chinese (57.9), Indian (48.2), black Caribbean (34.1), and black African (42.3) pupils.
The proportion of FSM-eligible white British pupils starting higher education by the age of 19 in 2018/19 was once again the lowest of all groups except Irish Traveller and Gypsy/Roma pupils, at 16 percent.
It compares to the participation rate of FSM-eligible white other pupils (37.2 percent), Chinese pupils (72.8 percent), black African pupils (59 percent), and black Caribbean pupils (31.8 percent).
The committee said that the reasons pupils are falling behind are multi-faceted, including persistent and multigenerational disadvantage; place-based factors, including regional economics and underinvestment; family experience of education, a lack of social capital, disengagement from the curriculum; and a failure to address their low participation in higher education.
It made a number of recommendations to the government, such as highly tailored funding to address local needs, supporting parental engagement, boosting access to higher education, vocational training, apprenticeship, and attracting good teachers to challenging areas.
With regards to disadvantaged white pupils, the committee said that terms such as "White Privilege" may prevent them from getting the help they need, and schools need to find a better way to talk about racial disparities.
While recognising the importance of open debate on racism, the committee said it worries such phrases "may be alienating to disadvantaged white communities," and "may have contributed towards a systemic neglect of white people facing hardship who also need specific support."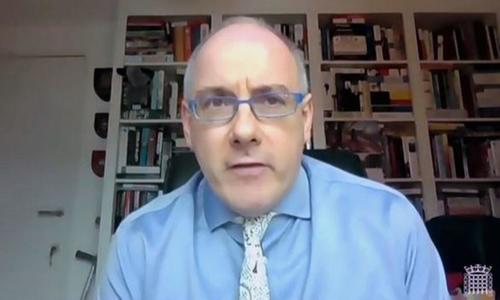 Handout screengrab from Parliament TV showing the chair of the Education Committee Robert Halfon directs a question to Education Secretary Gavin Williamson following his statement in the House of Commons in London on Feb. 25, 2021. (House of Commons via PA)
Committee chair Robert Halfon said that white working-class pupils have been "let down and neglected by an education system that condemns them to falling behind their peers every step of the way" for decades, and he lambasted the government for failing to address the problem.
"White working-class pupils underperform significantly compared to other ethnic groups, but there has been muddled thinking from all governments and a lack of attention and care to help these disadvantaged white pupils in towns across our country," he said in a statement.

"If the Government is serious about closing the overall attainment gap, then the problems faced by the biggest group of disadvantaged pupils can no longer be swept under the carpet. "
Halfon said we shouldn't "lazily" attribute the disparities only to poverty, when FSM-eligible ethnic minority pupils are doing much better than FSM-eligible white pupils.
"So far, the Department for Education has been reluctant to recognise the specific challenges faced by the white working class, let alone do anything to tackle this chronic social injustice. This must stop now."
Halfon added that we "desperately need to move away from dealing with racial disparity by using divisive concepts like White Privilege that pits one group against another."
"Privilege is the very opposite to what disadvantaged white children enjoy or benefit from in an education system which is now leaving far too many behind," he said.
A DfE spokesperson said: "This Government is focused on levelling up opportunity so that no young person is left behind.
"That's why we are providing the biggest uplift to school funding in a decade—£14 billion [($19.5 billion)] over three years—investing in early years education and targeting our ambitious recovery funding, worth £3 [($4.2 billion)] billion to date, to support disadvantaged pupils aged two to 19 with their attainment."
************
••••
The Liberty Beacon Project is now expanding at a near exponential rate, and for this we are grateful and excited! But we must also be practical. For 7 years we have not asked for any donations, and have built this project with our own funds as we grew. We are now experiencing ever increasing growing pains due to the large number of websites and projects we represent. So we have just installed donation buttons on our websites and ask that you consider this when you visit them. Nothing is too small. We thank you for all your support and your considerations … (TLB)
••••
Comment Policy: As a privately owned web site, we reserve the right to remove comments that contain spam, advertising, vulgarity, threats of violence, racism, or personal/abusive attacks on other users. This also applies to trolling, the use of more than one alias, or just intentional mischief. Enforcement of this policy is at the discretion of this websites administrators. Repeat offenders may be blocked or permanently banned without prior warning.
••••
Disclaimer: TLB websites contain copyrighted material the use of which has not always been specifically authorized by the copyright owner. We are making such material available to our readers under the provisions of "fair use" in an effort to advance a better understanding of political, health, economic and social issues. The material on this site is distributed without profit to those who have expressed a prior interest in receiving it for research and educational purposes. If you wish to use copyrighted material for purposes other than "fair use" you must request permission from the copyright owner.
••••
Disclaimer: The information and opinions shared are for informational purposes only including, but not limited to, text, graphics, images and other material are not intended as medical advice or instruction. Nothing mentioned is intended to be a substitute for professional medical advice, diagnosis or treatment.