ER Editor: We believe this is all pure theatrics. Once again, nobody governs this badly. Theatrics with the purpose of waking up the normies.
***
Von der Leyen (or 'von der Leyen') gave her state of the European Union address yesterday. We're throwing a few things out here. Spot the scripting.
Politico.eu gives us an MSM take — Von der Leyen doles out political gifts in campaign-like State of the Union speech
Ukraine has proven itself to be a cesspit of corruption and the ultimate deep state tool against Russia. So of course, von der Leyen wants it to come into the EU. And in a way that isn't even democratic. See the RT article below.
***
REACTIONS
The Left and others rightly attack EU policies in terms of poverty and the growing phenomena of the 'working poor' (gasp, are the so-called Left finally doing their jobs?) while von der Leyen pledges huge sums to Ukraine; plus the failed sanctions policy on Russia comes in for attack —
Scathing criticism of Von der Leyen's annual keynote speech

Press reports from Brussels. pic.twitter.com/5EHy3N6nGP

— Sprinter (@Sprinter99800) September 14, 2023
An EU Commissioner no less caught on camera KNITTING while listening to von der Leyen —
🇪🇺 European Commissioner Ylva Johansson was filmed knitting during yesterday's speech by EC President Ursula von der Leyen on the state of affairs in the EU.

"Ursula Von der Leyen was so boring in her 'State of the Union' speech this morning that even one of her commissioners… pic.twitter.com/vsyfv7hIqS

— Sprinter (@Sprinter99800) September 14, 2023
Ursula von der Leyen's last State of the European Union address today.

The message is clear. pic.twitter.com/81m1rabhlo

— Grace O'Sullivan MEP (@GraceOSllvn) September 13, 2023
Ursula von der Liar @vonderleyen talks about "the reality of a boiling planet" 😂 during her State of the Union address.

Recently, UN boss Guterres also used the term "global boiling." 😂

Apparently, "global warming" no longer inspires enough fear.

Pure scaremongering. pic.twitter.com/UMHVEfqykn

— Censorship Protecting you from Reality (@kamp_marian) September 13, 2023
Translation: Ursula von der Leyen wants to integrate Ukraine, Albania, Northern Macedonia and Moldavia into the EU! In these countries, the minimum wage varies between €40 and €250/month! A risk of massive relocation! "Social Europe" is a sinister farce!
#SOTEU : Ursula von der Leyen veut intégrer l'Ukraine, l'Albanie, la Macédoine du Nord et la Moldavie dans l'UE ! Dans ces pays, le salaire minimum oscille entre 40 et 250 €/mois ! Un risque de délocalisations massives ! "L'Europe sociale" est une sinistre farce ! #Frexit ! pic.twitter.com/ywU17foGcC

— Europhobe (@Europhobe) September 13, 2023
French MEP Xavier Bellamy gives a good run-down in French as to the failure of the EU in terms of policies for ordinary people and how realities are not being addressed —
Translation: Reply to Ursula@vonderleyen on the occasion of the State of the Union address. Europe can regain its prosperity and influence, but first we must stop closing our eyes to reality.
Réponse à Ursula @vonderleyen, à l'occasion du discours sur l'état de l'Union. L'Europe peut retrouver sa prospérité et son rayonnement ; mais cela suppose d'abord de ne plus fermer les yeux sur la réalité. #SOTEU pic.twitter.com/whr02U0Sb8

— Fx Bellamy (@fxbellamy) September 13, 2023
Translation:

Speech

#SOTEU

by Mrs von der Leyen who presented her report when she should have submitted it! "We laid the foundations of a Health Union, which helped us vaccinate an entire continent, and large parts of the world." "Reducing the risk of extinction through AI should be a global priority, just as other risks threatening society as a whole, such as pandemics and nuclear war." And declares that we must open "the way to a new global framework"! Not content with having failed in complete opacity on the management of vaccine contracts

#covid

, this EU wants a health union with more skills. Our emergencies are suffering, people are dying because they are not taken care of, that's the reality – far from the above-ground speeches.
Discours #SOTEU de Mme von der Leyen qui a présenté son bilan alors qu'elle aurait dû le déposer !

"Nous avons jeté les bases d'une Union de la santé, qui nous ont aidés à vacciner tout un continent, et de vastes régions du monde."

«Réduire le risque d'extinction par l'IA… pic.twitter.com/hYP5V2cxk9

— Virginie Joron (@v_joron) September 13, 2023
********
Ukraine would 'complete' EU – von der Leyen
The European Commission chief argued in her State of the Union address that enlargement would be in the bloc's best interest
RT
The European Union should enlarge and absorb Ukraine into its structure, European Commission President Ursula von der Leyen has argued in her 2023 State of the Union address. The official claimed that the move would not necessarily require amendment of the Treaties of the European Union, the legal basis for the bloc's existence.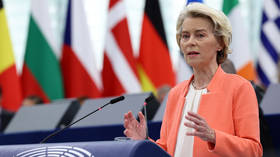 .
In her speech in the European Parliament in Strasbourg, France on Wednesday, von der Leyen stressed that Brussels is faced with the historic task of "completing our Union," before proclaiming that the "future of Ukraine is in our Union."
The European Commission president insisted that the bloc "cannot afford to leave our fellow Europeans behind," apparently referring to Ukrainians.
"In a world where size and weight matters, it is clearly in Europe's strategic and security interests to complete our Union," the official concluded.
According to von der Leyen, the potential accession of Ukraine could be implemented even before the European Convention and Treaties were amended.
However, Bloomberg on Wednesday cited undisclosed EU sources briefing that some member states harbor concerns about potential overextension of the bloc by accepting Ukraine and channeling resources toward it. The article also noted that worries about corruption in aspiring nations have also been voiced.
Austrian Foreign Minister Alexander Schallenberg, speaking to Politico in early September, warned against fast-tracking Ukraine's accession, saying that it could jeopardize the EU's credibility in the eyes of other hopefuls waiting to join the bloc longer than Kiev, resulting in a "geostrategic disaster."
Meanwhile, Ukrainian Deputy Prime Minister Olga Stefanishina told US state run Voice of America last week that "two years would be enough for full preparedness" for Kiev's membership. She described her country as one of the "best prepared [nations] for EU accession."
Late last month, EU foreign-policy chief Josep Borrell said that the bloc had to "be prepared for an enlargement that could add ten more members to the European Union," mentioning Ukraine in particular.
Kiev officially applied for EU membership in late February 2022, days after Russia attacked the country, with neighboring Moldova following suit not long after. The European Council granted candidate status to both nations a few months later.
EU leaders are expected to discuss the potential enlargement of the bloc at a meeting of the European Political Community in Granada, Spain on October 5, as well as at the European Council summit in December.
************
••••
The Liberty Beacon Project is now expanding at a near exponential rate, and for this we are grateful and excited! But we must also be practical. For 7 years we have not asked for any donations, and have built this project with our own funds as we grew. We are now experiencing ever increasing growing pains due to the large number of websites and projects we represent. So we have just installed donation buttons on our websites and ask that you consider this when you visit them. Nothing is too small. We thank you for all your support and your considerations … (TLB)
••••
Comment Policy: As a privately owned web site, we reserve the right to remove comments that contain spam, advertising, vulgarity, threats of violence, racism, or personal/abusive attacks on other users. This also applies to trolling, the use of more than one alias, or just intentional mischief. Enforcement of this policy is at the discretion of this websites administrators. Repeat offenders may be blocked or permanently banned without prior warning.
••••
Disclaimer: TLB websites contain copyrighted material the use of which has not always been specifically authorized by the copyright owner. We are making such material available to our readers under the provisions of "fair use" in an effort to advance a better understanding of political, health, economic and social issues. The material on this site is distributed without profit to those who have expressed a prior interest in receiving it for research and educational purposes. If you wish to use copyrighted material for purposes other than "fair use" you must request permission from the copyright owner.
••••
Disclaimer: The information and opinions shared are for informational purposes only including, but not limited to, text, graphics, images and other material are not intended as medical advice or instruction. Nothing mentioned is intended to be a substitute for professional medical advice, diagnosis or treatment.