ER Editor: All of a sudden, in an incredibly short space of time (24 hours? 48?), thousands of African migrants – young men of military age with cell phones wearing nice-looking T-shirts – have 'invaded' the tiny Italian island of Lampedusa in the middle of the Mediterranean. Lampedusa only has a native population of around 6,000. Numbers of how many have come in vary from 2,500 to upward of 7,000+. A state of emergency has been declared. A reminder of geography —
This report from website ansa.it gives us more detail (browsers will translate into English) —
Of note (machine-translated):
The situation in Lampedusa is "tragic, dramatic, apocalyptic. In Lampedusa, even the garbage is not disposed of, the water for the island comes from the mainland. The Red Cross has stocks, but if they arrive at 3,400 a day, they also fight over the water among them. We are all on alert and the bishop is also dismayed, "says the parish priest of the island, Don Carmelo Rizzo in an interview with the portal Stranierinitalia.it.

Autonomous relief and landings of migrants continue unabated Lampedusa after yesterday's record numbers.

"The issue of relocations is secondary, very few people have been relocated in recent months, it is a blanket of Linus, the question is not how we download the problem, is stopping arrivals in Italy, I still don't see concrete answers, "says the Prime Minister Giorgia Meloni in Five minutes, broadcast tonight on Rai1 about the requests Germany which yesterday announced would stop welcoming migrants from Italy. Migrants will be welcomed again – a spokesman for the Ministry of the Interior said today – if we return to the Dublin regulation.
This is a complex situation, but from what we understand from machine-translated articles, which are difficult to read, Germany is refusing to take any more of Italy's current arrivals perhaps as a form of punishment. Why? Because under the Dublin arrangement, immigrants who travel through the EU illegally and arrive in another EU country, say Germany, must be sent back to the first country of entry. This is often Italy. So even if migrants enter Italy and want to move on elsewhere, they'll be sent back to Italy anyway. So Italy is pooched under this Dublin arrangement. Therefore Meloni has suspended this involvement in the Dublin arrangement. And now Germany is refusing to take in any more, with France following suit (source):
According to what was reported by the Germans, this suspension would be the consequence of Italy's refusal to allow transfers from Germany foreseen by the Dublin Convention according to the current EU asylum law, which provides that asylum seekers traveling to another EU country without permission are sent back to the country of first entry. With a letter dated 5 December 2022, Italy informed the other EU member states that the transfers would be temporarily canceled for technical reasons and due to lack of reception capacity. A justification that is confirmed by the enormous pressure suffered by Italy, which also has to manage irregular migrants and those without the right to asylum, as well as those who are applicants.

Now France is also following Germany's example, with a maneuver that effectively blocks and isolates Italy, abandoned to its own fate. The Transalpine Minister of the Interior Gerard Darmanin announces the intention to want "armor" the border between Menton (French side) and Ventimiglia (Italian), claiming that it has been registered" a 100% increase in flows". He announced it today, supporting the increase in pressure from irregular flows.

Lampedusa completely invaded by African hordes, a real unprecedented apocalypse. France has closed the border at Ventimiglia, Germany has said it doesn't want any more. We are alone. Now we need to declare a state of emergency and deploy the warships, because this is a war! https://t.co/fjXKCVfgBO pic.twitter.com/yGcmXj1CV3

— RadioGenoa (@RadioGenoa) September 13, 2023
This smells to us as if Meloni is being given some sort of crisis situation to handle, or that the entire migrant nonsense can be publicly exposed. Or both. (see the revealing video of Meloni below)
***
Some more tweets —
Hell in Lampedusa, a situation completely out of control, a real unprecedented apocalypse https://t.co/drJGG33zBu pic.twitter.com/QcjQCs4OqY

— RadioGenoa (@RadioGenoa) September 14, 2023
Clashes in Lampedusa now. Soon this will happen in your neighborhood in Europe https://t.co/drJGG33zBu pic.twitter.com/04ZBhuiqqa

— RadioGenoa (@RadioGenoa) September 14, 2023
WATCH MELONI'S FACE IN THIS VIDEO, WHICH IS DOING THE ROUNDS. There are the inevitable rumours of drugs …
Translation:  Lampedusa invaded, 100 boats in 24 hours, #Meloni completely overwhelmed! Yet she had promised so much, we'd see what we'd see! The reality is that she is subject to the EU, Schengen and the ECHR: so election slogans but zero possible action! Zero action!
#Lampedusa envahie, 100 bateaux en 24 heures, #Meloni complètement débordée !

Pourtant elle avait tant promis, on allait voir ce qu'on allait voir !

La réalité c'est qu'elle est soumise à l'UE, Schengen et la CEDH : donc des slogans électoraux mais zéro action possible ! Zéro ! pic.twitter.com/bgcfGt0dTW

— Florian Philippot (@f_philippot) September 14, 2023
🔴 About 10,000 people flooded into Lampedusa (island is the southernmost part of Italy) in the last 24 hours. Lampedusa is located about 110km off the coast of Tunisia.

This is an intentional UN-WEF-Soros invasion. Let's see how tough Georgia Meloni is. pic.twitter.com/IyvKGHw1wI

— Anti WEF (@ANTlWEF) September 14, 2023
Apocalypse in Lampedusa. Now there are 8000 African invaders who arrived with 160 boats, almost double the number of Italian residents. Now we need to declare a state of emergency and deploy the warships, because this is a war! Words are no longer needed, action must be taken! pic.twitter.com/3t5XyOufag

— RadioGenoa (@RadioGenoa) September 13, 2023
🇬🇧|The asylum surge is unbroken! 2,500 illegal #migrants reach #Lampedusa in one day—the camp is completely overcrowded. It should be dissolved and the individuals returned to their home countries. The #EU must act! #CloseTheBorders #ID https://t.co/yZA438nrsF

— Christine Anderson (@AndersonAfDMdEP) September 13, 2023
Boat after boat filled with African men aiming for the Italian island of Lampedusa and onto mainland Europe.

This is an invasion launched from the shores of North Africa, exactly the route that Gaddafi prevented. pic.twitter.com/BMJIerpLzJ

— Felize (@Vigilantefilly2) September 14, 2023
********
Lampedusa declares state of emergency after 5,000 migrants arrive in one day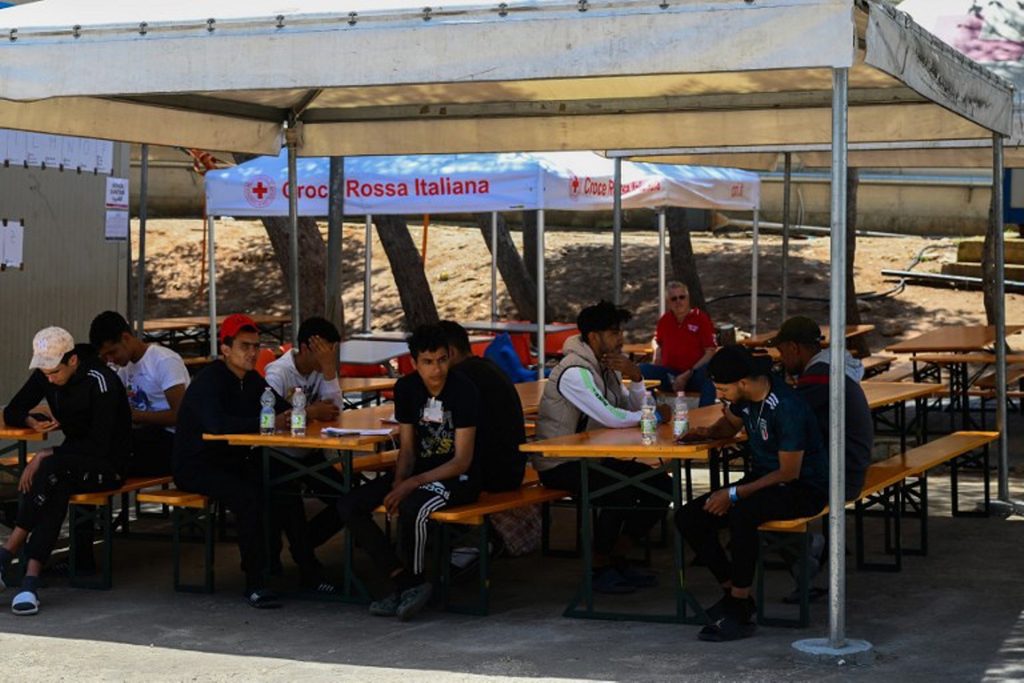 The authorities on the Italian island of Lampedusa have declared a state of emergency after several thousand migrants arrived in boats, Mayor Filippo Mannino announced on Wednesday evening.
According to Italian news agency Ansa, Mr. Mannino appealed for help for his island, which he said was under "heavy pressure." The population says it is desperate, the mayor said. "Everyone has helped migrants who needed it in their own way, but now it's time to find a structural solution," he urged.
What exactly the state of emergency entails was not immediately clear.
The government of far-right Prime Minister Giorgia Meloni had already declared a state of emergency for the whole of Italy in April.
Since Monday, boats carrying thousands of migrants have landed on Lampedusa, located between Sicily and North Africa. On Tuesday alone, 5,000 people arrived on the Mediterranean island, according to figures from the Italian Ministry of the Interior.
The Lampedusa migrant registration camp, which has a capacity of around 400 places, has been completely overwhelmed. At the moment, almost 6,800 migrants are on the island, which has an area of around 20 square kilometres and a population of about 6,000.
************
••••
The Liberty Beacon Project is now expanding at a near exponential rate, and for this we are grateful and excited! But we must also be practical. For 7 years we have not asked for any donations, and have built this project with our own funds as we grew. We are now experiencing ever increasing growing pains due to the large number of websites and projects we represent. So we have just installed donation buttons on our websites and ask that you consider this when you visit them. Nothing is too small. We thank you for all your support and your considerations … (TLB)
••••
Comment Policy: As a privately owned web site, we reserve the right to remove comments that contain spam, advertising, vulgarity, threats of violence, racism, or personal/abusive attacks on other users. This also applies to trolling, the use of more than one alias, or just intentional mischief. Enforcement of this policy is at the discretion of this websites administrators. Repeat offenders may be blocked or permanently banned without prior warning.
••••
Disclaimer: TLB websites contain copyrighted material the use of which has not always been specifically authorized by the copyright owner. We are making such material available to our readers under the provisions of "fair use" in an effort to advance a better understanding of political, health, economic and social issues. The material on this site is distributed without profit to those who have expressed a prior interest in receiving it for research and educational purposes. If you wish to use copyrighted material for purposes other than "fair use" you must request permission from the copyright owner.
••••
Disclaimer: The information and opinions shared are for informational purposes only including, but not limited to, text, graphics, images and other material are not intended as medical advice or instruction. Nothing mentioned is intended to be a substitute for professional medical advice, diagnosis or treatment.