ER Editor: Republished below is the RT article of May 26, 2021 on this topic. Alexander Mercouris and Alex Christoforou of The Duran Team give us their take on what Swiss refusal of the EU deal means. The main points are outlined below.
****
There have been 7 years of negotiations between Switzerland and the EU that have come to an end. It's a terrible blow for the EU. Switzerland, in sum, is going to go its own way. Switzerland encountered many of the same sticking points that the Brexit team did, including the same arrogance and desire to exploit on the part of the EU. The EU strategy has always been to weaken the periphery while strengthening the centre.
It's a classic case of the EU power group (top bureaucrats, Merkel, Macron, etc.) having learned absolutely nothing from the Brexit experience. They're simply doubling down on the same strategies, by trying to beat Switzerland in order to keep it in line.
The EU essentially wanted Switzerland to accept its ENTIRE package of regulations, such as free movement of people, indivisibility of the market, control of its borders and regulations, labour policies, & etc. It would have essentially have been a takeover. The EU tried the same with Britain. Switzerland would have simply become an appendage of the EU WITHOUT HAVING ITS OWN VOTE ON THE EU COUNCIL. 
Switzerland is an old and distinctive country, with its own specific industrial base and financial services industry. They prize their independence, democracy and neutrality. The Swiss have many cards to play, including having key transport links that run through the country. It also generates a lot of electricity and energy for the centre of the EU.
It all shows the typical mindset of the EU, which only tries to dominate over countries instead of accepting them as an equal partner.
Recent history is littered with countries and politicians noting how the EU is no longer worth bothering with, with a top Turkish politician recently saying how the EU would no longer exist in 5 years' time. Norway is unhappy, Britain has left, Switzerland now, Turkey, Russia & Belarus … all countries bordering the EU are either in a crisis because of their relationship with the EU (Ukraine and Moldova) or are in a state of conflict with the EU. It is an astonishing state of affairs, while the EU never learns. The EU always talks about high-minded 'values' yet the reality is always the opposite and now more and more people are seeing it.
Christoforou: Has the EU been simply desperate to piece together whatever it can with Switzerland in order to 'keep the show on the road'? Mercouris: Why not! The EU is extremely predatory, while Switzerland works on a direct democracy basis. The EU wants to move in, bring it to heel and assimilate its industries (mechanical, big pharma, financial, etc.), run it centrally and tax it to enlarge the EU budget. Had it come off, Switzerland would become very run down with its industries decaying. It would lose its competitive edge and become yet another middling European country – Belgium in the Alps!
Discussions over other countries in the EU adopting the euro (i.e. abandoning their own currency) and joining the eurozone seem to have taken a back seat lately. Mercouris: Yes, it does signal something. Monetary union was supposed to federate every country, yet the momentum to do that has stopped. More countries are showing reluctance to do this now, such as in Poland and Hungary, and in those countries there is a growth in anti-EU sentiment. Their heart isn't in it any longer, and this is a radical, fundamental shift. It's also true of the Balkans. The whole project is losing momentum as people increasingly see it for what it is, with Switzerland being just the latest example. The EU had a perfectly good relationship with Switzerland, which could have been developed. But Brussels wanted to extend its 'empire' by absorbing and exploiting the Swiss cantons.
There ARE some smart people in Brussels who understand geopolitics and diplomacy. WHO in Europe is pushing this type of authoritarian negotiation on Barnier, Michel and von der Leyen? There are more moderate voices in the EU, so why aren't they being heard? Mercouris: The functional bureaucratic aspect of EU, with lawyers dominating, etc. drives this. By its very nature, it wants to expand itself. But there is also the overriding ideology of globalism, which sees the world as being without borders, with freedom of movement and capital benefitting big business. Many of these people are connected to this ideology, and will do very well from it personally. At the core of the globalist ideology there are the beneficiaries who own the corporations and don't like borders and nations. They would be the big winners. And then there are the functionaries who implement this. Some of them are ideologically compatible with the oligarchs who want borders destroyed. (Names can't be given on platforms like Youtube.) These people meet at Davos and have their clubs, such as the World Economic Forum. Von der Leyen and her crew are part of this world. Which is why they're 'chosen' to be where they are. SOME of these people are highly intelligent and strong-minded, who participate in this perhaps for some utopian vision as well as personal benefit. (Mercouris almost uses the language of the Great Reset here …) At the core, there is a real group of people, of every nationality including non-western people, who have totally decisive influence on decision-making in places like Brussels. The EU is a supra-national bloc, unlike the US which is still too much of a nation for their liking. These elites would like everywhere to be like the EU. The outspoken, independent voices who realize this modus operandi is nonsense would be drowned out and thrown out by the ideological believers. This is the nature of ideological systems.
The EU is more of a cult than anything else. 
********
Switzerland walks away from EU takeover deal
The Duran: Episode 990
******
Switzerland ends 7 years of treaty negotiations with EU over disagreements on 'key aspects'
RT
The Swiss government has said it will abandon seven years of negotiations for a framework agreement with the EU, arguing Brussels had not met its conditions for the deal, which would have simplified relations between the pair.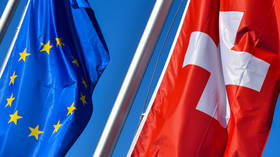 Switzerland's Federal Council, its ruling executive, announced the decision to scrap efforts to ink the much-delayed accord at a press conference on Wednesday following a cabinet meeting.
It "concluded that there remain substantial differences between Switzerland and the EU on key aspects of the agreement."
The framework agreement was intended as an all-encompassing treaty to replace the more than 120 individual bilateral agreements Switzerland currently has with the 27-member European trading bloc.
The disagreements centered on three key issues, on which Swiss Foreign Minister Ignazio Cassis told reporters the government could not afford to make further concessions.
The Federal Council said it hoped to launch a "political dialogue" with the EU to develop future relations and that Switzerland should continue to remain a "reliable and committed partner" of the bloc.These included state aid, wage protection and EU citizens' access to Swiss benefits, with the latter two matters proving especially difficult to reach a consensus.
The European Commission said in a statement that it acknowledged Switzerland's decision but it "regrets" the move.
The EU's executive said that, without the framework agreement, existing bilateral treaties "will inevitably age," including the 50-year-old Free Trade Agreement, which is already "not up to speed."
************
••••
The Liberty Beacon Project is now expanding at a near exponential rate, and for this we are grateful and excited! But we must also be practical. For 7 years we have not asked for any donations, and have built this project with our own funds as we grew. We are now experiencing ever increasing growing pains due to the large number of websites and projects we represent. So we have just installed donation buttons on our websites and ask that you consider this when you visit them. Nothing is too small. We thank you for all your support and your considerations … (TLB)
••••
Comment Policy: As a privately owned web site, we reserve the right to remove comments that contain spam, advertising, vulgarity, threats of violence, racism, or personal/abusive attacks on other users. This also applies to trolling, the use of more than one alias, or just intentional mischief. Enforcement of this policy is at the discretion of this websites administrators. Repeat offenders may be blocked or permanently banned without prior warning.
••••
Disclaimer: TLB websites contain copyrighted material the use of which has not always been specifically authorized by the copyright owner. We are making such material available to our readers under the provisions of "fair use" in an effort to advance a better understanding of political, health, economic and social issues. The material on this site is distributed without profit to those who have expressed a prior interest in receiving it for research and educational purposes. If you wish to use copyrighted material for purposes other than "fair use" you must request permission from the copyright owner.
••••
Disclaimer: The information and opinions shared are for informational purposes only including, but not limited to, text, graphics, images and other material are not intended as medical advice or instruction. Nothing mentioned is intended to be a substitute for professional medical advice, diagnosis or treatment.