ER Editor: A highly significant toe-in-the-water, we feel. Who's behind this? Victoria Nuland, arch neocon, gets an honorable mention for having an unachievable vision. Pretty amazing.
Oh, and NBC's Keir Simmons ends up on the Ukrainian kill list called Myrotvorets.
Recall some recent truth bombs – about the Minsk accords being western cover to let Ukraine get armed: Merkel and Hollande.
And NATO chief Jens Stoltenberg, for admitting that the war began way back in 2014.
NBC Reporter Goes To Crimea, Shocks Viewers By Telling The Truth
Mainstream media correspondents for major US networks rarely, if ever, report from inside Crimea and certainly are nowhere near Russian-held territory in eastern Ukraine.
However, this week NBC News chief international correspondent Keir Simmons went to Sevastopol, surrounded by a significant Russian military presence given it is home to the Russian Navy's Black Sea Fleet, and in a live segment admitted that it's not at all realistic Zelensky and Ukrainian forces can ever hope to take Crimea.
This is especially as the "the people there… view themselves as Russian." Simmons noted that "This is the closest that any US news crew has got to the Russian Black Sea Fleet in many many years." He explained that "Vladimir Putin will be determined to defend that port – to not have it take it away from him – he may well do pretty much anything to try to achieve that."
ER: This is a very bizarre conversation, which suggests that somehow Crimea and only Crimea within the whole of Ukraine is uniquely Russian, or Russian-defended, when the NBC map omits the entire eastern region of Donbass and the two other southern regions which VOTED to join Russia. Their map gives the viewer a totally distorted picture of the landmass of Ukraine that Russia actually controls. Well, baby steps …
"It is a very, very dangerous standoff.. it's hard to see how you reach a negotiation over that. There's military absolutely everywhere, it is a military town," he continued, before saying…
"When for example Victoria Nuland talks about that at the very least we [the US] want Crimea to be demilitarized, I find myself standing there and wondering, how on earth does that happen?"
Ukrainian officials and pro-Kyiv media pundits are said to be outraged at the segment, given it repeatedly and bluntly referenced that Crimeans see themselves as Russians. Even a separate write-up filed days earlier from inside Crimea and posted to NBC's website included the following:
This is not Russia, according to Kyiv, its Western allies and the United Nations. It was annexed by the Kremlin in 2014, with the U.N. calling on Russia to return to its "internationally recognized borders." And following Moscow's broader invasion launched a year ago, President Volodymyr Zelenskyy has vowed Ukraine will take Crimea back.

But Praskovya Baranova, 73, speaks Russian, feels Russian and lives here.
But it appears that the NBC correspondent, once he was on the ground in a place that few Western reporters ever venture, couldn't deny the plain truth he was seeing all around him.
NBC told Americans the truth about Crimea for the first time and its reporter wound up on the Ukrainian government's kill list alongside several other US citizens, journos, clergy and even children.

Will NBC now report on this list? Will "press freedom" groups denounce it? https://t.co/rHLxjYdqos

— Max Blumenthal (@MaxBlumenthal) March 2, 2023
David Sacks comments of the refreshingly truthful segment, "Not long ago, these were denounced as Putin talking points." 
Sacks also says regarding NBC clearly conceding that Zelensky's goal of retaking Crimea remains unrealistic and dangerous…
This is a huge admission because it means that Biden's policy of "only the Ukrainians can decide" the objectives of the war makes no sense. We're effectively delegating our foreign policy to Zelensky, who is pursuing objectives that we don't agree with.
"At the same time that MSNBC is suddenly airing the truth about Crimea, its chief Ukraine pundit is lobbying for an all-out attack," Sacks also observes of the timing of the mid-week report.
ER: And when you see an ordinary citizen on the street in Crimea, it's much harder for the viewer thousands of miles away to want to have them killed for apparently no real reason.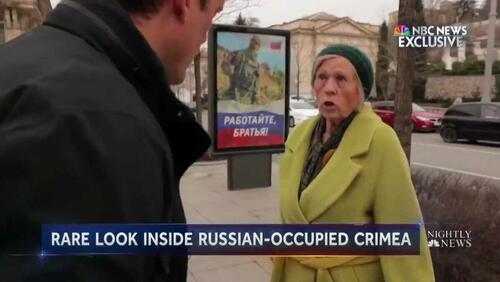 "It's getting easier to see who are the real fanatics in this war," Sacks concluded.
(ER: And that is very likely the point of this unusual foray into Russian-held territory.)
************
••••
The Liberty Beacon Project is now expanding at a near exponential rate, and for this we are grateful and excited! But we must also be practical. For 7 years we have not asked for any donations, and have built this project with our own funds as we grew. We are now experiencing ever increasing growing pains due to the large number of websites and projects we represent. So we have just installed donation buttons on our websites and ask that you consider this when you visit them. Nothing is too small. We thank you for all your support and your considerations … (TLB)
••••
Comment Policy: As a privately owned web site, we reserve the right to remove comments that contain spam, advertising, vulgarity, threats of violence, racism, or personal/abusive attacks on other users. This also applies to trolling, the use of more than one alias, or just intentional mischief. Enforcement of this policy is at the discretion of this websites administrators. Repeat offenders may be blocked or permanently banned without prior warning.
••••
Disclaimer: TLB websites contain copyrighted material the use of which has not always been specifically authorized by the copyright owner. We are making such material available to our readers under the provisions of "fair use" in an effort to advance a better understanding of political, health, economic and social issues. The material on this site is distributed without profit to those who have expressed a prior interest in receiving it for research and educational purposes. If you wish to use copyrighted material for purposes other than "fair use" you must request permission from the copyright owner.
••••
Disclaimer: The information and opinions shared are for informational purposes only including, but not limited to, text, graphics, images and other material are not intended as medical advice or instruction. Nothing mentioned is intended to be a substitute for professional medical advice, diagnosis or treatment.