ER Editor: It's another case of those top-tier health experts telling the rest of us what to do and getting it hopelessly wrong. We're not sure how the 'National Health Observatory' mentioned below translates into Italian, but one Dr. Walter Ricciardi is mentioned as being part of this group. He's another one of those 'eminent' WHO characters. This link to the WHO site for the European side gives his curriculum vitae.
Here we have an example of how their lousy modelling and forecasting is once again creating local economic destruction, this time in the critical Italian tourist sector for the coastal region of Pesaro (see map below), by turning the tourists away in advance. The hoteliers association is now demanding state reparations or a lawsuit against Dr. Ricciardi &Co.
And it's no wonder. See these two related articles, citing the plainspoken ICU head in Milan, Dr. Alberto Zangrillo:
Coronavirus in Italy: "Covid no longer exists, someone is terrorizing the country" – ICU doctor; 
Italy: The Coronavirus is Far Less Capable of Replication – It's a 'Different Disease'
And on the new Orange Vest movement, who are calling time on the whole virus charade, Italy's Orange Vests: Enraged Italians Abandon Masks, Denounce Pandemic As Scam, Want Govt Out.
********
Coronavirus and forecasts, the hoteliers of Pesaro against the Health Observatory
With the forecast of zero contagion at the end of June, hotel owners are now threatening legal action
IL RESTO DEL CARLINO
Pesaro, 3 June 2020 – "Now pay the damages. You have destroyed the season with your fake predictions by making tourists flee". Fabrizio Oliva, provincial president of hoteliers, has a grudge against the National Health Observatory, which predicted zero infections and zero deaths for the Marche region at the end of June.
Instead that result came at the end of May:
"Today we have 90% of the hotels closed. Today we have the idea that Pesaro (see map) is a city strongly affected by the virus and not safe because of the National Observatory on Health, coordinated by Dr. Walter Ricciardi and Dr. Alessandro Solipaca, who on 20 April declared that "the end of covid 19 in Italy could have different timing in the regions depending on the territories more or less exposed to the epidemic. Then they drew up a classification, again declaring through their scientific director Dr. Solipaca, "In Lombardy (ER: north of the red dot on the map), where the first contagion occurred, it is not legitimate to expect the zeroing of new cases before June 28th, in the Marche region (ER: around Pesaro) not before June 27th".
After the protest of the Marche region through the governor and councillor for tourism – writes Oliva – a few days later, they adjusted their prediction from 27 June to 23 June, as if these gentlemen had in their pockets an instrument that could certainly re-determine the date.
The moral is that these declarations have done our city a lot of harm by giving an image where the covid risk would have remained well throughout the summer. This has led to a gradual cancellation of all reservations in our hotels for the month of June. I wonder why these gentlemen today, where things have changed and have blown up badly, do not make themselves heard?
Now we ask that for our territory, the State intervenes with additional non-refundable sums for the sectors most affected as it is doing for red areas. Otherwise, we ask the Mayor of the municipality of Pesaro, Matteo Ricci, and the Governor of Marche Luca Ceriscioli to support the categories of tourism in a legal action against this body and its managers for a claim for damages. Here we play on the future of the country in terms of health investments and economic recovery [sic]. It is time for a pause for reflection, otherwise every day that passes we will leave thousands of unemployed people in the field and send thousands of vat matches to death [sic]. With regard to the article that appeared yesterday, I would like to point out that the estimated turnover was referred to in an optimistic way for the months of July, August and September, while if we want to make a more realistic estimate of the season, I believe that hotels will be around 40/50 percent of revenues for the 2019 season".
In the meantime, some readers have reported that along the Levante beach (ER: in the Pesaro city area), there are no lifeguard turrets, and in some bathing establishments even the flybridge for the rescue. The Harbour Master's Office explains: "Until the first Sunday in June, it is not mandatory to guarantee the rescue service. So there are still a few more days to comply".
******
Coronavirus e previsioni, gli albergatori di Pesaro contro l'Osservatorio sulla Salute
Nel mirino la previsione del contagio zero a fine giugno, ora i proprietari degli hotel minacciano l'azione legale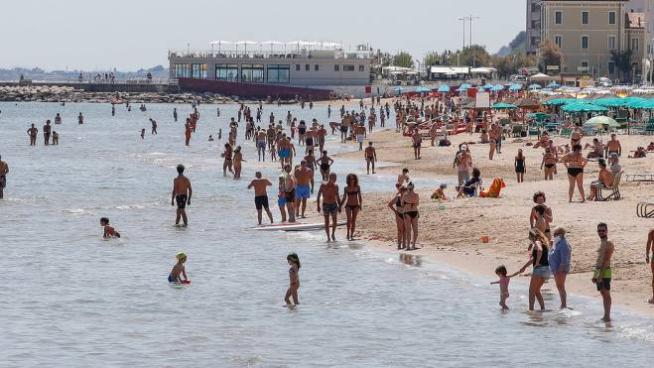 Pesaro, 3 giugno 2020 – "Adesso pagate i danni. Ci avete distrutto la stagione con le vostre previsione fasulle facendo fuggire i turisti". Fabrizio Oliva, presidente provinciale degli albergatori, ce l'ha con l'Osservatorio nazionale sulla Salute che aveva previsto zero contagi e zero decessi per le Marche a fine giugno.
…
************
••••
The Liberty Beacon Project is now expanding at a near exponential rate, and for this we are grateful and excited! But we must also be practical. For 7 years we have not asked for any donations, and have built this project with our own funds as we grew. We are now experiencing ever increasing growing pains due to the large number of websites and projects we represent. So we have just installed donation buttons on our websites and ask that you consider this when you visit them. Nothing is too small. We thank you for all your support and your considerations … (TLB)
••••
Comment Policy: As a privately owned web site, we reserve the right to remove comments that contain spam, advertising, vulgarity, threats of violence, racism, or personal/abusive attacks on other users. This also applies to trolling, the use of more than one alias, or just intentional mischief. Enforcement of this policy is at the discretion of this websites administrators. Repeat offenders may be blocked or permanently banned without prior warning.
••••
Disclaimer: TLB websites contain copyrighted material the use of which has not always been specifically authorized by the copyright owner. We are making such material available to our readers under the provisions of "fair use" in an effort to advance a better understanding of political, health, economic and social issues. The material on this site is distributed without profit to those who have expressed a prior interest in receiving it for research and educational purposes. If you wish to use copyrighted material for purposes other than "fair use" you must request permission from the copyright owner.
••••
Disclaimer: The information and opinions shared are for informational purposes only including, but not limited to, text, graphics, images and other material are not intended as medical advice or instruction. Nothing mentioned is intended to be a substitute for professional medical advice, diagnosis or treatment.