ER Editor: We also recommend this piece by Sputnik News titled Europe Cannot Be Stable Without Clarity in Relations With Russia – French Foreign Minister.
********
Hitting the reset button? French defense minister & top diplomat visit Moscow for talks
RT
The French foreign and defense ministers are visiting Moscow together and holding talks with their Russian counterparts for the first time since 2012, signifying a thaw in relations that had grown cold in the intervening years.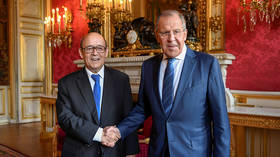 Minister of the Armed Forces Florence Parly (pictured below with Sergey Shoigu) and Foreign Minister Jean-Yves Le Drian have met in the capital with Defense Minister Sergey Shoigu and Foreign Minister Sergey Lavrov on Monday. On the agenda are geopolitical crises in Ukraine, the Persian Gulf, Syria, Venezuela, and North Korea, as well as international nuclear and space-weaponization issues.
This is the second signal in less than a month that relations between Moscow and Paris might be warming
up, after the visit by Russian President Vladimir Putin to his French counterpart Emmanuel Macron in late August at Bregancon. On that occasion, Macron called for a "new architecture of security and confidence" between the EU and Russia and said Moscow is "essential" to solving the crises in Iran, Ukraine and Syria, and to ongoing work on nuclear non-proliferation.
While this has set off speculation about a possible French '180' in relation to Russia, there have been few tangible signs of such a turn until this meeting of the ministers, for the first time in years.
The last meeting in this format, with foreign and defense misters from the two countries getting behind the negotiations table, was held on October 31, 2012 in Paris. France had recently returned to NATO's command structure in 2009, after more than forty years in self-imposed exile, but then-President Nicolas
Sarkozy (pictured) had also closed a deal to sell two Mistral-class helicopter carriers to Russia.
All that changed in February 2014, when protesters, backed by the US, violently took over power in Ukraine, shoving aside an agreement for peaceful resolution of political differences negotiated by French and German diplomats. The coup in Kiev set off revolts in several regions of Ukraine, including Crimea – which voted to return to Russia in March of that year.
The US and the UK led the charge to impose sanctions on Moscow over Crimea and pressured France to cancel the sale of the Mistrals, which had already been built to Russian specifications. Sarkozy's successor, Francois Hollande, settled the dispute by agreeing to refund Moscow almost €900 million in August 2015.
Discussions between defense ministers Parly and Shoigu this time around will doubtless focus on some of the same issues – Ukraine in particular has been a focal point of Macron's foreign policy, with the French president negotiating prisoner exchange and demilitarization initiatives with Putin at their meeting in Bregancon last month. However, Macron has also become the champion of a combined European army since Moscow and Paris last spoke at this level. Though talk of a continental military force is still just that –talk – the French leader did say late last month that only an alliance with Russia can produce "a true European strategy." Given the rhetoric, Russia's role within or vis-a-vis a European army could be up for discussion on Monday.
Growing understanding
Monday's meeting may help break the ice between Moscow and the West, who have locked horns over quite a few matters in recent years. Speaking following a meeting with Lavrov in July, German Foreign
Minister Heiko Maas (pictured) declared that "without Russia, we will not find answers to the pressing issues in global politics." As with France, relations between Moscow and Berlin had been strained following the conflict in Ukraine.
Italy, which repeatedly advocated the easing of tensions with the Kremlin, voiced a similar position that same month. Speaking in Rome, Prime Minister Giuseppe Conte described EU restrictions as "sad," and "not good for Russia, nor for the EU, nor for Italy."
In facilitating the apparent thaw, Macron is again positioning himself as the world's middleman. With US President Donald Trump questioning old alliances and embracing a more isolationist position in international affairs, and with Britain's future relationship with Europe up in the air, French seems to be, once again, the Lingua Franca of diplomacy.
Pulling off a smoother G7 summit in Biarritz than Canadian Prime Minister Justin Trudeau managed the year before, Macron took a gamble by inviting Iranian Foreign Minister Javad Zarif at the last
minute, with a view to saving the floundering 2015 Iran nuclear deal. The French leader has also appointed himself as global spokesman on the issue of climate change and an advocate for a 'digital tax' on Silicon Valley tech firms, clashing with the Trump administration on both issues.
Assuming the role of Europe's chief negotiator with Moscow, therefore, is another step that Macron seems eager to take.
The schism between the West and Russia may be narrowing, but statements have yet to be followed up with action as European leaders remain guarded about embracing their neighbor to the east. Macron warned after last month's G7 summit that "pushing Russia away from Europe is a profound strategic mistake." Yet, days earlier US President Donald Trump's suggestion that Moscow rejoin the G7 (turning it into G8 again) would also be a "strategic error."
Reversing the trend of mutual mistrust would appear to be in the common interest, as Russia and Western countries surely are not lacking in international challenges to deal with.
***********
Featured photo: Sputnik / Maksim Blinov
••••
The Liberty Beacon Project is now expanding at a near exponential rate, and for this we are grateful and excited! But we must also be practical. For 7 years we have not asked for any donations, and have built this project with our own funds as we grew. We are now experiencing ever increasing growing pains due to the large number of websites and projects we represent. So we have just installed donation buttons on our websites and ask that you consider this when you visit them. Nothing is too small. We thank you for all your support and your considerations … (TLB)
••••
Comment Policy: As a privately owned web site, we reserve the right to remove comments that contain spam, advertising, vulgarity, threats of violence, racism, or personal/abusive attacks on other users. This also applies to trolling, the use of more than one alias, or just intentional mischief. Enforcement of this policy is at the discretion of this websites administrators. Repeat offenders may be blocked or permanently banned without prior warning.
••••
Disclaimer: TLB websites contain copyrighted material the use of which has not always been specifically authorized by the copyright owner. We are making such material available to our readers under the provisions of "fair use" in an effort to advance a better understanding of political, health, economic and social issues. The material on this site is distributed without profit to those who have expressed a prior interest in receiving it for research and educational purposes. If you wish to use copyrighted material for purposes other than "fair use" you must request permission from the copyright owner.
••••
Disclaimer: The information and opinions shared are for informational purposes only including, but not limited to, text, graphics, images and other material are not intended as medical advice or instruction. Nothing mentioned is intended to be a substitute for professional medical advice, diagnosis or treatment.