ER Editor: We're doing a two-fer on this topic, one from FreeWest Media and one from Zerohedge.
Word is also that Sweden and Finland are sympathetic to the Kurds (in Syria), which is always a fierce red line for Erdogan. This is mentioned below.
Notice that the retired Turkish admiral expects to see Trump return.
********
Retired Turkish admiral questions wisdom of Sweden and Finland joining NATO
FREEWEST MEDIA
Retired Turkish Rear Admiral Ali Deniz Kutluk said the constant expansion has turned NATO into a cumbersome and unmanageable organisation. The discussed inclusion in the North Atlantic Alliance of two more countries – Finland and Sweden – will make the structure even weaker, and ultimately more dangerous for current members.
"Is NATO expansion right? Already the alliance is unmanageable. It has 30 member states. In addition, it has 39 countries that are called partners. Will the inclusion of these countries [Sweden and Finland] in NATO provide greater security or reduce it even more?" The Aydinlik newspaper quoted Kutluk as saying.
The accession of Finland and Sweden to NATO is not beneficial for Ankara. "Why would Turkey agree to a situation that would reduce its own security?" the retired military man added.
According to the Turkish expert, NATO is taking a step towards creating a less secure environment, as its expansion in Scandinavia may provoke Russia to retaliate. The rear admiral is afraid of a nuclear confrontation, where Turkey, as a member of the North Atlantic Alliance, can also be drawn into.
In addition, he noted that the prospect of Donald Trump's victory in the US presidential election in 2024 may lead to the refusal of protection of the members of the Alliance by the United States.
"If Trump is re-elected, the US will cool relations with NATO as in the past. If he takes steps to reduce or sever transatlantic ties and abandon Europe to see to its own security, then will we not find ourselves in an even more desperate situation?" he asked rhetorically.
Earlier, Finland and Sweden announced that they would seek to join NATO as soon as possible. In turn, Turkish President Recep Tayyip Erdogan said he would not support this decision as long as both countries assist Kurdish militants from the Kurdistan Workers' Party (PKK), which the Turkish authorities consider to be terrorists.
Ankara, like other members of the North Atlantic Alliance, can block the admission of new members by imposing a veto. Despite upcoming meetings with officials from both countries, he said Ankara would not be swayed on its decision.
If Turkey, which has NATO's second largest army, has no veto right in the decision-making mechanisms of the alliance and remains ineffective on this issue, NATO would be underscoring the futility of its own structure, said Professor of Political Science and International Relations of Maltepe University, Hasan Unal.
As Russian President Vladimir Putin noted on May 16, speaking at the summit of the Collective Security Treaty Organization (CSTO), the inclusion of Finland and Sweden in NATO does not pose an immediate threat to Russia. However, "the expansion of military infrastructure into this territory" would result in a "reaction" from Moscow.
The Finnish Foreign Minister Pekka Haavisto was nevertheless optimistic about his country's prospects: "I'm sure that we will find a solution to this matter," said the 64-year-old, but according to the NATO statutes, the admission of new member states requires the unanimous consent of all thirty member states.
Turkish President Recep Tayyip Erdogan was less welcoming. "We wouldn't say 'yes' to them joining NATO, a security organisation. They were going to come on Monday to convince us. Sorry, they don't have to bother."
The ratification process for NATO membership normally takes about a year, but the military alliance was confident that it would be able to speed up this process.
Kremlin spokesman Dmitry Peskov reminded the press on Monday that Russia had "no territorial disputes with either Finland or Sweden".
Essentially Sweden and Finland have joined a British military-political initiative
Sweden and Finland have been involved in NATO affairs for a while already through the Joint Expeditionary Force (JEF), a UK-led force, comprising 10 nations working together to "complement" NATO. The coalition focuses on security in the Baltic Sea region and the North Atlantic, where its members are located.
The JEF is a British-led expeditionary force which consists of Denmark, Finland, Estonia, Iceland, Latvia, Lithuania, the Netherlands, Sweden and Norway. Eight of the countries are also members of NATO, with Finland and Sweden currently outside that alliance.
It was first conceived in 2012 and announced by the then UK Chief of the Defence Staff, General Sir David Richards. The JEF arose from the Joint Rapid Reaction Force (JRRF) which became redundant as a result of the UK's focus on operations in Afghanistan and Iraq.
The multinational JEF was publicly launched as a NATO initiative at the September 2014 Wales Summit, subsumed under the new "Framework Nations Concept" with Germany, the UK and Italy acting as support nations.
In September 2014, the British Defence Secretary Michael Fallon also announced the signature of a Letter of Intent between Denmark, Estonia, Latvia, Lithuania, the Netherlands, Norway and the United Kingdom, to establish the JEF so that it is fully operational before 2018.
In early October 2015, Swedish Defence Minister Peter Hultqvist said that he did not rule out Sweden joining the Joint Expeditionary Force, even though no formal process exists to do so at the moment, when he was summoned by the Riksdag to confirm if the government was engaged in formal talks to join the JEF without the knowledge of parliament.
On 22 June 2017, the Swedish government confirmed that Sweden would be joining the Joint Expeditionary Force.
Recently, several European leaders met with Prime Minister Boris Johnson and Vladimir Zelensky, the president of Ukraine, in London as part of Johnson's flagship Global Britain plan.
While there are no JEF-dedicated standing forces, the United Kingdom provides command and control. In 2021, the JEF conducted its first maritime task group deployment in the Baltic Sea, according to the Center for Strategic and International Studies.
Britain, however, is not able to defend itself without the United States. It relies on the Pentagon for its nuclear deterrence through the US–UK Mutual Defense Agreement, a treaty which was again extended to 31 December 2024.
********
Erdogan Slams Door On Approving Sweden, Finland NATO Bids: 'Nesting Ground For Terrorist Orgs'
In fresh Monday comments, Turkish President Recep Tayyip Erdogan issued his firmest words of rejection yet concerning Finland and Sweden's announced bids to join NATO. Over the weekend after Erdogan first stated Turkey is "not favorable" toward the Scandinavian countries entering the alliance, there was widespread speculation among officials quoted in Western media reports that Turkish reluctance could be easily resolved.
When asked about Turkey's reservations on Sunday, US Secretary of State Antony Blinken said "I'm very confident that we will reach consensus on that" – somewhat dodging the severity of Ankara's recent unambiguous statements as nothing at all to worry about in terms of a NATO unified front. But now Erdogan has defiantly poured cold water on the collective Western enthusiasm for achieving the consensus needed among the 30 NATO member states to admit new countries. There was even talk of 'fast-tracking' them, which now seems like a fantasy in light of Turkey's stance.
Bloomberg, too, notes following Erdogan's Monday speech that "he intends to block membership for the two countries, or at least extract concessions for it" – following their separate weekend announcements which came hours apart, affirming they will apply.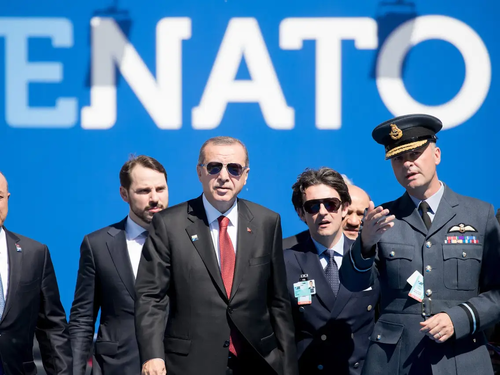 "These two countries lack a clear stance against terrorism" and "Sweden is a nesting ground for terrorist organizations," Erdogan said. He pointed out that both countries have joined other European allies in imposing "sanctions" on Turkey, specifically recent restrictions on arms sales to Ankara going back to 2019 in context of the running war with Kurdish groups along its southern border. Turkey's military has also continued to intervene against the Syrian Kurdish YPG, which has US and Western backing.
"First of all, we cannot say 'yes' to those who impose sanctions on Turkey, on joining NATO which is a security organization," Erdogan stressed while standing alongside his Algerian counterpart Abdelmadjid Tebboune at the press conference in Ankara. "How can we trust them?" he posed in reference to Sweden and Finland.
Amid the blistering comments, Erdogan addressed earlier Monday statements by the Swedish foreign office indicating top officials would be dispatched from Helsinki and Stockholm to Turkey in order to address the objections. Stunningly (or perhaps no surprise at all), Erdogan dismissed the diplomatic attempts before they even begin. The diplomats "should not bother" coming, he said, if they hope to change Turkey's mind on the matter.
According to Turkey's Daily Sabah, in addressing the overture he again took the opportunity to apply the 'terror supporters' label…
"They say they will come to Turkey on Monday. Are they coming to convince us? Excuse me but they should not tire themselves," he noted.

Erdoğan said NATO would become "a place where representatives of terrorist organizations are concentrated" if the two countries join.
Starting Friday, Erdogan said that "Sweden has become a home for PKK and other terror groups" – which was echoed again the following day by Turkey's foreign minister to a gathering of NATO ministers in Berlin. NATO Secretary General Jens Stoltenberg at the same time expressed optimism that this would be worked through, suggesting it's but a "last-minute wrinkle" as described in Bloomberg.
Erdogan: Sweden and Finland are breeding ground for terrorism.

Reality check: Hamas has a HQ in Istanbul, ISIS has free passage throughout Turkey, Ankara supports al Qaeda, AKP and Muslim Brotherhood are besties, Taliban visits Turkey.

Turkey is breeding ground for terrorism.

— Diliman Abdulkader (@D_abdulkader) May 16, 2022
Turkish commentary on the topic has grown more and more unbending by the day (on Saturday FM  Cavusoglu said the idea was "outrageous"), clearly demonstrating this is no small wrinkle at all, but is instead the Western military alliance's second largest military in effect slamming the door on the prospect – or at least until it gets significant concessions.
As we described earlier the Turkish "demands" have already begun…
Turkey laid out demands on Sunday on the sidelines of a meeting of NATO foreign ministers in Berlin, saying it wanted the two Nordic countries to end support for Kurdish militant groups present on their territory, and to lift the ban on sales of some arms to Turkey.
With the West desperate to keep up the pressure on Moscow amid the grinding Ukraine war (increasingly looking much more like a Russia vs. NATO proxy war), circumstances certainly now put Turkey in the driver's seat. Like with the recent years' S-400 saga, which put Ankara at the center of a tug-of-war with Moscow and Washington, Turkey's leadership can now use its considerable leverage on the NATO membership question to get what it wants out of NATO allies. Brussels must of course achieve full consensus in order to admit Sweden and Finland – the latter which shares an 810-mile border with Russia. Moscow has in turn threatened possible "military and technical" actions.
************
••••
The Liberty Beacon Project is now expanding at a near exponential rate, and for this we are grateful and excited! But we must also be practical. For 7 years we have not asked for any donations, and have built this project with our own funds as we grew. We are now experiencing ever increasing growing pains due to the large number of websites and projects we represent. So we have just installed donation buttons on our websites and ask that you consider this when you visit them. Nothing is too small. We thank you for all your support and your considerations … (TLB)
••••
Comment Policy: As a privately owned web site, we reserve the right to remove comments that contain spam, advertising, vulgarity, threats of violence, racism, or personal/abusive attacks on other users. This also applies to trolling, the use of more than one alias, or just intentional mischief. Enforcement of this policy is at the discretion of this websites administrators. Repeat offenders may be blocked or permanently banned without prior warning.
••••
Disclaimer: TLB websites contain copyrighted material the use of which has not always been specifically authorized by the copyright owner. We are making such material available to our readers under the provisions of "fair use" in an effort to advance a better understanding of political, health, economic and social issues. The material on this site is distributed without profit to those who have expressed a prior interest in receiving it for research and educational purposes. If you wish to use copyrighted material for purposes other than "fair use" you must request permission from the copyright owner.
••••
Disclaimer: The information and opinions shared are for informational purposes only including, but not limited to, text, graphics, images and other material are not intended as medical advice or instruction. Nothing mentioned is intended to be a substitute for professional medical advice, diagnosis or treatment.