ER Editor: UPDATE – the suspect seems to have been captured alive. Remarkable as they're usually shot dead. See — 
***
Now Belgium AND Sweden are dragged into the 'terror' strategy. These football fans, Swedes on Belgian soil, would be visible to whoever did this. Of course, he was alleged to shout Allu Akbar. We also see from the Belgian (Sudinfo) report below that Italy may become involved.
Yesterday, we went shopping in a retail outlet mall and all of a sudden, our bags had to be opened up in order to step inside.
France had its signature terror attack against a school teacher on Friday. See —
Note that the alleged perpetrator, a middle-aged Tunisian was completely known to the authorities. Note also that people are asked to lock themselves down, and at the time of the shooting, during a football game, fans were locked inside the stadium. 
Some useful tweets. The footage of the shooter in an orange vest is unconfirmed.
🇧🇪 Before everyone starts talking about the ISIS shooter in Belgium, remember that Hamas and ISIS hate each other. pic.twitter.com/yj8Swd8r9f

— Jackson Hinkle 🇺🇸 (@jacksonhinklle) October 16, 2023
BREAKING:

The Brussels terrorist has been identified as 45-y-old Abdesalem Lassoued.

He's a Tunisian citizen, is in Belgium illegally & has earlier been tried in Tunisia for terrorist acts.

He has been riding around Brussels on a scooter shooting with an AK, killing 2 so far pic.twitter.com/Qq95FSuL1y

— Visegrád 24 (@visegrad24) October 17, 2023
This seems rather improbable to us —
Here is the Tunisian terrorist who calmly loads his AK-47 on the streets of Brussels and undisturbed gets on his scooter to go and kill the poor two Swedes. Where are the police? Insecurity in Europe is not a perception, it is reality. pic.twitter.com/ULHZNHo7WI

— RadioGenoa (@RadioGenoa) October 17, 2023
Attack in Brussels with AK-47. Dead and injured. pic.twitter.com/SleVJrm2qm

— RadioGenoa (@RadioGenoa) October 16, 2023
🇮🇱🇵🇸 Those who had no problem with Israel murdering 1,000 kids in Gaza are about to get very vocal about a terrorist in Brussels who just killed multiple innocent people in the name of ISIS.

Remember, ISIS is Hamas' enemy.

Israel supported ISIS in Syria. https://t.co/wLkORRpHV5

— Jackson Hinkle 🇺🇸 (@jacksonhinklle) October 16, 2023
********
Shooting this Monday evening in the center of Brussels: two people killed, the author claims to belong to the Islamic State in a video
Terrorist attack in Brussels: the evening unfolded minute by minute
An attack was committed in Brussels on Monday evening, shortly before the Belgium-Sweden match. An assailant shot and killed two Swedish nationals and injured a third person, not far from Place Sainctelette.
DH & F.Dht for SUDINFO.BE
The author of the attack perpetrated in Brussels on Monday evening and which cost the lives of two people is of Tunisian origin and has already faced justice in his country for acts of terrorism. Abdeselam L., aged 45 and who lives in Schaerbeek, is
known to our intelligence services for his radicalization

. He is still on the run and actively sought. According to several sources, he was in an irregular situation in Belgium.

The terrorist threat level was raised to four, considered "very serious" (maximum level) on Monday evening in the Brussels region. The slogan, relayed by the prosecution, is "to stay at home as long as the threat is not eradicated".

The federal prosecutor's office, responsible for terrorism cases, was charged with the investigation. Only one individual is being sought, according to initial information.
Relive the evening minute by minute
3:00 a.m. > A press conference expected tonight
"There will be a press conference before 5:00 a.m. to allow the population to know how to organize the day", particularly in French-speaking Brussels schools, write our colleagues from RTBF.
2h46 > The police operation in Schaerbeek may not be linked to the attack
Police action was underway during the night from Monday to Tuesday in the Brussels commune of Schaerbeek, Belga noted on site, around 2:00 a.m. The author of the terrorist attack in Brussels which left 2 dead is from the town, but this operation could have no connection.
At the end of the evening, Avenue Sleeckx was closed to traffic, near Parc du Hamoir in Schaerbeek. The situation was calm and without any particular intervention from the police, Belga noted.
A police source on site argued that the blockade of the neighborhood was linked to an "important judicial fact" unrelated to the terrorist attack a few hours earlier in the city and which left two dead. Information which, however, still needs to be confirmed.
2h13 > Additional security measures during France-Scotland
The French newspaper "Le Monde" reports that security measures have been reinforced for this Tuesday evening's friendly match between France and Scotland in Lille.
…
01:37 > Italian reaction
Giorgia Meloni also reacted to the deadly shooting. The head of the Italian government said she was following the news of the attack in Brussels with concern. "Italy strongly condemns all forms of violence, fanaticism and terrorism, and presents its most sincere condolences to the victims and their families."
01:32 > Police operation in progress in Schaerbeek
According to Het Laatste Nieuws and the DH, a major police operation is underway in Schaerbeek. It is in this Brussels commune that the alleged perpetrator of the shooting was staying illegally. The police are present in large numbers.
********
Belgium declares 'terror alert' after two shot dead
The suspect who killed two Swedish nationals in Brussels remains at large
RT
The Belgian government has described Monday's fatal shooting of two Swedish citizens in Brussels as terrorism and deployed additional police to stop the suspect from crossing the border.
Prime Minister Alexander De Croo described the attack as "harrowing" and sent condolences to his Swedish colleague. "As close partners, the fight against terrorism is a joint one," he added.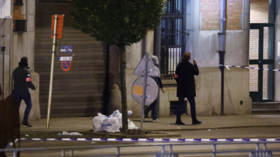 .
"Belgium and Sweden are united against terror," said Belgian Foreign Minister Hadja Lahbib, also sending condolences to Stockholm. Lahbib added that she was "horrified by the terrorist attack" in the heart of Brussels and that "all necessary means must be mobilized to combat radicalism."
The two victims were gunned down around 7:15 local time in the center of Brussels. Police presume they were fans of the Swedish national team who were visiting the Belgian capital. The Sweden-Belgium qualifier for Euro 2024, underway at the Heysel Stadium, was stopped at half-time and the fans were locked inside the venue as a security measure.
Translation: It's not a joke. Please be careful.
Unverified footage making rounds on social media showed a suspect, wearing an orange high-visibility jacket and a white helmet, getting off a scooter before opening fire in the street. The man followed the fleeing civilians into a nearby residential building, fired several more shots from his rifle, and fled on the scooter.
Eyewitnesses told Belgian media that the shooter shouted "Allahu Akbar" before opening fire.
Another video circulating online shows a bearded man wearing the same clothing, speaking Arabic and saying he wants to "avenge the Muslims" by killing "infidels," according to the news outlet Sudinfo. Belgian news outlets suspect the shooter of acting on behalf of Islamic State (IS, formerly ISIS) terrorist group, though the police have yet to officially confirm or deny that.
************
••••
The Liberty Beacon Project is now expanding at a near exponential rate, and for this we are grateful and excited! But we must also be practical. For 7 years we have not asked for any donations, and have built this project with our own funds as we grew. We are now experiencing ever increasing growing pains due to the large number of websites and projects we represent. So we have just installed donation buttons on our websites and ask that you consider this when you visit them. Nothing is too small. We thank you for all your support and your considerations … (TLB)
••••
Comment Policy: As a privately owned web site, we reserve the right to remove comments that contain spam, advertising, vulgarity, threats of violence, racism, or personal/abusive attacks on other users. This also applies to trolling, the use of more than one alias, or just intentional mischief. Enforcement of this policy is at the discretion of this websites administrators. Repeat offenders may be blocked or permanently banned without prior warning.
••••
Disclaimer: TLB websites contain copyrighted material the use of which has not always been specifically authorized by the copyright owner. We are making such material available to our readers under the provisions of "fair use" in an effort to advance a better understanding of political, health, economic and social issues. The material on this site is distributed without profit to those who have expressed a prior interest in receiving it for research and educational purposes. If you wish to use copyrighted material for purposes other than "fair use" you must request permission from the copyright owner.
••••
Disclaimer: The information and opinions shared are for informational purposes only including, but not limited to, text, graphics, images and other material are not intended as medical advice or instruction. Nothing mentioned is intended to be a substitute for professional medical advice, diagnosis or treatment.