ER Editor: In addition to the RT report below, we're also linking to a discussion of the phenomenon of rising gun crime in Sweden from The Duran team of Alex Christoforou and Alexander Mercouris. The RT report is dated Feb 2, 2021 while the video discussion took place on Feb 22, 2021.
Here are some main points from the video:
Sweden was always an orderly, law-abiding place historically. Now violent crime has increased in Stockholm and Malmo. Urban centres are facing an epidemic of gun and knife crime, as well as a rise in no-go zones. Yet the govt is in complete denial about it.
Because it's all mixed up with the question of immigration: a lot of the crime is happening among recent immigrants, in communities that have not been integrated.
The govt is social democratic, which denies these types of problems as they promote the very policies that cause them. Ideologically, the social democrats cannot face up to these problems.
Similar problems exist in the United States in Democrat-controlled areas. They also refuse to acknowledge these problems and their causes. The same denial is happening in London with mayor Sadiq Khan.
Sweden has always been regarded as a bell-weather country for what is to come for other countries. Is Sweden the bell-weather for this type of problem occurring elsewhere…?
Lockdowns of the last year have played a role in this as they create extreme frustration, especially among young people. But problems in Sweden go back far beyond the lockdowns. France also has these same severe problems, along with its Islamist-terrorist problem. It also has no-go areas along with problems of immigrant non-assimilation. It's a western problem, connected with existing Social Democrat-type policies and ideology. It's also a GLOBALIST ideology, completely contrary to the policies social democratic parties USED TO HAVE a long time ago. Sweden had a successful social democratic model because of the HOMOGENEITY in society – this was said by Sweden's Erlander, the axiomatic social democrat, from the 1950s. Today, social democrats talk a different language entirely. It's a problem common to this ideology among western countries. Asian countries don't have this problem.
How does this Swedish/western problem relate to the recent history of NATO/neocon wars in the Middle East, &etc.? Syria, Libya, Iraq, Somalia, etc. So many countries were laid waste. Europe had to deal with it because of its proximity to these countries. The Sweden of the '40s-'60s was welcoming to immigrants but they were assimilable. Today, many of these huge waves of immigrants are coming from societies completely destroyed because of the wars, and at the same time they've become extremely radicalized and anti-western. These ideas then get communicated to others within their new communities, which forms pockets of hostile citizens, resulting in violent crime and Islamist terrorism. It all goes together.
But social democrats of Erlander's day were opposed to war in general and especially regime-change wars. Today's social democrats ENDORSE those sorts of wars. Sweden is a backer of the US in these sorts of 'adventures'. So it's a complete reversal of policy toward refugee flows and wars. And anybody who dares to criticize this approach gets called out, while they refuse to address the problems they're creating.
Most likely Sweden IS a bell-weather country: its old social welfare state was sent around the world. Now its globalist agenda toward immigration and regime change wars, along with its evident social problems, are getting exported to other countries.
We also recommend this RT piece by ex-UK police officer and politician Kevin Hurley, from September 2020 – Former police commander: Immigrants are behind the wave of violent crime blighting Sweden, but the authorities refuse to admit it.
********
Swedish capital sees 79% spike in shootings as govt laments 'high levels' of violence in the Scandinavian country
RT
Sweden recorded a surge in gun-related violence last year, according to new figures released by the government amid accusations that authorities have turned a blind eye to rising crime in the country.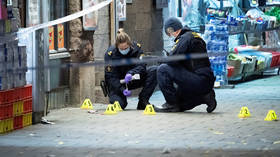 Interior Minister Mikael Damberg disclosed on Monday that 47 people were killed and 117 injured in 366 shooting incidents in 2020, marking a 10 percent increase in gun violence when compared to statistics from 2019.
Damberg noted that in nearly half of the shootings registered last year, someone was injured or killed. "We will neither accept nor get used to such high levels of violence," he said.
The situation in Malmo, a city with a large migrant population that has struggled with gang violence, has improved, while crime is surging in Stockholm, the interior minister pointed out. According to Damberg, the Swedish capital saw a staggering 79 percent increase in shootings in 2020.
Most of the violent incidents occurred in 60 suburbs across the country identified by police as "vulnerable" areas. Damberg said that while 5.4 percent of Sweden's population live in such neighborhoods, they account for more than half of the nation's fatal shootings.
He expressed hope, however, that 2021 would be a "turnaround" year that would usher in a drastic improvement in safety The government has rolled out a plan to increase the number of police recruits in the country, with the goal of having 10,000 more officers in 2024 when compared to figures from 2016.
Hours after Damberg disclosed the uptick in violence, an incident in Helsingborg, a coastal city in southern Sweden, left at least five people injured, with three individuals being hospitalized. All five victims suffered stab or cut wounds, but one of them may have also been shot, according to police.
Sweden has been struggling in recent years to rein in rising gang violence, with news reports highlighting victims who have been caught in the crossfire of feuding criminals.
In August, a 12-year-old girl was killed by a stray bullet in a drive-by shooting that occurred just south of Stockholm.
In 2019, Sweden established a special task force to crack down on gang violence in the country, and granted officers additional surveillance powers.
Critics have accused the government of ignoring the role of migrants in the rise of gang crime, with officials often pointing to poverty and unemployment as the root causes of the violence.
Sweden isn't alone in registering a troubling increase in shootings. A study recently released by the National Commission of COVID-19 and Criminal Justice (NCCCJ) found that murder rates in nearly three dozen American cities skyrocketed in 2020, rising 30 percent over the previous year.
*************
••••
The Liberty Beacon Project is now expanding at a near exponential rate, and for this we are grateful and excited! But we must also be practical. For 7 years we have not asked for any donations, and have built this project with our own funds as we grew. We are now experiencing ever increasing growing pains due to the large number of websites and projects we represent. So we have just installed donation buttons on our websites and ask that you consider this when you visit them. Nothing is too small. We thank you for all your support and your considerations … (TLB)
••••
Comment Policy: As a privately owned web site, we reserve the right to remove comments that contain spam, advertising, vulgarity, threats of violence, racism, or personal/abusive attacks on other users. This also applies to trolling, the use of more than one alias, or just intentional mischief. Enforcement of this policy is at the discretion of this websites administrators. Repeat offenders may be blocked or permanently banned without prior warning.
••••
Disclaimer: TLB websites contain copyrighted material the use of which has not always been specifically authorized by the copyright owner. We are making such material available to our readers under the provisions of "fair use" in an effort to advance a better understanding of political, health, economic and social issues. The material on this site is distributed without profit to those who have expressed a prior interest in receiving it for research and educational purposes. If you wish to use copyrighted material for purposes other than "fair use" you must request permission from the copyright owner.
••••
Disclaimer: The information and opinions shared are for informational purposes only including, but not limited to, text, graphics, images and other material are not intended as medical advice or instruction. Nothing mentioned is intended to be a substitute for professional medical advice, diagnosis or treatment.