ER Editor: We do wonder if this was some kind of set-up, a type of false flag, what with Hamas leader Khaled Mashal calling for a global day of rage for Friday, the 13th (note the date). It's just too convenient. Was France selected as the 'role model'? We've seen this playbook of public manipulation to instill targeted fear in the French population many times before. 
***
Yesterday, during the day in Arras, a town in the far north-east of France, not far from Belgium, a 50-something teacher was allegedly set upon and stabbed leading to his death. By a 20 year old from a dubious immigrant family of radicalized Chechen background, with both the assailant and older brother well known to police and the intelligence services. Where have we heard it before that these attackers are always known to the authorities?
The family's history made it a candidate for deportation back in February, 2014, but 'left-wing' immigration associations, and a leading centre-left globalist politician, Manuel Valls, prevented it from happening. This fact is of course a cause for outrage.
This Friday afternoon stabbing scenario of a teacher has been played out before, during the time of the Covid lockdowns. Friday, October 16, 2020 (ALMOST THREE YEARS TO THE DAY), a teacher called Samuel Paty was murdered in a suburb of Paris just as France was to go into lockdown the very next day. Saturated news coverage was of this horrific, distracting attack instead of legions of French having their fundamental freedoms violated. There have historically been many Allu Akbar attacks (think: Muslim immigrants who actually shout out this scripted phrase right at the moment of attack) on European soil, usually at the time preceding elections. A leading French politician even once made this observation publicly.
Paty and latest victim Dominique Bernard have the same look according to photographs.
So we now face yet another media fear campaign imposed on western populations regarding the alleged threats within our countries from outsiders (c'mon, this threat has been going on for a very long time with years of illegal immigration!), plus Hamas calling Friday the 13th a day of protest … and France obliges with yet another Allu Akbar stabbing. It's just too made-to-measure. There was good cause to believe that the police shooting of a 17 year old (17) by the name of Nahel in late June was a set-up. Video footage of the event was too perfect, too slam-dunk in its ability to blame the police. 'Mum' was to quick on the trigger to go on social media the very next day calling for a revolution. At this point, we have no idea if Nahel or Dominique Bernard are real events. 
This is Zerohedge picking up the so-called threat for Americans —
***
It seems the media are fibbing about the Allu Akbar cry —
Translation: A high school student in the final year says 'he never shouted Alla Akbar'
Un élève en terminale du lycée affirme " il n'a jamais crié ALLAH AKBAR " (📸BFMTV) #Arras #arras #attentat #Tchetchene #FicheS pic.twitter.com/CIzbYd1QkM

— Erreur 404 (@Erreur455769746) October 13, 2023
This is the alleged attacker in a prepared video, with silly music playing in the background, trivializing the incident. Was it even real? We must ask that.
Translation: You suffered in Africa, we gave you asylum in Europe in exchange you must make us suffer. (Intelligence Service initials, profile S) Chechen Mogouchov …
Tu as souffert en Afrique, on te donne l'Asile en Europe, en échange tu dois nous faire souffrir
DGSI Fiché S Tchétchène Mogouchkov #Arras pic.twitter.com/KMPjitSkKi

— Karim Azzour (@KarimAzzour) October 13, 2023
This is the good hearted professor who was knifed today in #Arras in france.#RIP professor Dominique Bernard. The 2 are still in hospital.pic.twitter.com/iuy0FPUOtj

— SMBX (@WealthRouteX) October 13, 2023
Translation: The family of the Arras jihadist was never deported on the orders of Manuel Valls to the prefect Strodza, head of Macron's office.
La famille du jihadiste d'#Arras n'a pas été expulsée sur ordre de Manuel Valls au préfet Strodza, directeur de cabinet de Macron. pic.twitter.com/GQkpUCA1Wb

— Damien Rieu (@DamienRieu) October 13, 2023
Translation: Tragedy: #Teacher killed in #Arras: The #Hamas attack and crimes in #Israel are the tree that hides the forest of hundreds of thousands of hateful Islamists ready to take up arms all over the #West against "miscreants". The appeal made to Muslims by the former …
🛑 Tragédie : #Enseignant tué à #Arras : L'attaque et les crimes du #Hamas en #Israël sont l'arbre qui cache la forêt des centaines de milliers d'islamistes haineux prêts à prendre les armes partout en #Occident contre les « mécréants ». L'appel lancé aux musulmans par l'ancien… pic.twitter.com/FpgfB7FIXZ

— Alexandre del Valle (@alexdelvalle3) October 13, 2023
Translation: As for the story of the Chechen killer in Arras, most people will still fall for the incompetence of the authorities 🤦🏼‍♂️ As for the Covid scam…I think exactly the opposite. Incompetence has a nice ring to it!
Pour l'histoire du tueur tchétchène d'Arras, la plupart des gens vont encore tomber dans le panneau de l'incompétence des autorités 🤦🏼‍♂️

Comme pour l'arnaque Covid…

Je pense exactement le contraire. L'incompétence a bon dos !

— Jérémie Mercier (@jmyremets) October 14, 2023
Translation: The photo of Dominique Bernard, French teacher murdered today in Arras. And that of Samuel Paty. Two similar faces, two similar murders. Three years separate these two heinous crimes? What have we done with these three years?
Our thoughts are with their families. 
La photo de Dominique Bernard, professeur de français assassiné ce jour à Arras. Et celle de Samuel Paty. Deux visages qui se ressemblent, deux assassinats similaires. Trois ans séparent ces deux crimes odieux? Qu'avons nous fait de ces trois ans?
Pensées pour leurs familles. pic.twitter.com/GtOH0eU77y

— Stéphane Simon (@StephaneSimon_1) October 13, 2023
********
Teacher killed in stabbing attack at French school
The suspect, an ethnic Chechen and former student, has reportedly been detained
RT
A teacher has been killed and two other people wounded in a stabbing attack at a French school. A 20-year-old ethnic Chechen has been arrested in connection with the incident on Friday, according to local media.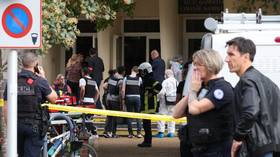 .
The attack happened at the Gambetta high school in the city of Arras in northern France. Senior government officials, including President Emmanuel Macron, have traveled to the city following the incident.
The attacker reportedly shouted 'Allahu Akbar' as he targeted school employees at approximately 11am local time, according to French media. (ER: Fake news according to adolescent witnesses.) He was later identified as a 20-year-old former student, local media reported, citing police sources.
According to Le Figaro, the perpetrator is an ethnic Chechen who was previously flagged by law enforcement as a serious threat to national security. The suspect's brother, who was not present at the scene of the attack, has reportedly also been detained. France's National Anti-Terrorism Prosecutor's Office has been tasked with handling the case.
The deceased victim worked as a literature teacher, while another teacher and a guard were seriously injured, with the latter said to be in a critical condition, according to reports.
The stabbing attack comes three days before the anniversary of the 2020 murder of geography professor Samuel Paty in the Paris suburb of Eragny-sur-Oise. Paty was stabbed by an 18-year-old Russian immigrant of Chechen descent, who was later killed by police.
Paty's killer had been radicalized into Islamist ideology and had sought to avenge perceived insults against his religion. He targeted Paty for his lessons on the controversy surrounding cartoons of Prophet Mohammed and the 2015 terrorist attack on the satirical journal Charlie Hebdo, which had reprinted them.
************
••••
The Liberty Beacon Project is now expanding at a near exponential rate, and for this we are grateful and excited! But we must also be practical. For 7 years we have not asked for any donations, and have built this project with our own funds as we grew. We are now experiencing ever increasing growing pains due to the large number of websites and projects we represent. So we have just installed donation buttons on our websites and ask that you consider this when you visit them. Nothing is too small. We thank you for all your support and your considerations … (TLB)
••••
Comment Policy: As a privately owned web site, we reserve the right to remove comments that contain spam, advertising, vulgarity, threats of violence, racism, or personal/abusive attacks on other users. This also applies to trolling, the use of more than one alias, or just intentional mischief. Enforcement of this policy is at the discretion of this websites administrators. Repeat offenders may be blocked or permanently banned without prior warning.
••••
Disclaimer: TLB websites contain copyrighted material the use of which has not always been specifically authorized by the copyright owner. We are making such material available to our readers under the provisions of "fair use" in an effort to advance a better understanding of political, health, economic and social issues. The material on this site is distributed without profit to those who have expressed a prior interest in receiving it for research and educational purposes. If you wish to use copyrighted material for purposes other than "fair use" you must request permission from the copyright owner.
••••
Disclaimer: The information and opinions shared are for informational purposes only including, but not limited to, text, graphics, images and other material are not intended as medical advice or instruction. Nothing mentioned is intended to be a substitute for professional medical advice, diagnosis or treatment.