ER Editor: See our earlier report from Feb.16 on the legal work being prepared by German lawyers Dr. Reiner Fuellmich and Viviana Fischer, Whistleblower from Berlin Nursing Home: the Terrible Death after Vaccination. This report gave a detailed account of the conditions under which elderly residents are being vaccinated according to a care home observer, leading these lawyers to suspect that coercion is being employed, and worse.
Here we have disturbing video footage showing an example of what care home vaccination practices look like.
********
Whistleblower Video Footage of Forced COVID Vaccines in German Nursing Homes Goes Public – Attorney: "We're Dealing with Homicide, Maybe Even Murder"
BRIAN SHILHAVY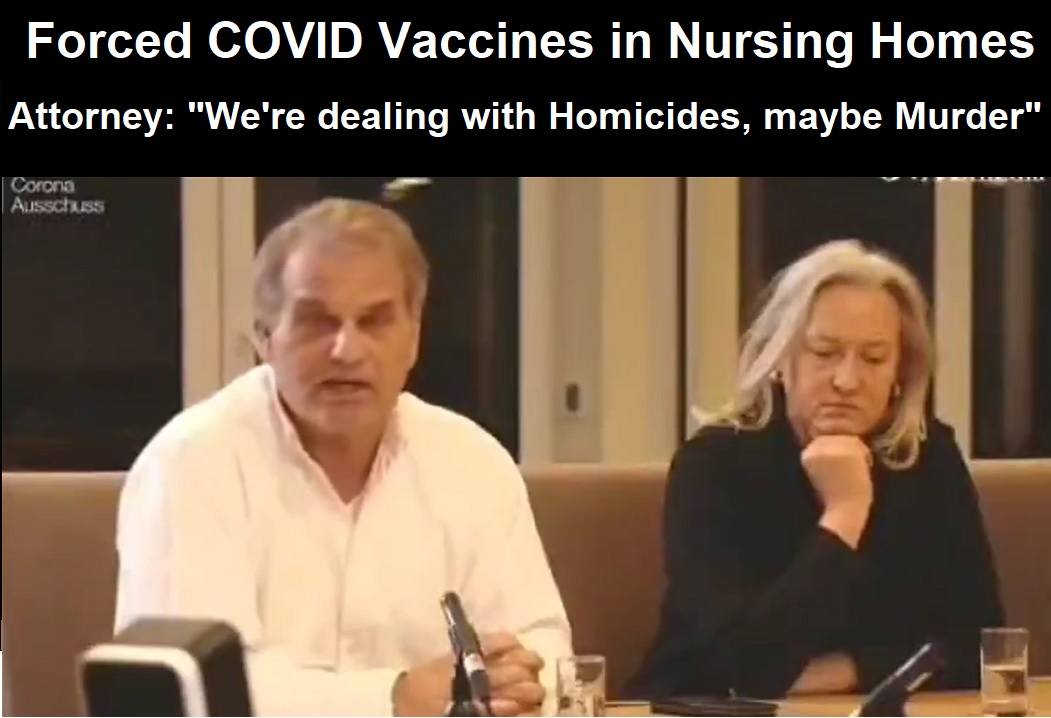 Earlier this week we published the English translation of a video in German that Attorney Reiner Fuellmich published with a whistleblower who works in a nursing home where several residents were injected with the experimental COVID mRNA shots against their will, and where many of them died a short time later. See:
Since that interview was published, other whistleblowers in Germany who work in nursing homes have also stepped forward, some with video footage showing residents being held down and vaccinated against their wish.
This is from our Rumble channel, and it is also on our Bitchute channel.
Attorney Reiner Fuellmich, talking about the residents who were previously in good physical health and only suffered from "dementia," stated:
One of them was a runner, in his late 70s, or WAS a runner, I should say, who was also an opera singer.

He outran one of the nurses who is in her mid 30s. He was still singing operas on the day that he got vaccinated.

After he got vaccinated, a couple of days later he died.

So this opera singer doesn't sing anymore.
One of the most disturbing things about what these whistleblower videos reveal, according to Attorney Fuellmich, is that now they are getting more and more calls from other whistleblowers in nursing homes, in Germany and around the world, where they are reporting the same things.
We are getting more and more calls from other whistleblowers from other nursing homes in this country, plus we're getting information from other countries, Sweden for example, Norway for example, Gibraltar for example, there are also incidents in England and in the United States that match these descriptions.
Attorney Fuellmich is not afraid to state exactly where this evidence leads us:
It means that people are dying because of the vaccines.

What we are seeing in this video clip is worse than anything we ever expected.

If this is representative for what's going on in the other nursing homes, and in other countries, then we have a very serious problem.

And so do the people who make the vaccines, so do the people who administer the vaccines.

It looks more and more as though we're dealing with homicide, and maybe even murder.
We are Witnessing a Eugenics Program that Includes Genocide
How fitting that the tide of whistleblowers coming forward now is gaining steam in Germany, whose population is probably all too familiar with their country's own history of the eugenics program that was implemented in Germany during WWII.
The horrific medical experimentations and genocide that happened in Germany were condemned during the Nuremburg trials, and it is very clear that these experimental mRNA COVID injections, when given to people without informed consent and against their will, are clearly violating the principles of informed medical consent, and the condemnation of medical experimentation, that is spelled out in the Nuremburg Code.
To anyone participating in forced COVID vaccinations, either through supplying the injections or actually doing the injections, you are hereby put on notice that you are participating in homicide and mass murder, and justice will catch up to you at some point.
You will not escape, and you will not be able to claim ignorance as an excuse to participate in murder.
As for the American public: will you finally wake up and start protecting the innocent? Or will you stand by and be quiet, following the poor examples in Germany during WWII, where most of the public said and did nothing?
Rescue those being led away to death; hold back those staggering toward slaughter.

If you say, "But we knew nothing about this," does not he who weighs the heart perceive it? Does not he who guards your life know it? Will he not repay each person according to what he has done? (Proverbs 24:11-12)
************
••••
The Liberty Beacon Project is now expanding at a near exponential rate, and for this we are grateful and excited! But we must also be practical. For 7 years we have not asked for any donations, and have built this project with our own funds as we grew. We are now experiencing ever increasing growing pains due to the large number of websites and projects we represent. So we have just installed donation buttons on our websites and ask that you consider this when you visit them. Nothing is too small. We thank you for all your support and your considerations … (TLB)
••••
Comment Policy: As a privately owned web site, we reserve the right to remove comments that contain spam, advertising, vulgarity, threats of violence, racism, or personal/abusive attacks on other users. This also applies to trolling, the use of more than one alias, or just intentional mischief. Enforcement of this policy is at the discretion of this websites administrators. Repeat offenders may be blocked or permanently banned without prior warning.
••••
Disclaimer: TLB websites contain copyrighted material the use of which has not always been specifically authorized by the copyright owner. We are making such material available to our readers under the provisions of "fair use" in an effort to advance a better understanding of political, health, economic and social issues. The material on this site is distributed without profit to those who have expressed a prior interest in receiving it for research and educational purposes. If you wish to use copyrighted material for purposes other than "fair use" you must request permission from the copyright owner.
••••
Disclaimer: The information and opinions shared are for informational purposes only including, but not limited to, text, graphics, images and other material are not intended as medical advice or instruction. Nothing mentioned is intended to be a substitute for professional medical advice, diagnosis or treatment.