ER Editor: For us living in France, this is as much a media story as it is an immigration one. CNews in France, which not everybody receives unless you're paying for a bigger TV package, has been daring to say things of late that the Overton Window has long been shutting out. Stories of dissatisfaction with immigration are being broadcast more and more. A friend was shocked the other day when CNews reported an Elon Musk tweet showing a video of a group of illegal migrants in Germany where Musk allegedly asked 'Do the German people know this is happening?' The narrative is being chipped away at.
CNews also has a main, primetime presenter, Pascal Praud, a more forthright journalist, who recently caused an uproar among the great and good when he wondered out loud on air if the bedbug wave, likely to hit Paris ahead of the Olympics next year as people try to make money renting out their places, would be made worse by immigrants. Gasp!
When we see the word 'arrondissement', it means a region of the city of Paris – Paris proper, not the Ile de France metropolitan area surrounding Paris. The most affected arrondissements for illegal migrants living on the streets are in the north-north east part of the city, such as the 18th – the poorer parts. There are tent cities located on off/on ramps going into the city, as well as elsewhere. It's a mess. Local residents have long protested about the risks to them in these areas, especially women, but nobody in power was listening.
********
"We No Longer Feel Safe!" Paris Residents Fear Next Wave Of Migrants Arriving From Lampedusa
Authored by Thomas Brooke via Remix News
Concern is mounting in the French capital over the latest wave of illegal immigrants to head from the Italian island of Lampedusa to northern Europe, with Parisian residents worrying about their own security.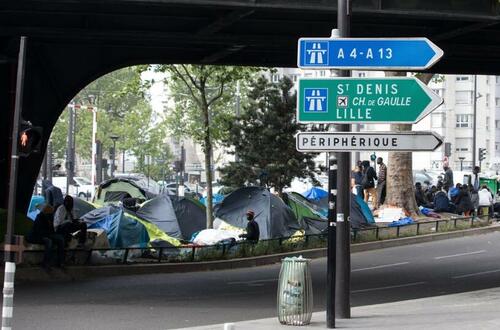 Several local residents discussed the issue of immigration with the French broadcaster CNews, expressing their fear that Paris could see an influx of new arrivals, with tens of thousands of migrants landing on Italian shores in recent weeks.
"We don't feel safe," one resident of the 18th arrondissement near the Jardins d'Éole told the channel, explaining that a number of newcomers to the neighborhood had participated in civil disorder and organized crime including drug trafficking.
"They fight and cause problems," added another resident who admitted she felt scared and intimidated by groups of adult males loitering in her neighborhood.
It isn't just local residents who are expressing concern. Local politicians have also voiced their displeasure at the degradation witnessed on Parisian streets in recent times, with many new arrivals to the French capital resorting to sleeping rough and establishing ghettos due to a saturation of social services.
"You regularly have clashes, cases of alcoholism and drug addiction on the public roads of these neighborhoods, and unfortunately, networks of crack traffickers who take advantage of the presence of these people," said Pierre Liscia, regional councilor for Île-de-France.
Other elected officials have called for strong measures to be put in place to relocate newcomers from the streets to more secure accommodations in an attempt to clean up affected neighborhoods.
"I am calling for a major emergency plan for the northeast of Paris, to get migrants out of the street is the dignity that we owe them, and thus resolve the problem of local residents who are on the frontline of nuisances and inconveniences," said Parisian councilor Pierre-Yves Bournazel.
The European Union is currently discussing asylum reforms in a bid to prevent migrants from entering the bloc and traveling at will to desired, more prosperous nations. The EU migration pact will see countries obligated to receive their fair share of newcomers and face financial penalties should they fail to comply.
The plans have been vociferously opposed by both Hungary and Poland, which claim the pact infringes on their national sovereignty. Initial proposals were recently passed in Brussels by qualified majority voting, despite resistance from Budapest and Warsaw.
Lampedusa has been inundated with scores of illegal migrants arriving in small boats from the African mainland, many of whom continue to migrate to the north of Italy and cross into France and Germany.
Polish Prime Minister Mateusz Morawiecki stressed ahead of an informal summit of EU leaders in Granada, Spain, this week that his government will never agree to the EU's asylum proposals, adding that Poles "do not want another Lampedusa in Poland."
Ahead of the Polish election next weekend, Morawiecki reiterated his government's commitment to border security and took aim at Poland's liberal opposition who would waive Brussels' plan through.
"We are at a turning point in how Polish sovereignty and borders will be treated. For (the opposition) PO and the European Commission, borders are obsolete," Morawiecki said.
************
Featured images: screengrabs, CNews
••••
The Liberty Beacon Project is now expanding at a near exponential rate, and for this we are grateful and excited! But we must also be practical. For 7 years we have not asked for any donations, and have built this project with our own funds as we grew. We are now experiencing ever increasing growing pains due to the large number of websites and projects we represent. So we have just installed donation buttons on our websites and ask that you consider this when you visit them. Nothing is too small. We thank you for all your support and your considerations … (TLB)
••••
Comment Policy: As a privately owned web site, we reserve the right to remove comments that contain spam, advertising, vulgarity, threats of violence, racism, or personal/abusive attacks on other users. This also applies to trolling, the use of more than one alias, or just intentional mischief. Enforcement of this policy is at the discretion of this websites administrators. Repeat offenders may be blocked or permanently banned without prior warning.
••••
Disclaimer: TLB websites contain copyrighted material the use of which has not always been specifically authorized by the copyright owner. We are making such material available to our readers under the provisions of "fair use" in an effort to advance a better understanding of political, health, economic and social issues. The material on this site is distributed without profit to those who have expressed a prior interest in receiving it for research and educational purposes. If you wish to use copyrighted material for purposes other than "fair use" you must request permission from the copyright owner.
••••
Disclaimer: The information and opinions shared are for informational purposes only including, but not limited to, text, graphics, images and other material are not intended as medical advice or instruction. Nothing mentioned is intended to be a substitute for professional medical advice, diagnosis or treatment.