ER Editor: Some background info and links are due here. The Daily Mail piece below does not link to the group who has commissioned the survey nor the survey itself. The survey was done by the group Common for Common Sense (campaigncommonsense.com). It's Twitter account is Campaign for Common Sense.
According to a recent op-ed piece for The Times by (female) US journalist living in the UK Lionel Shriver (see How US left has warped our view of the UK), the UK poll – not yet published – has been commissioned following the first one conducted on the US population, with surprisingly similar results:
Readers of my comment piece of six weeks ago might have despaired that Americans are so ignorant that they know nothing even about themselves. Respondents in a US YouGov poll had wildly overestimated the size of their country's racial and sexual minorities, suggesting that the culturally dominant left's pet causes have fantastically distorted Americans' perceptions of their own population. For example, participants imagined that 41 per cent of American adults were black, whereas the true percentage is 12 per cent. They were off by a factor of 3.5.

Behold part II. The Campaign for Common Sense has commissioned YouGov to conduct a sister poll in the UK, whose results are still unpublished. (This is thrilling. Opinion writers piggyback on proper reporters, and rarely break news.) Surprise: the UK survey duplicates the exaggerations.

In part I, I speculated that most Britons would overestimate the size of the UK's black population (according to the Office for National Statistics, about 3 per cent). I was right. Respondents hazarded that 20 per cent of the UK was black — a proportion seven times greater than reality. (One in nine respondents thought 30 per cent of the UK was black; they were wrong by an order of magnitude.) As for Muslims, Brits' median guess was 15 per cent of the adult population (true: 4 per cent). For Asian adults, Brits went for 17 per cent (true: 7 per cent). Add these figures up (52 per cent), and Britons hazily perceive that more than half the adult population comprises ethnic or racial minorities. The correct proportion is 13 per cent. Tellingly, when respondents were asked directly the proportion of British adults who were white, the median answer was 65 per cent (rather than 87 per cent): precisely the real proportion of whites in the United States.
********
British Public Vastly Overestimates Size of Minority Groups
TOBY YOUNG for DAILY SCEPTIC
According to a new poll by YouGov, the British public think various minority groups make up a far larger percentage of the population that they really do. Is it because minorities are so over-represented in the mainstream media?
The Mail on Sunday has more.
When 1,800 people were asked by pollster YouGov how many people were transgender, for instance, they thought it was about 5% of the population.

In reality, between 0.3% and 0.7% identify as a different gender from their biological sex – the gap between the estimate and the reality appearing to show how the transgender rights debate has skewed perceptions.

While most Britons are white and heterosexual, the poll found many believe the U.K. is made up of far more racial, religious and sexual minorities than it actually is. When the survey asked what proportion of adults was white, the median answer was 65% – yet the true figure is 87%.

And while official figures show that black Britons make up about 3% of the population, those questioned estimated the proportion at 20%. Britons believed about 15% of the population is Muslim, against the true figure of about 4%, and they estimated the Jewish community stood at 10% when it is one-twentieth that size (0.5%)

The public also hugely overestimates the number of vegans and vegetarians – suggesting about 20% refuse to eat animal products, when it is just 4%. Results of the survey, commissioned by the Common Sense Campaign, have been used to gauge the accuracy of minority representation in the media. Those surveyed were asked 16 questions to work out the overall perception of the make-up of the U.K.

Tory MP Sir John Hayes said: "This distorted impression created by much of the broadcast and online media is so out of tune with the facts as to befuddle people about the true character of Britain. There are, of course, all sorts of minority groups that deserve our respect and regard.

"The overwhelming majority of British people are drawn from a small number of groups. Media preoccupations with minorities are skewing the facts"

The poll revealed that the public thinks 10% of people are bisexual and 15% are gay or lesbian. The true figures, official statistics say, are 1.3% and 1.8% respectively.
Worth reading in full.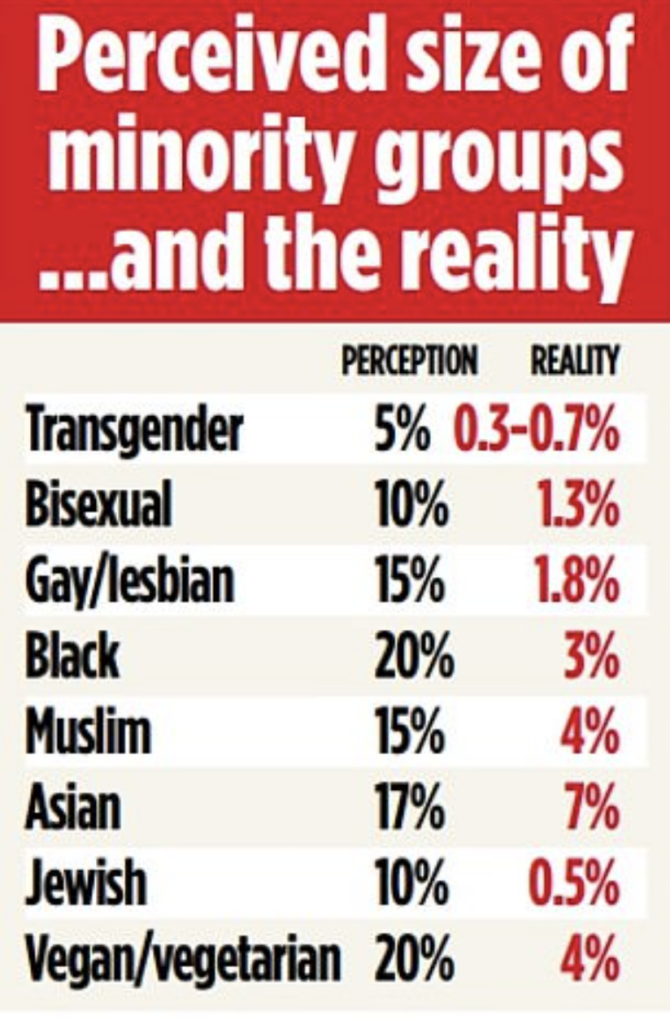 ***********
••••
The Liberty Beacon Project is now expanding at a near exponential rate, and for this we are grateful and excited! But we must also be practical. For 7 years we have not asked for any donations, and have built this project with our own funds as we grew. We are now experiencing ever increasing growing pains due to the large number of websites and projects we represent. So we have just installed donation buttons on our websites and ask that you consider this when you visit them. Nothing is too small. We thank you for all your support and your considerations … (TLB)
••••
Comment Policy: As a privately owned web site, we reserve the right to remove comments that contain spam, advertising, vulgarity, threats of violence, racism, or personal/abusive attacks on other users. This also applies to trolling, the use of more than one alias, or just intentional mischief. Enforcement of this policy is at the discretion of this websites administrators. Repeat offenders may be blocked or permanently banned without prior warning.
••••
Disclaimer: TLB websites contain copyrighted material the use of which has not always been specifically authorized by the copyright owner. We are making such material available to our readers under the provisions of "fair use" in an effort to advance a better understanding of political, health, economic and social issues. The material on this site is distributed without profit to those who have expressed a prior interest in receiving it for research and educational purposes. If you wish to use copyrighted material for purposes other than "fair use" you must request permission from the copyright owner.
••••
Disclaimer: The information and opinions shared are for informational purposes only including, but not limited to, text, graphics, images and other material are not intended as medical advice or instruction. Nothing mentioned is intended to be a substitute for professional medical advice, diagnosis or treatment.