ER Editor: We also recommend this piece from FreeWest Media yesterday titled Dutch farmers resume protests against UN agenda. Of note:
Hundreds of protesting farmers spent the night on Thursday camped at the Malieveld close to the parliamentary complex in The Hague.

THE HAGUE – They plan to resume their campaign against the government's strategy to make them responsible for alleged nitrogen-based pollution. Some 8,000 tractors made the journey to The Hague, causing traffic chaos and major delays.

The protests began earlier this month after the Dutch government announced that Dutch livestock farming should be slashed by up to 50 percent to meet commitments on reducing nitrogen emissions while no such restrictions would apply to the aviation industry.

Some 300 people, both farmers and locals, turned up for the communal breakfast organised by Famers Defence Force, which is behind the protests. Between 20,000 and 25,000 farmers are now thought to have taken part in Wednesday's protest against the government's plans to cut nitrous oxide and ammonia emissions.

….

Retired Lt. Robert Powell from Oregon, in the US, told Canada Free Press (CFP): "The media is not noting a very serious Agenda 21 event in the Netherlands."

Despite being one of the biggest farmers' protest in history that took place in the Netherlands, the local and international media all but ignored it.

"Last year you didn't hear anything about nitrogen, and now suddenly it's a mortal question," farmer Micha Bouwer from the Famers Defence Force told public broadcaster NOS.
See below for RT's coverage of the Wednesday's slow-moving vehicle protest by Dutch farmers. And British farmers are facing a campaign waged by the major supermarkets and media to discredit meat, while at the same time supermarket chains are now buying from mega-farms that are popping up in the UK, which raise massive numbers of cattle quickly and cheaply – and probably inhumanely.
The drive to push ordinary people off the land under spurious environmental concerns à la Agenda 21 is ramping up.
********
What's the beef? British farmers rail against Tesco's VEGAN advert, but supermarkets have been squeezing them for years
RT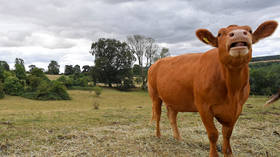 A new pro-vegan advertisement from UK retail giant Tesco has British farmers up in arms. But changing trends, falling profits, and supermarkets themselves have been threatening the industry for years.
"Daddy, I don't want to eat animals anymore," says a schoolgirl in Tesco's new advertisement, entitled 'Carl's All-Change Casserole'. Being the loving father that he is, Carl swaps the sausages in his signature dish for plant-based substitutes, and the family is happy again, thanks to Tesco's 'Plant Chef Range'.
The National Farmers' Union has objected to the ad, claiming it is "demonizing meat as a food group." Meat, they say, is naturally rich in protein and "a good source of iron, zinc and essential vitamins." 
"For farmers whose livelihoods are at risk due to the demonisation of meat, the mawkishness and subtle-as-a-brick sermonising came as yet another kick," dairy farmer Noreen Wainwright wrote in a Telegraph column afterwards.
Changing trends have indeed dealt the UK's farmers a series of kicks in recent years. A 2018 survey estimated that seven percent of Britons were vegan, while 14 percent were vegetarian. Red meat consumption has dropped around 10 percent in the last decade, with demand for certain beef products falling by seven percent last year alone. The dairy industry, too, is threatened, with milk consumption falling by a third since the 1970s, and one in five customers now opting for substitutes like soy or oat milk.
Humans are omnivores and can live healthily on a plant-based or meat-based diet, though vegans need to supplement essential nutrients only found in meat. But dietary preferences aside, economic factors have placed British farmers in a situation where even a small shift away from meat consumption could spell disaster.
Most British beef farmers operate at a loss, and depend on subsidies from Brussels to break even, a lifeline that could soon be pulled away following the country's exit from the European Union. On global markets, British beef farmers have to compete with the industrial operations common in North America, where cattle are pumped full of growth hormones, medicated with antibiotics, then slaughtered and sold at bargain-basement prices.
As a result, the UK's beef herd population has been steadily declining in recent years, while over a dozen 'megafarms' have cropped up to replace the bucolic rural pastures so often depicted on milk cartons and meat packages. Using sheer economy of scale to turn a profit, these American-style feedlots house herds of up to 3,000 cattle, with many kept for extended periods in grassless pens or yards.
Hundreds of similar operations housing over a million chickens or more than 20,000 pigs apiece have also become commonplace throughout the British countryside.
British supermarkets have played a key role in driving the small farmer out of business, too, long before they ran feelgood vegan advertisements. Shoppers in the UK demand the high welfare standards and environmental protections associated with British beef, at a reasonable price. Supermarkets provide this, while paying farmers below the cost of production and using the threat of imports to keep costs down, Felicity Lawrence, author of 'Not on the Label', wrote in the Guardian.
Sourcing beef from 'megafarms' allows supermarkets to further "drive down the retail price of beef below the price at which more traditional farmers can produce it," said Richard Young, Policy Director at the Sustainable Food Trust. "As a result they go out of business."
Tesco, Sainsbury's, Morrisons, and Asda all source meat from these industrial farms.
Britain's farmers therefore find themselves beset on all sides. From the vegans claiming their produce is murder and the environmentalists who blame their livelihood for the destruction of mother earth; to the supermarkets squeezing more product out of them for less money, Britain's farmers have every right to feel threatened.
One innocent advertisement may not seem like a big deal, but to an industry already on life support, the claim that it has caused "significant distress" to farmers might not be an exaggeration.
************
WATCH: Dutch farmers clog roads with tractors & machinery over climate change blame
RT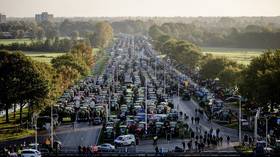 Traffic on some of the busiest roads in the Netherlands ground to a halt on Wednesday as Dutch farmers ramped up protests against farming taking the rap for climate change.
"Last year you didn't hear anything about nitrogen, and now suddenly it's a mortal question," farmer Micha Bouwer of the Farmers Defence Force told state broadcaster NOS. "These are all people in the city who have two plants on their balcony and say 'nature is suffering'."
While livestock farming is among the chief causes of nitrogen pollution, the farmers say they are being disproportionately blamed for climate change, and that their crucial role in food production is being overlooked.
The protest campaign follows Dutch court rulings that the government has an obligation to cut greenhouse emissions more significantly "in order to protect the life and family life of citizens" in the country.
Dutch politicians are reportedly considering imposing new restrictions on food production and farming in an effort to drastically cut nitrogen output, in opposition to concern from farmers and farming groups.
Prime Minister Mark Rutte warned the protesters on Wednesday that they are entitled to demonstrate but "must follow the rules of the authorities."
"If you don't do that, you are in violation and the criminal law applies."
************
••••
The Liberty Beacon Project is now expanding at a near exponential rate, and for this we are grateful and excited! But we must also be practical. For 7 years we have not asked for any donations, and have built this project with our own funds as we grew. We are now experiencing ever increasing growing pains due to the large number of websites and projects we represent. So we have just installed donation buttons on our websites and ask that you consider this when you visit them. Nothing is too small. We thank you for all your support and your considerations … (TLB)
••••
Comment Policy: As a privately owned web site, we reserve the right to remove comments that contain spam, advertising, vulgarity, threats of violence, racism, or personal/abusive attacks on other users. This also applies to trolling, the use of more than one alias, or just intentional mischief. Enforcement of this policy is at the discretion of this websites administrators. Repeat offenders may be blocked or permanently banned without prior warning.
••••
Disclaimer: TLB websites contain copyrighted material the use of which has not always been specifically authorized by the copyright owner. We are making such material available to our readers under the provisions of "fair use" in an effort to advance a better understanding of political, health, economic and social issues. The material on this site is distributed without profit to those who have expressed a prior interest in receiving it for research and educational purposes. If you wish to use copyrighted material for purposes other than "fair use" you must request permission from the copyright owner.
••••
Disclaimer: The information and opinions shared are for informational purposes only including, but not limited to, text, graphics, images and other material are not intended as medical advice or instruction. Nothing mentioned is intended to be a substitute for professional medical advice, diagnosis or treatment.