ER Editor: According to everything we've published on Israel and the Palestinians, Putin speaks to the truth of the matter, although it is far more complicated. But he sums up the basic situation for us.
We need to remember that the (for want of a better term) Khazarian Mafia created Israel with the Balfour Declaration and have used badly both Palestinians and Jews (real ones) in quite different ways. They were the people who made Israel the world's experimental lab for the Pfizer vaccines post-2020. Ordinary Israeli Jews took to the street protesting to the world's media to get their forced lockdowns and vaccinations stopped. We reported on this. Palestinians were largely ignored when it came to the Pfizer plan for Israelis. The world didn't pay too much attention back when Israelis really needed it.
We believe a takedown of these people (KM) is underway in Israel, and that Gazans will have to be freed from their open air prison. Much else that we can't presently see in the tea leaves may transpire, too. 
Kudos to Putin (we believe he is not so much a man but an agenda, as there have been several Putins along the way). He has been given the role of speaking truth to western power, we maintain. Who's behind this agenda? Who's really responsible for the impossible-to-believe Israeli intelligence 'failure' when Israel was allegedly warned about the Hamas attack by Egyptian intelligence ahead of time?
Covid, the 'vaccines', Ukraine and now Israel are major educational moments for all of us. Cue, Putin once again.
********
Palestinian problem 'in hearts' of Muslims – Putin
Washington has tried to use "handouts" as a substitute for a real solution to the problem, Moscow has said
RT
The plight of the Palestinian people cannot be disregarded, Russian President Vladimir Putin told the Russian Energy Week forum in Moscow on Wednesday, a day after his talks with Iraqi Prime Minister Mohammed Shia' Al Sudani.
Muslims in the Middle East and elsewhere perceive what the Palestinians have endured for years as a gross injustice that had been "aggravated beyond belief."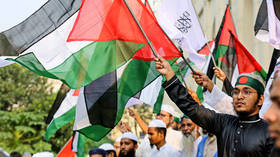 .
The Russian president said that a Palestinian state should have been created alongside the state of Israel back in 1948 but never was. "The Palestinian problem is in the heart of every person in [the Middle East] and every person practicing Islam," he told the forum.
His words came amid an ongoing escalation around the Gaza Strip. A new conflict broke out after the Gaza-based Hamas militant group launched a massive attack on Israel, killing more than 1,000 people, mostly civilians. West Jerusalem responded with a massive bombing campaign against Gaza, which has claimed the lives of more than 800 people, according to the local health officials.
The UN said earlier this week it would launch a probe into war crimes committed by both sides, adding that it already had "clear evidence" suggesting that both Hamas and the Israel Defense Force (IDF) had violated international law.
Putin blamed the escalation on Israel's "settlement policy," which saw land being seized from Palestinians in the West Bank and handed over to Israeli settlers. The president also said that Washington has had a role in these developments since it neglected employing any real mechanisms to resolve the Israeli-Palestinian conflict and opted instead to only address the "material needs" of the Palestinians with some financial and humanitarian aid.
"They [the US] essentially sought to use handouts to substitute for a solution to the [Palestinian] people's real problems," the Russian leader said. "We have always said that it would change nothing unless some fundamental issues are resolved," he added.
The president also called on both Hamas and the IDF to "leave women and children in peace" and avoid targeting civilians in their operations. "Russia is well aware that both Israel and Palestine [feel] really strong bitterness but one should strive to minimize civilian casualties," he said.
Moscow has been calling on both sides to stop the hostilities and "condemned violence in any form." It also called both targeting civilians in military operations and taking them hostage "unacceptable." According to Russian diplomats, four Russian citizens were killed in the Hamas attack on Israel over the weekend and six more went missing.
************
••••
The Liberty Beacon Project is now expanding at a near exponential rate, and for this we are grateful and excited! But we must also be practical. For 7 years we have not asked for any donations, and have built this project with our own funds as we grew. We are now experiencing ever increasing growing pains due to the large number of websites and projects we represent. So we have just installed donation buttons on our websites and ask that you consider this when you visit them. Nothing is too small. We thank you for all your support and your considerations … (TLB)
••••
Comment Policy: As a privately owned web site, we reserve the right to remove comments that contain spam, advertising, vulgarity, threats of violence, racism, or personal/abusive attacks on other users. This also applies to trolling, the use of more than one alias, or just intentional mischief. Enforcement of this policy is at the discretion of this websites administrators. Repeat offenders may be blocked or permanently banned without prior warning.
••••
Disclaimer: TLB websites contain copyrighted material the use of which has not always been specifically authorized by the copyright owner. We are making such material available to our readers under the provisions of "fair use" in an effort to advance a better understanding of political, health, economic and social issues. The material on this site is distributed without profit to those who have expressed a prior interest in receiving it for research and educational purposes. If you wish to use copyrighted material for purposes other than "fair use" you must request permission from the copyright owner.
••••
Disclaimer: The information and opinions shared are for informational purposes only including, but not limited to, text, graphics, images and other material are not intended as medical advice or instruction. Nothing mentioned is intended to be a substitute for professional medical advice, diagnosis or treatment.