Pam Barker | Director of TLB Europe Reloaded Project
See also this additional short piece from RT titled 'More powers, more responsibilities': Putin proposes granting parliament power to choose PM & form government. Of note:
Russian President Vladimir Putin proposed granting parliament more powers to nominate key government officials, adding that the president will not be able to reject their picks.
Under the current law, the president nominates the candidate for prime minister, who then must be approved by the lower house of parliament, the State Duma.

…

Putin stressed that the president will "not have the power" to reject any of the candidacies confirmed by the parliament.

"Taking the major responsibility for forming the government would also mean taking the major responsibility for its policies," Putin said.

The proposed changes "pave the way for reformatting the system of power ahead of the 2024 presidential election," political scientist and head of the Carnegie Moscow Center think tank Dmitry Trenin told RT.

"It's clear that the new president cannot inherit Putin's authority and influence. His constitutional powers will also be [more] limited," he said.

Putin also proposed to have the existing consultative body, the State Council, written into the constitution. The council today is mainly made up of regional governors and aids the president in implementing his decisions.

"The State Council is being seen as a guarantor that the new power structure will work accordingly, instead of falling victim to internal struggles and in-fighting," Trenin said, explaining that the reformed body will "secure stability" in Moscow, as well as in the regions.

The political scientist believes that Putin himself is likely to lead the State Council after his presidential term expires in 2024. "This way he will continue being the most influential state official and its highest authority," Trenin suggested.
Zerohedge (below) resorts to Reuters for some of its reporting on the matter, which, rather predictably, suspects that Putin wants to hang onto power by some other form although they may not be wrong, as the political scientist above indicates. Zerohedge, however, notes that Putin's constitutional reforms will, in fact, disperse power. Perhaps dispersing power is a way to ensure that anyone in the future who is elected to president and who may be quietly pursuing an Atlanticist agenda (i.e. seeking Russia's downfall again as Yeltsin did) will not be able to implement it.
Reuters has historically been under the influence of the Rothschilds, and Zionists to a man or
woman usually hate Russia in a deep-seated historical way, especially Putin's 20-year long effort to rescue and rebuild the country from the ruins of the 1990's. As we know, Russia's demise was deliberately engineered after the so-called fall of Communism around 1990, with the Berlin Wall going down. Russia became a third world country as it was asset-stripped under the AngloZionist oligarchs (enabled by Yeltsin and Clinton, pictured), whom Putin has since reigned in. Under years of crippling sanctions, Russia has managed to rebuild itself to once again resume major power status and have the best military in the world to date. Hence, with China's economic involvement, we're now moving toward a
multipolar instead of unipolar, US-dominated world. Arguably, what Putin has achieved is nothing short of remarkable. Yeltsin brought Putin on as his deputy (pictured); clearly, that was a mistake by TPTB.
Whether Putin wants to personally hang onto power or not, he's not immortal, and securing Russia's future as an independent, sovereign country against the AngloZionist agenda of rape and pillage is surely the point here.
See also Putin proposes major amendments to Russia's constitution incl. about his own post, says people should vote on changes. In this article we see Putin trying to establish Russian constitutional authority over international bodies. Further, presidential candidates and candidates for high office should not have any kind of dual nationality. Smart!
We will be publishing much more on this topic.
Here is a tantalizing proposition, from George Callaghan via The Duran of Jan 1, 2020: Is Sergei Shoigu next in line to lead Russia? (Video)
For amusement, google the topic of the Russian government resigning and see what paranoid stuff is being proposed by the MSM.
Here is Putin's SOTN address:
********
Russian government resigns after President Putin's state-of-the-nation address proposes changes to the constitution
RT
Russian Prime Minister Dmitry Medvedev has announced that the entire government is resigning in a surprise statement released shortly after President Vladimir Putin delivered his annual state-of-the-nation address.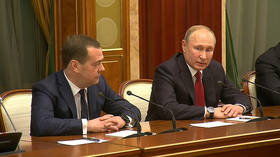 Accepting the resignation, Putin thanked the ministers for their hard work and asked them to function as a caretaker government until a new one can be formed.
Medvedev and Putin had met for a work meeting to discuss the state-of-the-nation address earlier on Wednesday, the Kremlin said. Medvedev explained that the cabinet is resigning in accordance with Article 117 of the Russian Constitution, which states that the government can offer its resignation to the president, who can either accept or reject it.
During his speech, Putin said he intended to create the position of Deputy Secretary of Russia's Security Council, which would be offered to Medvedev.
Medvedev's move to the new role will mean Russia will have a new prime minister when a new government is formed.
Putin also proposed multiple amendments to Russia's constitution. His proposals would entail "substantial changes" to the constitution, as well as to the "entire balance of power, the power of the executive, the power of the legislature, the power of the judiciary," Medvedev explained.
"In this context, it is obvious that, as the government, we must provide the president with a capability to make all decisions" that are required to implement the proposed plan, Medvedev said announcing the en-masse resignation.
Medvedev became prime minister in 2012, after serving four years as president. He currently heads the ruling United Russia party.
Under Putin's plan, the State Duma – the lower house of parliament – will be granted the power to appoint the prime minister and the rest of the cabinet, as opposed to just approving their candidacies as is currently the case.
Another idea voiced by Putin is to make the consultation body, the State Council, a permanent fixture, with its status and role written into the constitution. The president praised the council's effectiveness, stressing that its working groups ensure the most important problems for the people are thoroughly looked into.
'Russia in Global Affairs' Editor-in-Chief Fyodor Lukyanov told RT that the change will be a step towards the "diversification of power" at a time when the country is being "increasingly governed in a 'manual control' mode and fully fixated on the president."
It is an attempt to transform a super-centralized personified system of power into a more balanced and diversified one… with a strong president but not as strong as today.
"The resignation symbolizes the current 'reboot' of the political system" ahead of the 2021 parliamentary and 2024 presidential elections, Dmitry Badovsky, head of the Moscow-based Institute of Socio-Economic and Political Studies, told RT.
The cabinet's resignation is also "tied in with the constitutional amendment package" proposed by Putin on Wednesday.
A possible departure for the outgoing cabinet was hinted at by the Russian president a year ago, when he promised personnel changes dependent on how well the top officials handled "national-priority projects," according to Badovsky.
Though thanking Medvedev and his team for their hard work, Putin also said that not everything has been accomplished.
The nationwide programs are aimed at raising living standards and bettering the wellbeing of Russians. They encompass many spheres, including the improvement of education, housing and healthcare services.
*********
Russian Government Unexpectedly Resigns On Putin Plans For Drastic Constitutional Changes
Russian Prime Minister Dmitry Medvedev has made a shock and dramatic announcement that he and the entire Russian government is resigning in a statement just after President Vladimir Putin's annual state-of-the-nation address, state media outlets report. The ruble slipped about 0.5% on the news.
Despite what appears a drastic shake-up afoot, Reuters suggests it's part of a plan that could result in Putin extending his power despite a constitutional ban currently in effect preventing him from running for more than two consecutive terms. It appears a bid for him to handpick the new government and enact reforms that could weaken his future successor. (ER: Or ensure that a future successor does not have inordinate power to turn Russia back into a 1990's wasteland.)
"President Vladimir Putin on Wednesday proposed a nationwide vote on sweeping constitutional changes that would shift power from the presidency to parliament and the prime minister, a move that could allow him to extend his rule after leaving the Kremlin," Reuters comments.
Medvedev said the government resignation means Putin will decide the new government's make-up, after which the now former prime minister appears to have been appointed head of the security council.
So despite it appearing that Putin is perhaps actually giving away power, it must be remembered that his presidential term doesn't expire till 2024.
"In this context, it is obvious that, as the government, we must provide the president with a capability to make all decisions," Medvedev said of Putin's proposing several amendments to the constitution. Medvedev later told TASS that Putin's proposals introduce "substantial changes not only to an entire range of articles of the constitution, but also to the entire balance of power, the power of the executive, the power of the legislature, the power of judiciary."
Russia's RT is reporting the newly resigned ministers will act in a 'caretaker' capacity:
Accepting the resignation, Putin asked the ministers to function as a caretaker government until a new one is formed.

Before announcing the resignation of the cabinet, Medvedev met with Putin to discuss his state-of-the-nation address, which took place earlier on Wednesday, the Kremlin's press office said.

Putin also said that he plans to create a position of the deputy secretary of Russia's security council, and offer it to Medvedev.
Putin said during his address: "Of course these are very serious changes to the political system."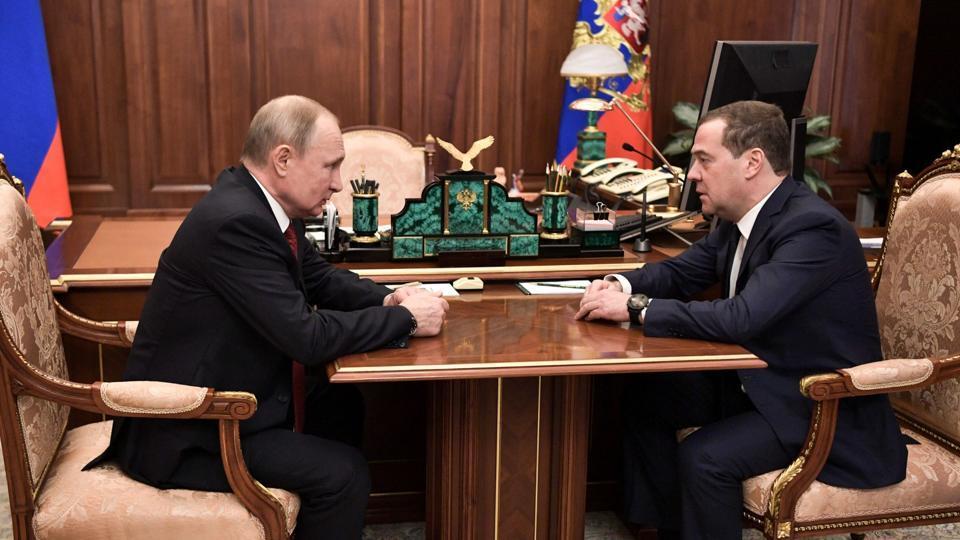 "It would increase the role and significance of the country's parliament … of parliamentary parties, and the independence and responsibility of the prime minister," he added.
Skeptics, however, see it as an attempt to create more "options" to wield influence over parliament even after he exits the presidency.

Reuters, for example, notes that "Critics have long accused him of plotting to stay on in some capacity to wield power over the world's largest nation after he steps down. He remains popular with many Russians, who see him as a welcome source of stability even as others complain he's been in power for too long."
But then again one could argue that given Putin voiced a desire to change the constitution to give the State Duma (which is the lower house of parliament) the ability to select Russia's prime minister and other top positions, this actually creates more checks and balances and fundamentally diffuses power away from the executive.
************
••••
The Liberty Beacon Project is now expanding at a near exponential rate, and for this we are grateful and excited! But we must also be practical. For 7 years we have not asked for any donations, and have built this project with our own funds as we grew. We are now experiencing ever increasing growing pains due to the large number of websites and projects we represent. So we have just installed donation buttons on our websites and ask that you consider this when you visit them. Nothing is too small. We thank you for all your support and your considerations … (TLB)
••••
Comment Policy: As a privately owned web site, we reserve the right to remove comments that contain spam, advertising, vulgarity, threats of violence, racism, or personal/abusive attacks on other users. This also applies to trolling, the use of more than one alias, or just intentional mischief. Enforcement of this policy is at the discretion of this websites administrators. Repeat offenders may be blocked or permanently banned without prior warning.
••••
Disclaimer: TLB websites contain copyrighted material the use of which has not always been specifically authorized by the copyright owner. We are making such material available to our readers under the provisions of "fair use" in an effort to advance a better understanding of political, health, economic and social issues. The material on this site is distributed without profit to those who have expressed a prior interest in receiving it for research and educational purposes. If you wish to use copyrighted material for purposes other than "fair use" you must request permission from the copyright owner.
••••
Disclaimer: The information and opinions shared are for informational purposes only including, but not limited to, text, graphics, images and other material are not intended as medical advice or instruction. Nothing mentioned is intended to be a substitute for professional medical advice, diagnosis or treatment.