ER Editor: Some informed, clever analysts are wondering if France is being kicked out to make way for the US, citing the American military training background of at least one of the Niger coup leaders. Or is it a paradigm shift taking place, away from the West's involvement in Africa? We're watching for both options.
It seems that several ambassadors are being kicked out of Niger, not just the French ambassador, Sylvain Itte.
A reminder that the BRICS Summit took place this week, with an announcement of expansion, by 6 new members. Trump gave a much-watched interview and ended up with a widely-distributed mugshot for the 4th politicized indictment and arrest, the first ever for a President past or present. Prigozhin allegedly died in a plane crash. 
***
Here are some updates —
Translation:
🔴 Niger's Chief of Staff has ordered the country's military forces to be placed on maximum alert.
Earlier, the Niger Ministry of Foreign Affairs had demanded that French ambassador Sylvain Itte leave the country within the next two days.
The rebels also demanded that the ambassadors of the USA, Germany and Nigeria leave the country. The diplomatic representatives of these countries have been given two days to meet this demand.
The French Ministry of Foreign Affairs, in turn, rejected the rebels' demand, pointing out that ambassadorial clearance is issued exclusively by Niger's legitimate authorities.
✅ It should be noted that ECOWAS has declared itself ready for military intervention in the situation in Niger should diplomatic efforts fail.
🔴 Le chef d'état-major des armées du Niger a ordonné la mise en état d'alerte maximale des forces militaires du pays

Auparavant, le ministère nigérien des Affaires étrangères avait exigé que l'ambassadeur de France Sylvain Itte quitte le pays dans les deux prochains jours.… pic.twitter.com/jKb9mYMd0e

— Brainless Partisans 🏴‍☠️☢️☣️🪆 (@BPartisans) August 26, 2023
Translation: Expulsion of French ambassador @SylvainItte from Niger: "France does not recognize the authority of the putschists, and rejects the 48-hour ultimatum"
🔴Expulsion de l'ambassadeur de France @SylvainItte du Niger : " la France ne reconnaît pas l'autorité des putschistes, et rejette l'ultimatum de 48 heures". #Niger #Nigercoup #NigerCrisis pic.twitter.com/sDWk1iP86K

— LSI AFRICA (@lsiafrica) August 25, 2023
🇳🇪BREAKING: Niger has put its army on high-alert.

*So far, Niger has expelled the following ambassadors:

1. 🇫🇷 France — Sylvain Itte
2. 🇩🇪Germany — Oliver Schnakenberg
3. 🇳🇬 Nigeria — Mohamed Usman
4. 🇺🇸 United States — Kathleen FitzGibbon
5. 🇨🇮 Ivory Coast — M. Kapiélétien…

— EndUkraineAidNow (@KoshkaChap) August 26, 2023
Breaking: Mr. Sylvain ITTE, French Ambassador, has been given 48 hours to depart Nigerién territory.

Follow Us @Regency_NG

2baba Japa Lamido Apapa #Niger pic.twitter.com/VpHPNK8CqN

— Regency Reporters (@Regency_NG) August 26, 2023
********
Niger expels French ambassador
Niamey cited hostile actions by Paris, as it braces for a possible attack by ECOWAS
RT
The military government of Niger on Friday gave French Ambassador Sylvain Itte 48 hours to leave the country. The Nigerien Foreign Ministry justified the decision by Itte not responding to their invitation to a meeting and "other actions of the French Government contra the interests of Niger."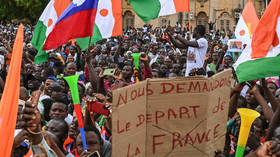 .
The ambassador's expulsion comes a month after the military of the former French colony, led by Brigadier General Abdourahamane Tchiani, ousted President Mohamed Bazoum. In response, 11 members of the Economic Community of West African States (ECOWAS) sanctioned Niger and threatened a military intervention to "restore democracy."
Guinea declined to go along with the sanctions, while neighboring Mali and Burkina Faso said they would consider such an intervention an act of war against them. Late on Thursday, Niger authorized the two neighbors to come to its defense should ECOWAS invade.
"The three countries have agreed to grant each other facilities for mutual assistance in matters of defense and security in the event of aggression or terrorist attacks," said a joint statement by their foreign ministries.
Malian Foreign Minister Abdoulaye Diop and his Burkinabe colleague Olivia Rouamba also condemned the "illegal, illegitimate, and inhumane" sanctions imposed on Niger by ECOWAS and the West African Economic and Monetary Union (UEMOA).
Omar Alieu Touray, the ECOWAS Commission president, told AP that the sanctions have resulted in "serious socio-economic crises" in the country, but were "for the interest of the people of Niger."  (ER: sure)
ECOWAS has repeatedly announced final plans for a military intervention, while continuing to send diplomatic missions to Niamey. On Thursday, a delegation of Islamic leaders was dispatched to Niger by Nigerian President Bola Tinubu, who also chairs the bloc.
Earlier this week, General Tchiani outlined a proposal to return to civilian rule that would take "no longer than three years," but warned neighbors and France not to interfere in Niger's internal affairs.
ECOWAS rejected the offer, demanding the immediate reinstatement of Bazoum. Touray told AP on Friday that the military option was "still on the table." 
************
••••
The Liberty Beacon Project is now expanding at a near exponential rate, and for this we are grateful and excited! But we must also be practical. For 7 years we have not asked for any donations, and have built this project with our own funds as we grew. We are now experiencing ever increasing growing pains due to the large number of websites and projects we represent. So we have just installed donation buttons on our websites and ask that you consider this when you visit them. Nothing is too small. We thank you for all your support and your considerations … (TLB)
••••
Comment Policy: As a privately owned web site, we reserve the right to remove comments that contain spam, advertising, vulgarity, threats of violence, racism, or personal/abusive attacks on other users. This also applies to trolling, the use of more than one alias, or just intentional mischief. Enforcement of this policy is at the discretion of this websites administrators. Repeat offenders may be blocked or permanently banned without prior warning.
••••
Disclaimer: TLB websites contain copyrighted material the use of which has not always been specifically authorized by the copyright owner. We are making such material available to our readers under the provisions of "fair use" in an effort to advance a better understanding of political, health, economic and social issues. The material on this site is distributed without profit to those who have expressed a prior interest in receiving it for research and educational purposes. If you wish to use copyrighted material for purposes other than "fair use" you must request permission from the copyright owner.
••••
Disclaimer: The information and opinions shared are for informational purposes only including, but not limited to, text, graphics, images and other material are not intended as medical advice or instruction. Nothing mentioned is intended to be a substitute for professional medical advice, diagnosis or treatment.