MEPs protest Syria strikes during Macron's call for EU unity (PHOTOS)
RT
A group of MEPs held placards reading "Hands off Syria!" during Emmanuel Macron's address before the European parliament on Tuesday, overshadowing the French president's call for greater European unity on security issues.
In his speech, Macron laid out his vision for a "profound transformation" within the EU, by which member states would abandon their "selfishness and negativity" for "what brings us together." He characterized the current political climate in the EU as a "civil war," and called for greater unity in the face of emerging "authoritarian powers," which seek to undermine the bloc.
However, Macron's impassioned appeal for unity was coldly received by more than a dozen MEPs, who displayed signs that read "Hands off Syria!" and "Stop the War in Syria" in protest at joint missile strikes carried out by the US, Britain and France against Damascus on Saturday.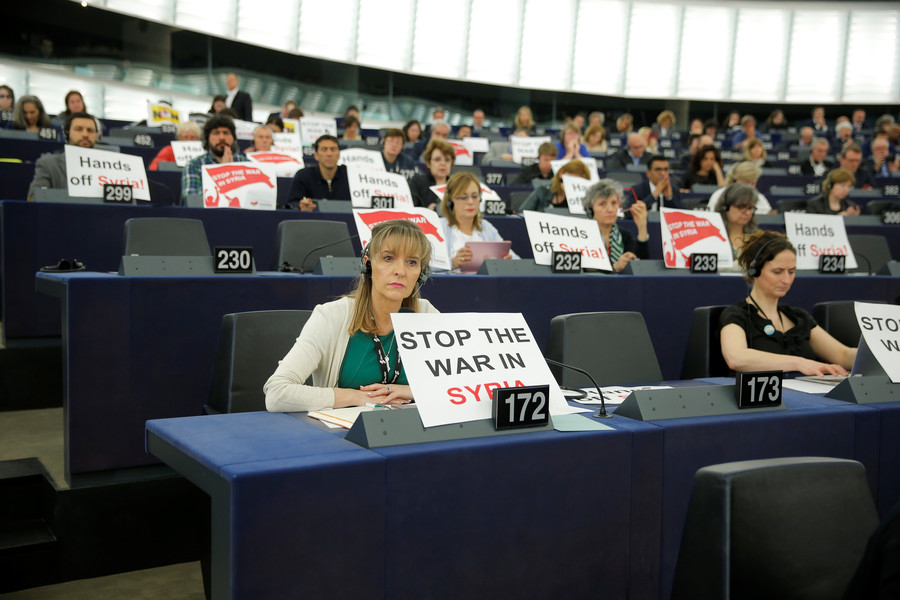 "Where was the democracy you talk about when you undemocratically attacked Syria President Macron?" Liadh Ni Riada, an MEP from Ireland's Sinn Fein party, tweeted during Macron's speech. Fellow Sinn Fein members Lynn Boylan, Martina Anderson and Matt Carthy were also seen holding the anti-war placards in defiance of Macron's melodramatic call for European solidarity.
In a debate held on Monday, France's National Assembly roundly criticized Macron's decision to launch the strikes without first obtaining a UN mandate. Assembly members denounced the strikes as illegal and carried out at the behest of Washington.
************
ER recommends other articles by RT
Featured image of French President Emmanuel Macron speaking before the European Parliament on April 17, 2018 in the eastern French city of Strasbourg. Photo: Frederick Florin | AFP