ER Editor: RT and Zerohedge reports. A reminder that instead of putting his much-hated pension reform to a vote, Macron invoked article 49.3 thus giving him constitutional power to pass the reform anyway. Outrage ensued, and a no-confidence vote occurred yesterday, to fail by lacking just 9 votes. Names of politicians who didn't vote for the 'motion to censure' (no-confidence vote) have been circulated (see image below), and some have been threatened or had their property or offices attacked. Such is the level of feeling about this.
The idea is now circulating on social media that a president can't surely survive by hanging on with just 9 votes.
As per usual, police violence in the streets has been showcased on Twitter. There are several very bad things about France, and this is one of them.
To assume that France is blowing up because of a mere 2 years being added to the retirement age is simply wrong. It's the straw and the camel's back.
On the subject of police violence, here is a tweet by respected politician, Francois Asselineau:
Translation: THE ANGUISH OF A CS (riot police) COMMANDER
He confides it to Mediapart
▪️"We are on the eve of an insurrection"
▪️"I am afraid that one of my guys will kill a demonstrator"
▪️"Emmanuel Macron is playing a very dangerous game".
⚠️The MPs who refused the censure will be responsible for the deaths.
😱 L'ANGOISSE D'UN COMMANDANT DE CRS
Il la confie à Mediapart
▪️«On est à la veille d'une insurrection»
▪️«J'ai peur qu'un de mes gars tue un manifestant»
▪️«Emmanuel Macron s'amuse à un jeu très dangereux».
⚠️Les députés qui ont refusé la censure seront responsables des morts. https://t.co/XXgJ1jEiMU pic.twitter.com/SbrIXiIaPM

— François Asselineau (@UPR_Asselineau) March 20, 2023
Translation: FLASH – Scenes of chaos in the center of #Paris. Many trash cans are burned. Several wild demonstrations are underway.
🇫🇷 FLASH – Scènes de chaos dans le centre de #Paris. De nombreuses poubelles sont incendiées. Plusieurs manifestations sauvages sont en cours. (via @ybouziar) #reformedesrettaites #grevegenerale #manifestations pic.twitter.com/ur2ttHpK9D

— Mediavenir (@Mediavenir) March 20, 2023
Translation: In République, Bastille, Châtelet, Saint Lazare, Opéra, Place Vauban… the processions are multiplying everywhere in Paris since the announcement of the vote in the Assembly.
Everywhere, the same anger. And the feeling that it has only just begun.
À République, Bastille, Châtelet, Saint Lazare, Opéra, Place Vauban… les cortèges se multiplient partout dans Paris depuis l'annonce du vote à l'Assemblée.

Partout, la même colère. Et le sentiment que ça ne fait que commencer…#Manifestations pic.twitter.com/9QE1NuAHuN

— Clément Agostini (@ClementAgostini) March 20, 2023
********
French protests rage after vote on pension reform (VIDEOS)
Violent unrest has continued across the country after lawmakers failed to depose the government over the debated bill
RT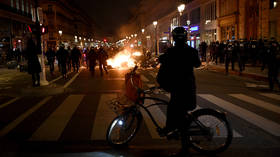 The French government has survived two parliamentary no-confidence votes over President Emmanuel Macron's decision to push through a controversial pension reform bill without lawmakers' approval. The failed motions on Monday were followed by renewed violent unrest overnight.
The first no-confidence motion, tabled by a small group of opposition lawmakers, garnered significant support in the National Assembly, dominated by Macron's centrist alliance. The motion fell just nine votes short of the 287 required to pass. The second motion, put forward by the right-wing National Rally party, was backed by only 94 lawmakers. (ER: Rassemblement National or National Rally, Marine Le Pen's party, only gets vilification and feigned outrage from other politicians so this was predictable.)
Despite failing to pass the motions, some opposition lawmakers urged the government to resign anyway."The government is already dead in the eyes of the French," left-wing MP Mathilde Panot said after the votes. "It doesn't have any legitimacy anymore."
In wake of the no-confidence votes, France's top police trade union, the SGP Police FO, warned that officers might no be able to contain the ongoing unrest. "We're starting to run out of steam on the police side," the union said, bemoaning the so-called "punch actions" by protesters, such as suddenly blocking roads and causing other disruptions.
Translation: The Unité SGP Police FO union is concerned about the "fist actions" (sudden actions) that are multiplying in the country after the 49.3 "The demonstrators are ultra-mobile, moving quickly. They are running around. And we start to …
The protests apparently lived up to expectations, with assorted chaotic footage emerging overnight. Multiple videos from the French capital city of Paris show barricades erected in the streets, with various objects set on fire.
Translation: Paris is still burning, several wild corteges are in progress in the capital.
The police were pictured repeatedly charging the crowds, beating individual protesters, apparently without attempting to detain them.
Translation; Paris, serial charging and bludgeoning by the BRAV-M (special police) in a wild procession around Châtelet.
The unrest is expected to continue across France into the coming days, with trade unions calling for a "maximum mobilization" and a "general strike" expected to kick off as soon as Tuesday.
Macron opted last week to push through the long-debated bill, raising the retirement age in France from 62 to 64, without parliament's approval. The move only further fueled ongoing strife across France, with violent protests raging for weeks as trade unions voiced their opposition to the proposed measure.
The bill, however, is still pending a review by the Constitutional Council before it can be signed into law. While the body has powers to dismiss certain articles within a bill, should it deem them to be unconstitutional, the council rarely actually does so.
********
Macron (Barely) Survives 'No Confidence' Vote Amid French Pension Reform Protests
Update (1400ET): French President Emmanuel Macron's government narrowly survived a no-confidence vote in the National Assembly on Monday, fending off an effort to kill his contentious pension overhaul and topple his administration.
As The Wall Street Journal reports, the no-confidence motion spearheaded by a group of centrists won the support of 278 lawmakers in the lower house of parliament, a mere nine votes short of a majority.
Lawmakers are expected to vote later Monday on a second no-confidence motion filed by Marine Le Pen's National Rally.
That measure is unlikely to pass because conservative and left-leaning lawmakers have said they won't back a no-confidence motion put forward by the far-right party.
As Remix News' John Cody detailed earlier, after French President Emmanuel Macron pushed through pension reform without a vote in parliament, the backlash has been fierce, and there is now a good chance that a no-confidence vote this week could collapse his government. Even if he survives the vote, commentators say that Marine Le Pen has never been in a better position, with the conservative populist emerging as the "victor" in the fierce debate over pension reform. (ER: We can ASSURE readers that Marine Le Pen is just another sell-out and offers nothing different to the French.)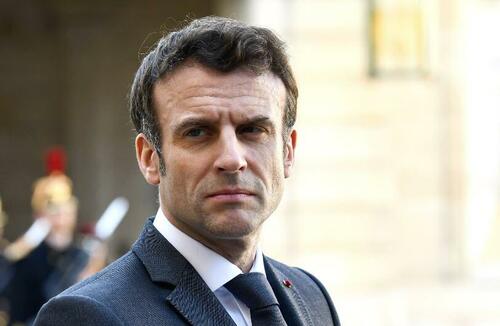 Macron's decision to turn to Article 49.3 of the French constitution, which allows him to bypass parliament and increase the retirement age from 62 to 64 via decree, had been labeled the "nuclear option" by the French press.
However, within the article is a clause that a vote of no-confidence can be tabled within 24 hours after Article 49.3 is used, and if it succeeds, it would mean the end of Macron's government.
Spontaneous riots have already erupted across the country, resulting in over 258 arrests in Paris alone, but the press and political analysts are warning that worse unrest is on the horizon.
Hundreds of thousands have been driven onto the streets in recent weeks in defiance of Macron's pension reform, and polling consistently shows approximately 75 percent of the French public rejects raising the retirement age.
These protests could help fuel the drive for a no-confidence vote, with Le Pen quickly announcing she would pursue a vote of no confidence immediately after Macron rammed through the pension reform. So far, Le Len's National Rally and the left-wing France Unbowed have blocked each other when it came to attempts to remove French Prime Minister Elisabeth Borne, who remains a close ally of Macron.
However, the Liberal MP Charles de Courson could introduce it and thus act as a bridge between the right and the left. The Liberals, acting as a neutral intermediary, could allow the right and the left to vote for their motion.  It has also been announced that the Liberties, Independents, Overseas and Territories (LIOT Group) is expected to table a no-confidence motion at 2:00 p.m. today as well.
Although the different factions of parliament have remained divided up until now, Macron's dubious move to ram through pension reform without a democratic vote could finally unify the opposition.
The stakes are extremely high for Macron. He has labeled his move the "mother of all reforms" and wants to make the reform one of the crowning achievements of his rule. Regardless of whether he stays in power or not, the idea of "democracy" in France has become a farce, and tensions are only expected to mount in the coming weeks and perhaps coming years as well.
Le Pen says she will reverse the pension reform if she is elected president. Experts say her party stands to gain the most from Macron's move, and she has succeeded in expanding her party's electorate from the working-class base to the middle-class.
"It is precisely the employees who are angry about Macron's reform," said pollster Frédéric Dabi to Germany's Welt.
Le Pen is also considered the best placed to capitalize among the various right-leaning and conservative parties in France.
"Le Pen is successfully continuing the process of normalization that it began years ago and continues to reap the rewards," says right-wing extremism expert Jean-Yves Camus. "There are no more taboos when it comes to Marine Le Pen's victory. We now have to consider this as a serious hypothesis."
************
••••
The Liberty Beacon Project is now expanding at a near exponential rate, and for this we are grateful and excited! But we must also be practical. For 7 years we have not asked for any donations, and have built this project with our own funds as we grew. We are now experiencing ever increasing growing pains due to the large number of websites and projects we represent. So we have just installed donation buttons on our websites and ask that you consider this when you visit them. Nothing is too small. We thank you for all your support and your considerations … (TLB)
••••
Comment Policy: As a privately owned web site, we reserve the right to remove comments that contain spam, advertising, vulgarity, threats of violence, racism, or personal/abusive attacks on other users. This also applies to trolling, the use of more than one alias, or just intentional mischief. Enforcement of this policy is at the discretion of this websites administrators. Repeat offenders may be blocked or permanently banned without prior warning.
••••
Disclaimer: TLB websites contain copyrighted material the use of which has not always been specifically authorized by the copyright owner. We are making such material available to our readers under the provisions of "fair use" in an effort to advance a better understanding of political, health, economic and social issues. The material on this site is distributed without profit to those who have expressed a prior interest in receiving it for research and educational purposes. If you wish to use copyrighted material for purposes other than "fair use" you must request permission from the copyright owner.
••••
Disclaimer: The information and opinions shared are for informational purposes only including, but not limited to, text, graphics, images and other material are not intended as medical advice or instruction. Nothing mentioned is intended to be a substitute for professional medical advice, diagnosis or treatment.