ER Editor: The collapse of the Grand Coalition, of Germany's centre right (CDU/CSU under Merkel) and centre left (SDP – now almost certain to be under newly-elected, left-leaning leadership as of this weekend), is certain as the SDP is now set to veer too far left for the coalition to hold. But it may not happen immediately.  Zerohedge discusses below what that means in terms of Germany borrowing more money from the ECB, what's called 'fiscal stimulus', something Germany has being doing LESS OF under Merkel, but which now may have to change in order for the coalition to limp along. For further elucidation, see DW's (MSM alert) Germany's Social Democrats throw coalition with Merkel into doubt, and Opinion: New SPD leadership could bring Germany closer to new elections. The SDP's party conference will be held next weekend to approve the election of the new leaders.
********
In Shocking Blow To Merkel, Germany's SPD Elects Leftist Leaders, Risking Coalition Government Collapse
Merkel's last term as German chancellor has been a series of relentless blows to her reputation and legacy, as the former leader of Europe finds herself trapped and increasingly powerless in a world that has grown hostile to her style of governing.
The latest shock came on Saturday, when the German Social Democratic Party (SPD) announced the winner of its leadership contest, as both coalition partners of Germany's Grand Coalition were transitioning their party leaderships after disappointing results in opinion polls and at regional elections.
Whereas consensus had widely expected finance minister Olaf Scholz and regional politician Klara Geywitz to preserve their control over the SPD after topping the first round of voting, the result announced just after 6pm CET showed that with a vote of 53% to 45%, SPD members elected Norbert Walter-Borjans, a former minister in the regional state of North Rhine-Westphalia, and Saskia Esken, an MP from Baden-Württemberg, as their new leaders.
The outcome was a blow to Merkel and her coalition government, as the duo of Walter-Borjans and Esken represent the left-leaning segment of the SPD, which has been highly skeptical of the SPD's role in the Grand Coalition government.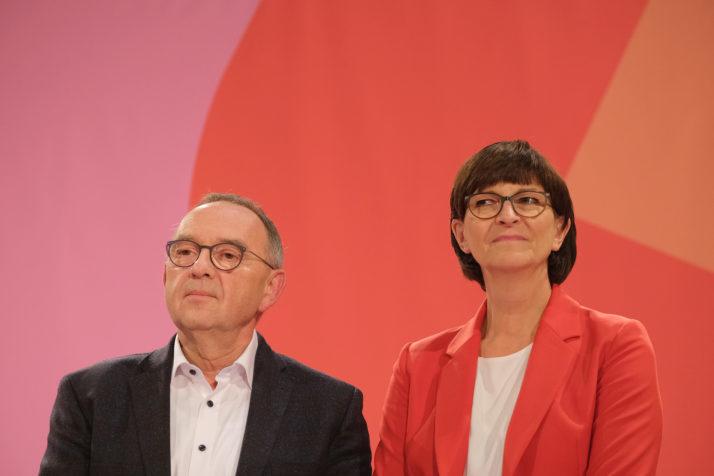 .
The surprising swing to the left for Germany's (formerly) centrist and fiscally prudent Grand coalition threatens to trigger a prolonged phase of political uncertainty in Germany, because as Bloomberg notes, "the victory of Walter-Borjans and Esken, who favor taxing the rich, boosting welfare spending and abandoning Germany's long-standing policy of a balanced budget, will certainly weaken pro-government forces."
Goldman Sachs agrees: in a Thursday note by the bank's European strategist Sven Jari Stehn, he wrote that a victory by Walter-Borjans and Esken increases the risk that the SPD pulls out the coalition because, under a left-leaning SPD, "there would be a diminished consensus within the coalition" as the newly elected duo is demanding a re-negotiation of parts of the coalition agreement, and seeking to increase federal fiscal spending and investment.
Whereas this would be a virtually impossible concession for the CDU to make during its own leadership transition, Goldman does not expect "an immediate dissolution of the coalition", even though the collapse of Germany's current coalition is now just a matter of time.
"I never said we need to leave," Walter-Borjans said after the results of the election were announced on Saturday evening. "We must improve the policies and perhaps loosen the black zero," he said in reference to Merkel's balanced budget policy, news that would be met over champagne and caviar everywhere from the ECB to Brussels, to the IMF, all of whom have been demanding that Germany boost its fiscal stimulus.
Ironically, it's now only Angela Merkel who stands in the way of Germany doing away with its "black zero" balanced budget policy, and any deviation would almost surely mean the end of the Chancellor's political career.
The fate of Germany's fiscal stimulus has emerged as arguably the most important topic for Europe's economic future.
While Germany avoided a technical recession by the narrowest of margins, growth continues to slow and will drop to an estimated 0.5% this year, one-fifth the rate of what it was in 2017, largely as a result of the global trade war and China's collapsing credit impulse, although the ECB's recent monetary boost has certainly helped delay the day of reckoning.
Ironically, after a tumultuous year in which the SPD and Merkel's Christian Democrats both faced intense power struggles, Germany's political and business elites had hoped for a period of calm and continuity; instead, they are now looking at what appears to be an almost certain collapse of the ruling coalition.
As Bloomberg notes, in hopes of delaying political chaos, Merkel this week had made an unusual plea to see the alliance through to 2021, saying there was still much to be done. Fin-Min Scholz also argued that his party is achieving more of its objectives in government than it ever could in opposition, even if it needed to compromise. But Walter-Borjans managed to tap the dissatisfaction of many Social Democrats who feel their party has abandoned its working-class origins and should abandon an alliance with conservatives.
Meanwhile, as Goldman points out, the CDU/CSU coalition is not immune to internal tensions either. Since Annegret Kramp-Karrenbauer (AKK) took over the CDU leadership last year, both European and regional elections failed to show a turnaround in voter support that would have cemented her leadership of the party. While AKK's critics refrained from a rival leadership bid at last week's CDU party convention, her position remains uncertain. Absent a substantial improvement in her approval ratings, there will be an aggressive race for the CDU's lead candidate for the next general election scheduled for the fall of 2021, with candidates from both the centre and the right of the party likely throwing their hats in the ring when the nomination process begins in late 2020. A more right-leaning candidate could also raise questions about the viability of the current coalition, especially with the SPD now turning a sharp left turn.
To be sure, Merkel may still fight to preserve the coalition, but that would come at a major cost: during the campaign Esken and Walter-Borjans said their price for staying includes billions of euros of government investment in climate and education, a 12 euro per hour minimum wage, and wage negotiations that should be made obligatory for employers. While such demands were seen as unacceptable by Merkel's CDU and its leader, AKK, told delegates at a convention in Leipzig last week that she would refuse to renegotiate the coalition agreement that the two factions completed in March 2018, now that the numbers are in, Merkel may have no choice but to bend the knee.
In other words, while today was another major loss for Merkel, fans of MMT around the world are rejoicing as Germany is now one step closer to launching an ECB-monetized fiscal stimulus.
According to Goldman, notwithstanding the risks involved in the leadership transitions, the bank still expects the Grand Coalition to last through 2020 and, even in the event the coalition is dissolved, snap elections would not be triggered automatically as the hurdles to dissolving parliament are high. Neither coalition partner currently has a strong incentive to seek fresh elections as both are polling well below their 2017 election results, and the Greens continue to poll ahead of the SPD.
A CDU/CSU minority government is therefore the more likely option in the event of a breakup of the Grand Coalition, providing relative stability during Germany's European Council Presidency in the second half of 2020.
As for Germany's economy, Goldman expects the Esken/Walter-Borjans leadership to increase the chance that the fiscal space made available in the 2020 budget is fully exploited rather than under-delivering on the planned easing as in previous years seeing they have indicated to favor a looser fiscal stance. This could add stimulus worth 0.2% of GDP in 2020, but it would still fall significantly short of the easing space afforded by both national and EU rules. Should the Grand Coalition break up, a CDU-led minority government would imply downside risks to Goldman's ur baseline.
So while today's result was a clear sign that at least one German party is turning sharply left, and thus more likely to endorse fiscal stimulus, Germany still faces an uphill climb before it concedes, a climb that may last well into 2021 by which point the global economic recession would make a German stimulus a moot point.
************
••••
The Liberty Beacon Project is now expanding at a near exponential rate, and for this we are grateful and excited! But we must also be practical. For 7 years we have not asked for any donations, and have built this project with our own funds as we grew. We are now experiencing ever increasing growing pains due to the large number of websites and projects we represent. So we have just installed donation buttons on our websites and ask that you consider this when you visit them. Nothing is too small. We thank you for all your support and your considerations … (TLB)
••••
Comment Policy: As a privately owned web site, we reserve the right to remove comments that contain spam, advertising, vulgarity, threats of violence, racism, or personal/abusive attacks on other users. This also applies to trolling, the use of more than one alias, or just intentional mischief. Enforcement of this policy is at the discretion of this websites administrators. Repeat offenders may be blocked or permanently banned without prior warning.
••••
Disclaimer: TLB websites contain copyrighted material the use of which has not always been specifically authorized by the copyright owner. We are making such material available to our readers under the provisions of "fair use" in an effort to advance a better understanding of political, health, economic and social issues. The material on this site is distributed without profit to those who have expressed a prior interest in receiving it for research and educational purposes. If you wish to use copyrighted material for purposes other than "fair use" you must request permission from the copyright owner.
••••
Disclaimer: The information and opinions shared are for informational purposes only including, but not limited to, text, graphics, images and other material are not intended as medical advice or instruction. Nothing mentioned is intended to be a substitute for professional medical advice, diagnosis or treatment.