ER Editor: Playing catch up here, Nord Stream 1's scheduled maintenance has finished and the pipeline is back up operating. As ever, we remind readers that Nord Stream 2 could totally pick up the shortfall but that Germany is blocking it:
Nord Stream 1, which has become Gazprom's central gas supply route to Europe amid machinations by Poland and Ukraine, resumed operations on Thursday morning following scheduled summer maintenance work, and is now expected to resume operations at about 40 percent of its capacity of 55 billion cubic meters of gas per year. Gazprom was forced to reduce shipments via the network in mid-June over delays in the repair of a Siemens-built high-pressure gas pumping turbine in Canada. Ottawa deliberately delayed the return of the turbine, which had undergone maintenance work, back to Europe, citing anti-Russian sanctions. Last week, amid pressure from Germany, Ottawa relented, with the turbine now thought to be on route back to Europe for installation at Gazprom's Portovaya Compression Station on the Russian Baltic Sea coast. Ukrainian authorities blasted Canada over the move, vowing that Kiev would "never accept" Ottawa's decision.
Now, the EU wants to be able to IMPOSE gas cuts on member states, some of whom are chafing already. And they get that their 'sacrifice' will be made, yet again, for Germany and possibly France (which is somewhat better off relying as it does on nuclear energy). See also this report by LifeSite News, titled EU proposes 15% gas consumption cut, alert system to force rationing when necessary:
The proposal, which must be approved by the EU member states to take effect, was announced in the suspenseful lead-up to the end of scheduled maintenance to the Nord Stream 1 pipeline, when European leaders anticipated Russia could refuse to resume gas flows to Europe. While Russia has resumed the gas pipeline flow, it remains at 40 percent capacity, as it was before it was shut down.
********
Greece & Spain Quick To Reject 'Unfair' EU Proposal To Cut Gas Use
Greece, Spain, and Portugal are already among what's looking to be an ever-growing list of EU member states who don't agree with the European Commission's proposed 15% cut in natural gas consumption across the bloc.
Greek spokesman Ioannis Oikonomou told a press briefing in Athens on Thursday that the government "has submitted proposals and we continue to maintain that this direction can provide solutions." Regardless of the Russian supply squeeze and EC President Ursula von der Leyen charging that Putin is "weaponizing" Russian energy in an attempt to blackmail Europe – and to punish the EU over anti-Russian sanctions – Greek Energy Minister Kostas Skrekas stressed that common households and businesses would be the first to suffer across the country. He said Athens would not conform to such a directive.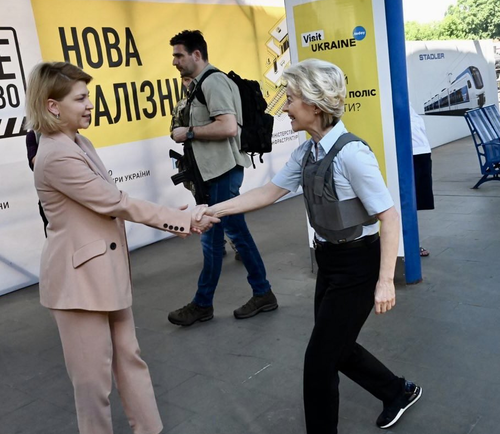 Skrekas explained that "70% of the natural gas imported by Greece is used to generate electricity, which means that any cuts would hit households and businesses." Other EU national leaders have lately expressed similar concerns.
The EU executive in publishing its drastic consumption slash proposal on Wednesday noted that initial cuts would be voluntary cuts; however, in an unprecedented move, the Commission has requested that in the scenario of an EU-wide alert "when there is a substantial risk of a severe gas shortage or an exceptionally high demand of gas occurs, which results in a significant deterioration of the gas supply situation" – that it possess the power to impose mandatory reductions.
The government of Spain in particular has been out front in flatly rejecting that Brussels could exercise such power, even in an energy emergency. Spain's Teresa Ribera, Minister for Ecological Transition, had this to say:
"Whatever happens, Spanish families will not suffer gas or electricity cuts in their homes and the government will defend the position of Spanish industry, which has paid a special price to guarantee the security of supply."
Ribera stressed that Spain's consumption has been within reasonable limits. "We want to help, but we also want to be respected," she said.
She further stressed something previously echoed by Hungary's Viktor Orban in relation to the supply crisis, saying "a disproportionate sacrifice cannot be imposed on us," especially when "we have not been asked for an opinion".
Europe continues to slit its own throat for American empire. I guess electricity cuts are worth it to hurt Russia for America. Kind of amazing this article leaves out the role of sanctions on Russia for causing this https://t.co/R8VVDfDAmt

— Rania Khalek (@RaniaKhalek) July 20, 2022
However, European Commission's "Save Gas for a Safe Winter" communique stressed it would take collective effort, per the document:
"The European Union faces the risk of further gas supply cuts from Russia, due to the Kremlin's weaponisation of gas exports, with almost half of our Member States already affected by reduced deliveries. Taking action now can reduce both the risk and the costs for Europe in case of further or full disruption, strengthening European energy resilience."
But Greece and Spain's quick responses have highlighted what will be at center of the fight for the proposed 15% cut proposed over the next eight months (and theoretically to start next month): some member states already consuming less will no doubt reject shouldering the burden of larger countries like Germany and France.
Meanwhile Italy and Poland too have become the latest on Thursday to question the collective rationing measures on the table. "Italy, Poland and Hungary have raised concerns about the European Union's proposal for the bloc to cut its natural gas consumption, adding to Spain and Portugal's public opposition to the plan," Bloomberg reports.
************
••••
The Liberty Beacon Project is now expanding at a near exponential rate, and for this we are grateful and excited! But we must also be practical. For 7 years we have not asked for any donations, and have built this project with our own funds as we grew. We are now experiencing ever increasing growing pains due to the large number of websites and projects we represent. So we have just installed donation buttons on our websites and ask that you consider this when you visit them. Nothing is too small. We thank you for all your support and your considerations … (TLB)
••••
Comment Policy: As a privately owned web site, we reserve the right to remove comments that contain spam, advertising, vulgarity, threats of violence, racism, or personal/abusive attacks on other users. This also applies to trolling, the use of more than one alias, or just intentional mischief. Enforcement of this policy is at the discretion of this websites administrators. Repeat offenders may be blocked or permanently banned without prior warning.
••••
Disclaimer: TLB websites contain copyrighted material the use of which has not always been specifically authorized by the copyright owner. We are making such material available to our readers under the provisions of "fair use" in an effort to advance a better understanding of political, health, economic and social issues. The material on this site is distributed without profit to those who have expressed a prior interest in receiving it for research and educational purposes. If you wish to use copyrighted material for purposes other than "fair use" you must request permission from the copyright owner.
••••
Disclaimer: The information and opinions shared are for informational purposes only including, but not limited to, text, graphics, images and other material are not intended as medical advice or instruction. Nothing mentioned is intended to be a substitute for professional medical advice, diagnosis or treatment.