ER Editor: What the … ?! The NATO summit is taking place in Vilnius, Lithuania today and tomorrow. Call us crazy, but we believe it is yet another 'move'. Erdogan is promising to speed up Sweden's accession to NATO, which he formerly denied. Why? The promise of membership in the EU for Erdogan and Turkey, part of this deal, has always been a game of manipulation played against Turkey. (Other promises are being made, too.) What makes Erdogan think their word will be kept this time? What's making the difference now? Nothing, of course. Something else is going on. Remember that he just won his presidential election against FIERCE western deep state opposition. And now he's agreeing to go along with them. And now 'Putin is going to be angry'? Good grief. Many smart people believe that 'Biden' and US foreign policy is controlled by the white hats anyway. Is this all a pretext designed to enable Putin to react in a certain way? Just like he did with the fake Prigozhin 'mutiny'? 5D chess leaves us dizzy.
Some varied tweets —
⚡️Swedish PM Kristersson: It is a good day for Sweden, we're taking a very big step towards NATO membership

— War Monitor (@WarMonitors) July 10, 2023
Glad to announce that after the meeting I hosted with @RTErdogan & @SwedishPM, President Erdogan has agreed to forward #Sweden's accession protocol to the Grand National Assembly ASAP & ensure ratification. This is an historic step which makes all #NATO Allies stronger & safer. pic.twitter.com/D7OeR5Vgba

— Jens Stoltenberg (@jensstoltenberg) July 10, 2023
All #Erdogan's demands seem to be satisfied: the State Department said the US supported the provision of F-16 fighter jets to #Turkey and supports Ankara's desire to join the #EU#NATO #Sweden

— Arthur Morgan (@ArthurM40330824) July 10, 2023
As we reported here today, Erdogan signalling a more pro-Western foreign policy

• Erdogan signed a drone deal with Ukraine
• Returned Azov POWs to Kyiv
• Declared support for Ukraine's Nato membership
• Approved Sweden's bid

Why?

ECONOMY https://t.co/ZayirMq3o5

— Ragıp Soylu (@ragipsoylu) July 10, 2023
A very, very sad day for Sweden. We become a member of the nuclear alliance NATO, which is entirely controlled by the United States, the country that has been by far the most involved in wars in the last 100 years. Sweden has been unique in the world, not having had a war since…

— The Doctors' Appeal/Läkaruppropet (@lakaruppropet1) July 11, 2023
A little humour —
Erdogan Approves Sweden and Finland's Accession to NATO: A Brief Background.

https://t.co/LkDZNGHR7w pic.twitter.com/dBoEG5rN8R

— Victor vicktop55 (@vicktop55) July 11, 2023
***
See these recent articles, discussing the latest plan to include Asian nations such as Japan in NATO —
********
Turkey Suddenly Agrees To Advance Sweden's NATO Bid
Update (1531ET): Stoltenberg confirms the massive news–there will be a 32nd member state added to NATO, as we now await Russia's sure to be deeply unhappy and frustrated response.
Prior Moscow declarations related to Sweden's potential move into NATO had involved measures to strengthen Russian defensive positions along the Scandinavian border region, specifically the Finnish border as well as in the region of the far-northern, remote arctic border area with Sweden.
Glad to announce that after the meeting I hosted with @RTErdogan & @SwedishPM, President Erdogan has agreed to forward #Sweden's accession protocol to the Grand National Assembly ASAP & ensure ratification. This is an historic step which makes all #NATO Allies stronger & safer. pic.twitter.com/D7OeR5Vgba

— Jens Stoltenberg (@jensstoltenberg) July 10, 2023
What's clear is that the 'unintended consequences' resulting from the Ukraine conflict have continued to spiral, and things are escalating by the day and week.
And now, to make matters worse, some (though not all) NATO member states are pushing for Ukraine's entry into the military alliance. The US has resisted, however, with Biden saying Monday that this would have to wait until after the war, given NATO Article 5 would trigger a massive hot conflict with Russia. Will Biden's vow to not consider admitting Ukraine into the alliance soften the blow for Moscow (regarding the major Sweden development)? This was perhaps key to some back-channel 'assurances', possibly.
* * *
Update (1520ET): In a rather surprising move – sure to upset Putin – Turkey agreed Monday to ask its parliament to advance Sweden's bid for membership in the NATO alliance.
Bloomberg reports, according to a Turkish official, that the decision was made after receiving assurances on key demands, including Stockholm's approach to supporters of Kurdish separatists operating in its territory.
The Turkish official said there was also progress toward meeting their demands to lift defense-related sanctions and that EU officials agreed to speed up their membership negotiations (ER: This has been going on FOREVER), including on joining the customs union and allowing visa-free travel for its citizens.
Erdogan's change of stance came hours ahead of a NATO leaders summit in Vilnius, Lithuania, where alliance members had originally hoped to be able to welcome Sweden as a new member.
As The Wall Street Journal reports, the last-minute solution to the deadlock would allow NATO to enter the summit having ironed out major differences, projecting unity against Russian aggression.
It would also pave the way for an expansion across more than 1,000 miles of territory straddling the Baltic Sea, shifting the balance of power in northern Europe and creating a potential chokepoint for Russian warships and aircraft in the region.
*  *  *
As The Cradle detailed earlier, Turkish President Recep Tayyip Erdogan told US President Joe Biden during a phone call on Sunday that his country has not seen enough progress from Sweden to support its bid to join NATO, coming just two days ahead of a summit of NATO leaders in Lithuania.
"Erdogan stated that Sweden has taken some steps in the right direction by making changes in the anti-terrorism legislation," the Turkish directorate of communications said in a statement following the call between the two presidents.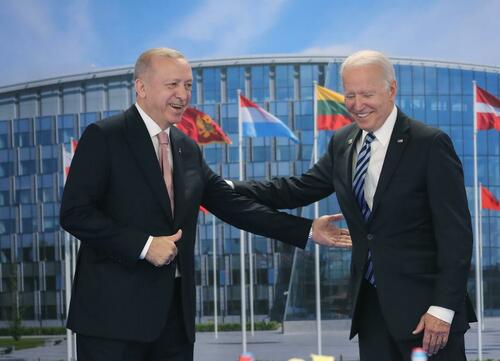 However, "terrorist" supporters continue to hold protests in the country, Erdogan reportedly told Biden, referring to supporters of Kurdish groups such as the Kurdistan Workers Party (PKK) and its affiliates, outlawed in Turkey.
"This nullifies the steps taken," the Turkish statement went on to say. These "steps" refer to requests by Ankara for Sweden to extradite members of Kurdish groups.
According to a statement released by the White House on Sunday, the two "discussed the range of issues that NATO leaders will consider at the summit, expressed their shared commitment to continue supporting Ukraine, and reviewed efforts to strengthen our bilateral ties. President Biden also conveyed his desire to welcome Sweden into NATO as soon as possible."
During a televised speech the following day, Erdogan suggested that the approval of EU membership for Turkey would pave the way for Sweden's NATO membership.
"First, open the way for Turkey's membership in the European Union, then we open it for Sweden, just as we opened the way for Finland," he said.
On July 11 a NATO summit is scheduled to be held in the Lithuanian capital, Vilnius, during which Washington is reportedly planning to push for a deal to see Sweden's swift ascension into the alliance.
While Turkey had previously been blocking Finnish ascension to NATO as well, over accusations that Finland was harboring Kurdish militant sympathizers, its application was approved, and in April, Finland officially joined the alliance.
However, Sweden's Quran burnings have hindered the process, particularly the latest incident last month – which took place with Swedish police approval and sparked worldwide condemnation and protests in several countries. Ankara has recently doubled down on its position regarding the Quran burning.
Stoltenberg on Erdogan tying EU talks to approving Sweden's NATO bid: he supports Turkey joining EU, but Sweden already met NATO membership conditions.

Turkey's "legitimate security concerns" he mentions=Turkey wanting Sweden to extradite Erdogan critics to imprison them. pic.twitter.com/45YtsVRuzC

— Lindsey Snell (@LindseySnell) July 10, 2023
At the end of last month, Erdogan said – implying that Turkey will hold off on approving Sweden's NATO bid – that Ankara will "put forward our reaction in the strongest possible way until there is a concerted effort to combat the enemies of Islam as well as terrorist organizations."
During the phone call, Biden and Erdogan reportedly discussed the sale of US F-16 jets to Turkey, which many have inferred would ease Sweden's bid for NATO ascension. However, the Turkish president reportedly told Biden "That it is not correct to associate" the Turkish F-16 request with Sweden's NATO membership.
************
••••
The Liberty Beacon Project is now expanding at a near exponential rate, and for this we are grateful and excited! But we must also be practical. For 7 years we have not asked for any donations, and have built this project with our own funds as we grew. We are now experiencing ever increasing growing pains due to the large number of websites and projects we represent. So we have just installed donation buttons on our websites and ask that you consider this when you visit them. Nothing is too small. We thank you for all your support and your considerations … (TLB)
••••
Comment Policy: As a privately owned web site, we reserve the right to remove comments that contain spam, advertising, vulgarity, threats of violence, racism, or personal/abusive attacks on other users. This also applies to trolling, the use of more than one alias, or just intentional mischief. Enforcement of this policy is at the discretion of this websites administrators. Repeat offenders may be blocked or permanently banned without prior warning.
••••
Disclaimer: TLB websites contain copyrighted material the use of which has not always been specifically authorized by the copyright owner. We are making such material available to our readers under the provisions of "fair use" in an effort to advance a better understanding of political, health, economic and social issues. The material on this site is distributed without profit to those who have expressed a prior interest in receiving it for research and educational purposes. If you wish to use copyrighted material for purposes other than "fair use" you must request permission from the copyright owner.
••••
Disclaimer: The information and opinions shared are for informational purposes only including, but not limited to, text, graphics, images and other material are not intended as medical advice or instruction. Nothing mentioned is intended to be a substitute for professional medical advice, diagnosis or treatment.