ER Editor: Here are some main points from Alexander Mercouris' take on the current situation between Russia and China:
Lavrov was received rapturously in China following the recent China-US summit in Anchorage. China is celebrating its strategic partnership with Russia, both at government and public level. It's the 20th anniversary of the friendship treaty signed between Russia and China in 2001. Their relationship has deepened since then.
For all practical purposes, it IS an alliance, and a very strong one, but this is denied officially. They have pledged mutual defence if attacked.
Russia is exporting almost as much oil to China as Saudi Arabia; China is a big recipient of Russia's agricultural sector.
Russia is too big for the West to handle; its interests are best served in a multipolar world, and it isn't likely to try to integrate with the West as it tried in the past, as some Chinese may currently fear.
Russia and China may be merging their international payments system. Since 2014 Russia has faced the threat of being cut off from the SWIFT payments system. They've developed their own parallel system since. Now Russia is talking of merging its system with China's longstanding internal payments system. Russia will use the ruble in trade with other countries. Iran has also been debating entering into the Russia-China interbanking system.
The ruble is a very stable currency in comparison with non-Western currencies. It's only against the dollar and euro that it seems to fluctuate. The more Russian currency is used for trade with non-western countries, it will become more stable.
There's also talk of co-operation regarding their space programs, and in military-intelligence terms.
Lavrov: the West has lost its ability in classical diplomacy. It resorts to ultimatums and sanctions. It started with Obama and continues today (Lavrov). 'Not a single piece of evidence has ever been provided' to back up the charges the West has made against Russia.
The West has lost Russia. Instead, Russia has formed a comprehensive military alliance with China. It's the West that has created this situation.
It's a China-Russia alliance in all but name.
China now exceeds the West in trade, heavy goods and manufacturing, which has been a game changer in the past 30 years.
China can now extend its power via Russia, all the way to Europe. China's northern border is now secure, so it can focus on the Pacific region. China also has access to Russia's massive natural resources and transportation routes. Conversely, Russia can respond to crises, such as Ukraine, knowing that it has economic and military backup from China.
This is the biggest event on the geostrategic landscape in the past 30 years.
********
Neocon Nightmare. Lavrov in China, Strengthens China-Russia Ties
ALEXANDER MERCOURIS
Neocon Nightmare. Lavrov in China, Strengthens China-Russia Ties
News Topic 84
Moscow Declares "No Relations" With EU As Brussels Has Unilaterally "Destroyed" Ties
On the defensive following the latest wave of Western sanctions targeting the two countries, Russia and China are lashing out. Russian Foreign Minister Sergey Lavrov held a press conference to address the spiraling tensions while standing alongside his Chinese counterpart Wang Yi as a show of unity against Western attacks following a meeting in Guilin, China.
This month, the European Union (in coordination with the US and others) slapped Navalny-related "human rights violations" sanctions on multiple top Russian officials, while on Monday anti-China sanctions were announced over the Uighur crackdown. And somewhat underreported on the same day were EU sanctions against two Russian officials for "persecuting gay and lesbian people in the southern Russian region of Chechnya."
Lavrov on Tuesday issued his fiercest words yet, declaring the EU has "destroyed" Russia's ability to have relations with Brussels. He said "there are no relations with the EU as an organization. The entire infrastructure of these relations has been destroyed by unilateral decisions made from Brussels."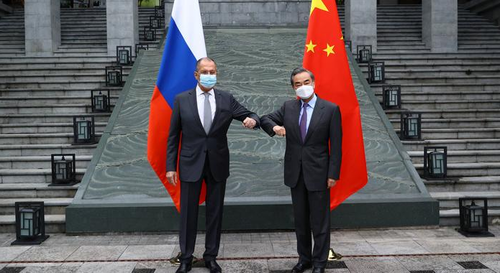 However, he did emphasize that while relations with the bloc are essentially non-existent, a handful of individual countries are still seeking positive ties with Moscow as they remain "guided by their national interests."
"If and when Europeans decide to eliminate these anomalies in contacts with their largest neighbor, of course, we will be ready to build up these relations based on equality," Russia's top diplomat added.
Lavrov went so far as to threaten the breaking off of any diplomatic contact with the EU altogether if it begins attempting to hit "sensitive parts of the economy" with punitive measures, adding the caveat that "of course, we do not want to isolate ourselves from living in the world, but we must be ready for this. If you want peace, prepare for war."
Standing alongside Lavrov, Wang Yi Chinese Foreign Minister similarly rejected outside criticisms and attacks on both governments:
Wang sharply criticized coordinated sanctions against Beijing by the EU, Britain, the US and Canada over human rights abuses against Uyghur Muslims in China's far western Xinjiang region.

"Countries should stand together to oppose all forms of unilateral sanctions," Wang said. "These measures will not be embraced by the international community."

Lavrov said Russia and China both viewed the US as seeking to rely on Cold War military alliances to undermine the "international legal architecture."
Interestingly, Lavrov highlighted that Moscow and Beijing see Washington as attempting to strengthen the West's Cold War military alliances ultimately to undermine developing multi-polarity and the "international legal architecture".
By the time of the Tuesday joint Russia-China press conference, Beijing had retaliated with sanctions of its own on no less than ten European officials and four institutions charged with "damaging China's interests".
************
••••
The Liberty Beacon Project is now expanding at a near exponential rate, and for this we are grateful and excited! But we must also be practical. For 7 years we have not asked for any donations, and have built this project with our own funds as we grew. We are now experiencing ever increasing growing pains due to the large number of websites and projects we represent. So we have just installed donation buttons on our websites and ask that you consider this when you visit them. Nothing is too small. We thank you for all your support and your considerations … (TLB)
••••
Comment Policy: As a privately owned web site, we reserve the right to remove comments that contain spam, advertising, vulgarity, threats of violence, racism, or personal/abusive attacks on other users. This also applies to trolling, the use of more than one alias, or just intentional mischief. Enforcement of this policy is at the discretion of this websites administrators. Repeat offenders may be blocked or permanently banned without prior warning.
••••
Disclaimer: TLB websites contain copyrighted material the use of which has not always been specifically authorized by the copyright owner. We are making such material available to our readers under the provisions of "fair use" in an effort to advance a better understanding of political, health, economic and social issues. The material on this site is distributed without profit to those who have expressed a prior interest in receiving it for research and educational purposes. If you wish to use copyrighted material for purposes other than "fair use" you must request permission from the copyright owner.
••••
Disclaimer: The information and opinions shared are for informational purposes only including, but not limited to, text, graphics, images and other material are not intended as medical advice or instruction. Nothing mentioned is intended to be a substitute for professional medical advice, diagnosis or treatment.