Pam Barker | Director of TLB Europe Reloaded Project
The Le Figaro article below was published a few days ago on May 19, 2020. The town of Colmar, which this article reports from, is a picturesque, Germanic-looking place in Alsace, the area of France next to Germany (see map below). It has been one of the hardest-hit areas in France for the virus outbreak.
We're also linking to two earlier stories we ran: one where a patient was retrospectively identified as having COVID in December (Paris Hospital Discovers It Treated COVID-19 Patient in France as Early as 27 December), and an interesting one concerning many young athletes, from 100 countries including France, who fell sick with what may well have been the virus at the Wuhan World Military Games in October (COVID: Why We Need to Pay Very Close Attention to Those Wuhan Military Games).
This article in French from May 18, written for a doctors' site, reviews a lot of material we've published on, including the fact that the strain of the virus likely circulating in France from before December 2019 was not the same as that found in Wuhan, so this strain would not have been imported by the athletes at the end of October: Coronavirus : l'enquête sur le patient zéro en France dévoilée. (Coronavirus, the investigation for patient zero revealed in France.) If current, this report also reveals that no patient zero in China has been found, which others have suggested could implicate the 'seeding' of the virus in these areas lacking an identified patient zero.
According to our reading, what is being called Covid-19 shows up on lung scans as 'broken glass'.
The doctor referred to below, Dr. Michel Schmitt, says in this Medscape report that the virus was circulating in his region at the beginning of November and that, after a slow and sporadic start, infection rates ramped up with Christmas activities, with an 'explosion' from the end of February, reaching a peak of cases on March 31. This is in line with other reports and analyses, notably in the UK, where the end of March was more or less the end of the spike in confirmed cases (in the UK, the peak day of DEATHS was April 8). Schmitt plans to review all lung x-rays from October 12.
Again we ask, why were the lockdowns continued until well into May?
********
Colmar: traces of the coronavirus detected on a scanner as early as November 16
Scan after scan, radiologists at the Albert Schweitzer hospital in Colmar are going over nearly 2,500 files with a magnifying glass to detect traces of Covid-19.
NICOLAS DAGUIN
The study carried out by radiologists at the Albert Schweitzer Hospital will go back to October 1st.
Some 2,456 scans performed between 12 October and 30 April have been screened by the Medical Imaging Centre of the Albert Schweitzer Hospital in Colmar (Haut-Rhin). The results show several cases of Covid-19 as early as 16 November in a region hard hit by the epidemic.
What if the coronavirus appeared in France much earlier than we think? Several recent studies tend to affirm this. In early May, doctors in Bondy (ER: a small town just outside of Paris proper, within its large metropolitan area) found a case of contamination dating back to December 27, 2019 through the reanalysis of samples.
Reanalysing, looking at things differently, starting from scratch: this is exactly what the medical imaging department of the Albert-Schweitzer Hospital in Colmar has been working on for several weeks, systematically resuming all the chest scans performed between 12 October and 30 April. For Michel Schmitt, head of the medical imaging department, the aim of this new study is twofold: on the one hand, to "understand how this disease appeared and spread" and, on the other hand, to consider "how to do better next time, how to react earlier, as the epidemic outbreaks, which are usual on earth, are set to recur", explains the doctor in a press release.
The files are divided into three categories
After a careful and meticulous study, each file is classified into three categories: "Non-evocative COVID", in case no anomaly would reveal the presence of the virus, "COVID Compatible" and "Typical COVID". For the last two categories, the opinion of a second or even third party physician is required to validate or not the classification. This is how several radiologists at the Colmar hospital were able to identify two cases of "typical pulmonary anomalies caused by Covid-19" as early as mid-November, twelve in December, sixteen in January and "so on until the epidemic phase", as Dr. Schmitt's press release states.
He nevertheless wishes to specify that although "the scanner is the most sensitive technique," it is "not the most specific (detection of the virus by PCR)" and that consequently "we do not and can never provide viral proof". Michel Schmitt sees radiology rather as a means of preventing, alerting and even anticipating a future pandemic. "The onset of a disease cannot be arbitrarily stopped when specific tests are produced and used," he explains. "To reason otherwise would be to say that tuberculosis appeared with Koch's work and rabies with Pasteur's … It doesn't make sense," he warns.
Tracing the path of patients potentially affected by the virus
For its part, the Haute Autorité de Santé (HAS) ruled. The latter does not consider it necessary to carry out a chest scanner, the average cost of which generally reaches 140 euros, "for screening purposes in patients without signs of seriousness for the diagnosis of COVID-19".
With regard to the follow-up to be given to these discoveries, the radiologists intend to continue their investigations by going back to the first of October last year as a first step, and to carry out epidemiological analyses when the records proved to be compatible or typical of Covid-19 as a second step. They also plan to meet with patients "to reconstruct their clinical and biological history, their environment and lifestyle, their possible travels, and any viral tests carried out much later (mid to late February at the earliest)". Finally, the doctors would like to carry out an "analysis of the dynamics of viral diffusion at its beginning, with the aim of detecting as soon as possible any future resumption of scanner abnormalities: we will therefore continue our study until the end of the year, in the first instance".
*********
Colmar: des traces du coronavirus détectées sur un scanner dès le 16 novembre
Cliché après cliché, les radiologues de l'hôpital Albert Schweitzer de Colmar repassent à la loupe près de 2500 dossiers pour déceler des traces du Covid-19.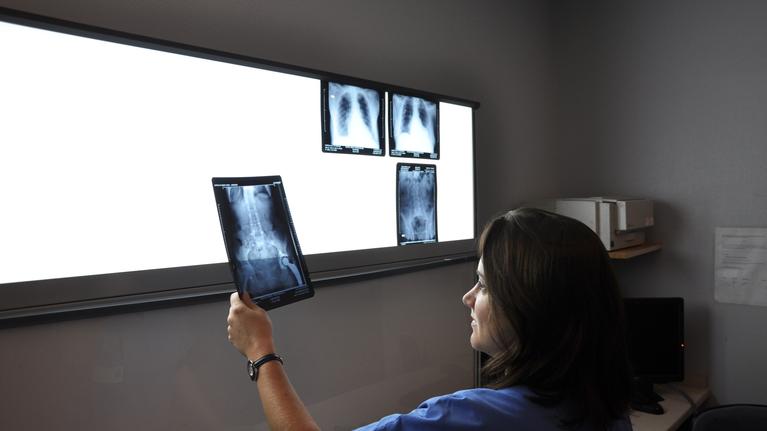 Quelque 2456 scanners réalisés entre le 12 octobre et le 30 avril ont été passés au crible par le centre d'imagerie médicale de l'hôpital Albert Schweitzer de Colmar (Haut-Rhin). Les résultats font état de plusieurs cas de Covid-19 dès le 16 novembre dernier dans une région durement frappée par l'épidémie.
Et si le coronavirus était apparu en France bien plus tôt qu'on l'imagine? Plusieurs études récentes tendent à l'affirmer. Début mai, des médecins de Bondy avaient trouvé un cas de contamination remontant au 27 décembre 2019 grâce à la réanalyse de prélèvements.
Réanalyser, regarder autrement, repartir de zéro: c'est exactement ce à quoi le service d'imagerie médical de l'hôpital Albert-Schweitzer de Colmar s'attelle depuis plusieurs semaines, en reprenant systématiquement tous les scanners thoraciques réalisés entre le 12 octobre et le 30 avril. Pour Michel Schmitt, chef du service d'imagerie médical, l'objectif de cette nouvelle étude est double: il s'agit, d'une part, de «comprendre comment cette maladie a pu apparaître et se propager» et, d'autre part, de réfléchir à «comment faire mieux une prochaine fois, comment réagir plus tôt, les proliférations épidémiques, habituelles sur terre, allant se reproduire» explique le médecin dans un communiqué.
************
••••
The Liberty Beacon Project is now expanding at a near exponential rate, and for this we are grateful and excited! But we must also be practical. For 7 years we have not asked for any donations, and have built this project with our own funds as we grew. We are now experiencing ever increasing growing pains due to the large number of websites and projects we represent. So we have just installed donation buttons on our websites and ask that you consider this when you visit them. Nothing is too small. We thank you for all your support and your considerations … (TLB)
••••
Comment Policy: As a privately owned web site, we reserve the right to remove comments that contain spam, advertising, vulgarity, threats of violence, racism, or personal/abusive attacks on other users. This also applies to trolling, the use of more than one alias, or just intentional mischief. Enforcement of this policy is at the discretion of this websites administrators. Repeat offenders may be blocked or permanently banned without prior warning.
••••
Disclaimer: TLB websites contain copyrighted material the use of which has not always been specifically authorized by the copyright owner. We are making such material available to our readers under the provisions of "fair use" in an effort to advance a better understanding of political, health, economic and social issues. The material on this site is distributed without profit to those who have expressed a prior interest in receiving it for research and educational purposes. If you wish to use copyrighted material for purposes other than "fair use" you must request permission from the copyright owner.
••••
Disclaimer: The information and opinions shared are for informational purposes only including, but not limited to, text, graphics, images and other material are not intended as medical advice or instruction. Nothing mentioned is intended to be a substitute for professional medical advice, diagnosis or treatment.