ER Editor: Another story (we published this yesterday) needs to be put out on the 17 year old French kid who got pulled over by two motorbike cops and fatally shot by one of them in a small street leading to a train station Tuesday morning. The event, both before and after, has been captured by several witnesses, which have been compiled into a tweeted video below. It's worth watching. The police actually used language where they threatened to shoot the kid while his car was stationery and posing no threat to them. It's not a huge surprise that the young man got scared and took off. But barely had his acceleration started than the cop shot him in the chest. So riots have broken out across France, which is the thrust of today's news stories.
As ever, politics gets involved where fashionable colored celebrities such as star footballer Kilian Mbappe choose to denounce this act of police violence probably because the young man comes from an Arab family. The right are complaining that kids such as Lola, the 12 year old white girl in Paris who was brutally murdered by a woman last year with no legal place in the country, get ignored by the woke left. (After Migrant Murder of 12-year-old Lola in Paris: Autopsy Results Shock France) And so it goes. Political 'recuperation' as the French call it, to label those who make political mileage out of such events either for or against.
An investigation must take place into this shooting and death, but the witness videos don't show the police in a favorable light at all. Plus, the video clips don't corroborate the police officers' version of events, who claimed they were in danger and that the driver was somehow going to kill them by hitting them with his car. Even if you can't read the French subtitles, it's worth watching what was captured on video. Here's a quick summary of the important part —
One cop says to the young guy, 'Je vais te mettre une balle dans la tete' (I'm going to shoot you in the head) and the second cop says 'shoot him'. At this point, the young driver seems to set his car in motion to leave (the car is not threatening the policemen), and then the armed cop rapidly shoots him once. The narrator says that their words indicate an intention to kill. The second witness video shows one of the cops hitting the bonnet of the car, a video that disproves what the police were claiming about the incident (see above). The car driver continues on his way for a brief distance but crashes into a pole where he's found dead. When one of the passengers in the car gets out and surrenders to the two motorbike police, who have just arrived, notice the immediate violence of the cop toward the young man. This is standard in France. Firefighters and ambulance staff can't save the driver, of course, and then we hear neighbours shouting at police for their cold-blooded killing. The woman heard shouting is an immigrant most likely given the area, although not necessarily; the policeman replies, 'yeah, go back to Africa'. An ambulance driver, who seems to know the victim, lets rip at the police ('you can see he's got the face of a child! For a problem of not having a licence! I know this kid. I saw him grow up!) The 38 year old cop who shot the driver was taken into custody, charged with voluntary manslaughter.
Translation: What really happened at around 8.30am on Tuesday in Nanterre when a police officer shot a 17-year-old boy, Nahel, after he refused to comply? We take a look at what happened before, during and after a police action that was far from above board.
Que s'est-il réellement passé mardi vers 8h30 à Nanterre au moment où un policier a tiré sur un jeune de 17 ans, Nahel, après un refus d'obtempérer. On a disséqué l'avant, le pendant et l'après d'une intervention policière loin d'être conforme aux règles !pic.twitter.com/a1fuPn22sG

— Richard K. (@Krieger66362259) June 28, 2023
Large-scale riots took place in France at night

In France, during the riots after the death of a teenager, almost 80 people were detained, writes BMF.

Promotions in French Nanterre and other cities are on their second day. Protesters attack police with fireworks, overturn and… pic.twitter.com/Vse5BYBXfL

— Sprinter (@Sprinter99880) June 29, 2023
Translation; The riots spread throughout the country last night, particularly in the Paris region and the Lille metropolitan area where the situation was chaotic (map on Telegram).
Les émeutes ce sont propagées dans tout le pays cette nuit et plus particulièrement en région parisienne et dans la métropole Lilloise où la situation a été chaotique (carte sur Telegram) #emeutes #Nanterre #Nahel pic.twitter.com/3WLyIyoivU

— Anonyme Citoyen (@AnonymeCitoyen) June 29, 2023
VIDEO: As the suburbs of Paris were in flames last night, the Little Emperor went to the Elton John concert at the Accor Arena. pic.twitter.com/4ksmJxcPxu #Nero #EU #Nahel #Vonderleyen #Nanterre

— Manchester Chronicle 🐝 (@WithyGrove) June 29, 2023
Translation; The riots spread throughout the country last night, particularly in the Paris region and the Lille metropolitan area where the situation was chaotic (map on Telegram).
The drama in Nanterre made us forget the implosion of the Titan (submersible) which made us forget Wagner's rebellion which made us forget Marlène Schiappa's scandal which made us forget the pension reform scandal which made us forget Sarkozy's conviction. Welcome to Macronia!
Le drame de Nanterre a fait oublier l'implosion du Titan qui a fait oublier rébellion de Wagner qui a fait oublier le scandale de Marlène Schiappa qui a fait oublier le scandale de la réforme des retraites qui a fait oublier la condamnation de Sarkozy
Bienvenue en macronie !

— Le jour viendra où le peuple vaincra (@NaphtalineLeBon) June 29, 2023
********
'Revolt' with Molotov cocktails hits France
More than 70 people have been detained for rioting, police said
RT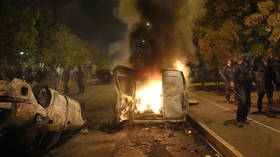 More than 70 people have been detained in Paris suburbs as the riots sparked by the death of a teenager in a police shooting continued into the early hours of Thursday.
Protests broke out in the Paris suburb of Nanterre on Tuesday, but have since spread to other major cities, including Toulouse, Lille, Lyon, and Nice. Rioters bombarded police with fireworks, set garbage containers on fire, and torched several cars.
Local journalists said Molotov cocktails and stones were thrown at police vans.
Le Figaro reported that "a few dozen" people launched fireworks at a prison in Fresnes, a southern suburb of Paris, and attempted to break into the building before being driven away by police.
Interior Minister Gerald Darmanin said on Wednesday evening that 2,000 officers and gendarmes were put on alert in the greater Paris area, 800 more than the night before, according to French media. Police also received an emergency authorization to use surveillance drones in Nanterre.
A total of 77 arrests were made, police said in the early hours of Thursday, as quoted by AFP. More than 30 people were detained in the night between Tuesday and Wednesday, including many in the Hauts-de-Seine department, where Nanterre is based.
The riots erupted after a 17-year-old, later identified as Nahel M., was fatally shot by a police officer during a traffic stop. Police said at the time that Nahel had failed to comply with the officer's demands. The young man's mother, Mounia, posted a video on TikTok calling for "a revolt" to receive justice for the death of her son.
President Emmanuel Macron condemned Nahel's death. "We have a teenager who was killed. It's inexcusable, inexplicable and I want to express my sympathies and condolences to his family and loved ones," Macron said during a visit to Marseilles on Wednesday.
He instructed Minister for Cities and Housing Olivier Klein to deliver the government's condolences to the slain teenager's family.
On Twitter, Macron urged the public to stay calm and thanked police officers who "are committed to protecting us and serving the republic."
Opposition leader Marine Le Pen called Macron's remarks "excessive" and "irresponsible." It is up to the courts to decide what happened, Le Pen said, arguing that the president should not prejudice the investigation.
The officer who fired the fatal shot has been placed under arrest and charged with intentional homicide. Lawyers for Nahel's mother have sought a change of venue, arguing that Nanterre prosecutors cannot be impartial because the suspect is one of their police officers.
************
Featured images: Twitter
••••
The Liberty Beacon Project is now expanding at a near exponential rate, and for this we are grateful and excited! But we must also be practical. For 7 years we have not asked for any donations, and have built this project with our own funds as we grew. We are now experiencing ever increasing growing pains due to the large number of websites and projects we represent. So we have just installed donation buttons on our websites and ask that you consider this when you visit them. Nothing is too small. We thank you for all your support and your considerations … (TLB)
••••
Comment Policy: As a privately owned web site, we reserve the right to remove comments that contain spam, advertising, vulgarity, threats of violence, racism, or personal/abusive attacks on other users. This also applies to trolling, the use of more than one alias, or just intentional mischief. Enforcement of this policy is at the discretion of this websites administrators. Repeat offenders may be blocked or permanently banned without prior warning.
••••
Disclaimer: TLB websites contain copyrighted material the use of which has not always been specifically authorized by the copyright owner. We are making such material available to our readers under the provisions of "fair use" in an effort to advance a better understanding of political, health, economic and social issues. The material on this site is distributed without profit to those who have expressed a prior interest in receiving it for research and educational purposes. If you wish to use copyrighted material for purposes other than "fair use" you must request permission from the copyright owner.
••••
Disclaimer: The information and opinions shared are for informational purposes only including, but not limited to, text, graphics, images and other material are not intended as medical advice or instruction. Nothing mentioned is intended to be a substitute for professional medical advice, diagnosis or treatment.