ER Editor: It's a perfect storm of tone deafness, pushing through pension reforms and responding with an even greater police presence and police brutality. The French are waking up, however. A tipping point has been reached in public consciousness about police violence.
Meanwhile, the police unions are in negotiations with the French government to be EXEMPT from the pension reforms that the rest of the country has to endure. Just while tensions are ramping up. When will the French police actually wake up and realize they're citizens, too, instead of milking the situation to suit themselves?! See
The police have form in this regard. They pulled the same trick in the Yellow Vest situation:
In the midst of a pension reform crisis and violent protests, some police unions are negotiating with their minister to be exempted from the government's plan. According to journalist Marc Endeweld, they are asking for a compensatory "bonus year" in addition to maintaining their special regime.

Recall that at the time of the yellow vests, Minister Castaner and the police unions had agreed on a salary increase.According to the Unit-SGP Police union, this increase was gradual and resulted after a year in an average increase of 120 euros net per month for peacekeepers.
****
Flashback
This is from 2020 — Don't French Lives Matter? Forgetting Massive Police Brutality [VIDEO & PHOTOS]. One Youtube video showing 4 (FOUR) police on the pavement outside a medical facility hitting ONE medical personnel with their batons repeatedly (think: medical … Covid was just getting going), included in this report, was taken down by the platform, but the article contains other images of protesting hospital staff, as well as others, getting sprayed in their faces and otherwise badly treated. Yes, this is a country where women get punched in the face and kicked in the stomach for merely standing there.
********
France announces massive police mobilization
13,000 officers will be deployed to counter nationwide protests, the interior minister has announced
RT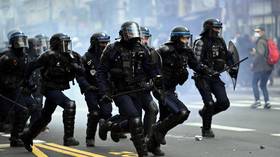 French Interior Minister Gerald Darmanin has ordered 13,000 police officers into the streets of France's major cities as protests against the government's controversial pension reforms continue. Darmanin said that he is expecting "radical activists" from abroad to instigate violence at the demonstrations.
Darmanin announced the deployment on Monday night, adding that 5,000 of the mobilized officers would be stationed in Paris ahead of marches on Tuesday.
"Our services anticipate that there will be significant disruption to public order," he said, warning that "more than 1,000 radical activists, some arriving from abroad, may join the protests in Paris, Nantes or Rennes."
Darmanin said that these "radical activists" are mostly left-wingers and anarchists who are known to police. "Their goals are to destabilize our republican institutions and bring blood and fire down on France," he claimed. (ER: While many suspect they are government-hired or are even police officers themselves.)
France has been hit with constant protests and riots since President Emmanuel Macron bypassed parliament earlier this month to pass a bill raising the retirement age for most workers from 62 to 64. More than a million demonstrators took to the streets last Thursday, and hundreds were arrested in Paris after clashing with police and lighting fires on the streets of the French capital.
As of Tuesday afternoon, the demonstrations in Paris remained mostly peaceful. However, masked rioters in Nantes set cars on fire and hurled rocks at police, who responded with tear gas. Protesters in Paris and Marseille blocked railway lines, while a group of demonstrators set off a smoke bomb in Biarritz Airport, triggering alarms and leading to an evacuation.
The Council of Europe has condemned the government for using excessive force against protesters, while France's National Consultative Commission on Human Rights issued a report last week accusing police of arresting hundreds of demonstrators without cause.
Macron is insistent on keeping his reforms in place. "I have no regrets pushing for this necessary reform," he said in a televised interview last week, adding that he accepts "unpopularity" as a result. Macron has long argued that France's pension system will go bankrupt unless the retirement age is raised, while his opponents have called on the president to make up for the shortfall by increasing taxes on the wealthy instead.
********
ER: BRAV-M is a newly formed contingent of police, dating back to 2019, specially trained for just these types of situations with the Yellow Vests. They're located around Paris, ready within minutes to be called out. Now a petition has been initiated to get them dissolved.
National Assembly: the petition calling for the dissolution of the BRAV-M exceeds 100,000 signatures
RT FRANCE
The text calling for the dissolution of these police units, which have been widely criticized for their strong interventions during the demonstrations, has exceeded the bar of 100,000 citizen signatures on the site of the National Assembly and could be examined.
Compared to other texts, the petition aimed at dissolving the BRAV-M (Brigades for the repression of motorized violent action) mobile units at the heart of current criticism against police violence has experienced strong enthusiasm. Filed on March 23 and accessible on the website of the National Assembly, it indeed crossed the threshold of 100,000 citizen signatures on the evening of March 27.
This is a record for the Palais Bourbon platform, launched in 2020 to revive the right to petition (ER: We can't suppress our laughter at this). The rebellious deputy Antoine Léaument welcomed this in a tweet calling for the continuation of the collection of signatures, several LFI deputies having called for the dissolution of these units the previous week.
Translation: WE DID IT!  The 100,000 signatures mark has been passed on the petition for the dissolution of the BRAV-M! Let's keep on signing and sharing!
ON L'A FAIT !

Le pallier des 100.000 signatures est dépassé sur la pétition pour la dissolution de la BRAV-M !

Continuons à signer et partager !

➡️ https://t.co/y30TwjlwLI pic.twitter.com/rlCaylojVh

— Antoine Léaument 🇫🇷 (@ALeaument) March 27, 2023

The online petition, now signed by around 120,000 people, considers that "the police repression which is befalling our country must lead to putting back on the agenda the imperative dismantling of the BRAV-M". Recalling that these brigades were created in March 2019 under the impetus of the prefect Didier Lallement  "to gag the Yellow Vests movement", the text criticizes these units for having become "one of the symbols of police violence" and accuses them of participating in "increasing tensions, including against the police". The petition also equates the BRAV-M with "voltigeur" ​​units active in the 1980s, disbanded after the death of Malik Oussekine in 1986.
The petition soon to be examined by the National Assembly?
If the petition exceeds 500,000 signatories, from at least 30 departments, it could be debated in public session, according to the Assembly's internal regulations. And even without reaching the threshold of 500,000 supporters, the presidency of the Assembly will refer the petition to one of the permanent committees, in this case probably that of Laws. On the proposal of a deputy rapporteur, the said committee can either classify the petition or examine it internally.
Accused by demonstrators of acts of violence and intimidation during rallies in Paris against the pension reform, the BRAV-M has been at the heart of a new controversy since March 24 after the broadcast of an audio recording , obtained by  Le Monde and Loopsider, in which police officers make insulting and humiliating remarks towards seven young demonstrators whom they had just arrested. While condemning "the behavior of some individuals", the prefect of police of Paris Laurent Nunez for his part affirmed that the dissolution of these units "was not on the agenda".
************
Featured image of woman's head can be found here
Featured image, BRAV-M police: JULIEN DE ROSA / AFP
••••
The Liberty Beacon Project is now expanding at a near exponential rate, and for this we are grateful and excited! But we must also be practical. For 7 years we have not asked for any donations, and have built this project with our own funds as we grew. We are now experiencing ever increasing growing pains due to the large number of websites and projects we represent. So we have just installed donation buttons on our websites and ask that you consider this when you visit them. Nothing is too small. We thank you for all your support and your considerations … (TLB)
••••
Comment Policy: As a privately owned web site, we reserve the right to remove comments that contain spam, advertising, vulgarity, threats of violence, racism, or personal/abusive attacks on other users. This also applies to trolling, the use of more than one alias, or just intentional mischief. Enforcement of this policy is at the discretion of this websites administrators. Repeat offenders may be blocked or permanently banned without prior warning.
••••
Disclaimer: TLB websites contain copyrighted material the use of which has not always been specifically authorized by the copyright owner. We are making such material available to our readers under the provisions of "fair use" in an effort to advance a better understanding of political, health, economic and social issues. The material on this site is distributed without profit to those who have expressed a prior interest in receiving it for research and educational purposes. If you wish to use copyrighted material for purposes other than "fair use" you must request permission from the copyright owner.
••••
Disclaimer: The information and opinions shared are for informational purposes only including, but not limited to, text, graphics, images and other material are not intended as medical advice or instruction. Nothing mentioned is intended to be a substitute for professional medical advice, diagnosis or treatment.