ER Editor: A two-fer on German difficulties from RT and P. Gosselin of No Tricks Zone, all engineered. A perfect confection of rising energy costs, declining temperatures, deep state sabotage of Nord Stream and government incompetence.
The small German businesses left standing after Covid, despite the government's best efforts, won't be after this.
********
Thousands of German stores on brink of closure – Spiegel
Energy costs in the country have increased by nearly 150% since the beginning of the year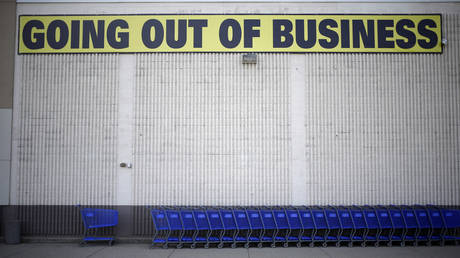 Over 15,000 German stores are facing bankruptcy due to soaring energy costs, Der Spiegel reported on Friday, citing the German Retail Association (HDE).
According to the report, the HDE wrote a letter to Vice-Chancellor and Economy Minister Robert Habeck in which it warned that the "exploding energy costs" are making it impossible for increasing numbers of retailers to make ends meet. The group called the situation "existentially threatening" and said that around 16,000 businesses may go bankrupt this year, while the "negative trend" is likely to continue through 2023.
The group said the rise in energy costs, which have spiked by 147% on average since the beginning of the year, is preventing retailers from making a profit. The share of electricity costs in sales volumes for retailers has already reached almost 3% on average and many in the industry expect this figure to rise to as high as 5% in 2023.
According to HDE President Josef Sanktjohanser and Managing Director Stefan Genth, the returns generated in many retail sectors are already extremely low today. In the case of clothing, the operating profit as a percentage of sales is 2.1%, while in the case of shoes it is currently negative at -1.2%. Even in the food segment, it is only 2-4%.
Such a state of affairs may put many companies "at a disadvantage," the group warned. Given the sharp decline in the purchasing power of private households and record-high inflation, it will likely not be possible to shift the rising energy costs to consumers, the HDE states. Therefore, the group urged Berlin to intervene by temporarily limiting tariffs and cutting electricity taxes to a minimum.
********
Colder, Wetter Than Normal September Pushes German Gas Consumption +14.5%, Winter Gas Outage Looms!
P. GOSSELIN for NO TRICKS ZONE
Sudden mid September cold snap forces Germans to turn on the heat early…consume 14.5% more gas than previous years… 'wettest September since 2001' …gas shortage in winter 'difficult to avoid'
Germany's heating season gets an early start as cold snap hits. (Symbolic photo by P. Gosselin) 
With Russia's gas supply to Europe having practically come to a standstill, German authorities have begun pleading for its citizens to drastically cut back on their natural gas consumption immediately. "With a little luck, we'll make through the winter," said Economics Minister Robert Habeck, as Germany's energy crisis deepens to alarming dimensions.
Habeck then expressed hopes for a mild winter. But unfortunately climate warming hasn't cooperated over the past two weeks, failing to show up in September this year. With temperatures diving steeply last week, Germany's mean September temperature is ending up almost half a degree cooler than normal, according the preliminary results from the DWD German national weather service.
"The mean temperature in September 2022 was 13.4 degrees Celsius (°C)," reported the DWD. Compared to the current reference period 1991 to 2020, the negative deviation was 0.4°C.
Early heating season
The bad news is that the recent cold has caused gas consumption to surge 14.5% higher compared to the previous years. According to the country's Federal Network Agency: "While some residential and commercial gas consumption was well below average consumption levels in previous years through mid-September, last week's 483 GWh/week was well above the 2018-2021 average (422 GWh/week; +14.5 percent)."
Communist-style shortages 
"Savings will have to take place even if temperatures continue to fall," explained Federal Network Agency head Klaus Müller. He warned: "Without significant savings in the residential sector as well, it will be difficult to avoid a gas shortage in winter."
Wettest September since 2001
There has been some good news: drought-stricken Germany got relief as September saw around 100 liters per square meter (l/m²) of precipitation on average – about 155 percent of the 1991 to 2020 reference period (64.5 l/m²).
"As a result, there was finally a marked easing of the situation in the drought-stricken regions," writes the DWD press release. "It was the wettest September since 2001, with monthly totals of over 200 l/m² in the low mountain ranges and the Alps. At the highest altitudes, the first flakes even fell."
************
••••
The Liberty Beacon Project is now expanding at a near exponential rate, and for this we are grateful and excited! But we must also be practical. For 7 years we have not asked for any donations, and have built this project with our own funds as we grew. We are now experiencing ever increasing growing pains due to the large number of websites and projects we represent. So we have just installed donation buttons on our websites and ask that you consider this when you visit them. Nothing is too small. We thank you for all your support and your considerations … (TLB)
••••
Comment Policy: As a privately owned web site, we reserve the right to remove comments that contain spam, advertising, vulgarity, threats of violence, racism, or personal/abusive attacks on other users. This also applies to trolling, the use of more than one alias, or just intentional mischief. Enforcement of this policy is at the discretion of this websites administrators. Repeat offenders may be blocked or permanently banned without prior warning.
••••
Disclaimer: TLB websites contain copyrighted material the use of which has not always been specifically authorized by the copyright owner. We are making such material available to our readers under the provisions of "fair use" in an effort to advance a better understanding of political, health, economic and social issues. The material on this site is distributed without profit to those who have expressed a prior interest in receiving it for research and educational purposes. If you wish to use copyrighted material for purposes other than "fair use" you must request permission from the copyright owner.
••••
Disclaimer: The information and opinions shared are for informational purposes only including, but not limited to, text, graphics, images and other material are not intended as medical advice or instruction. Nothing mentioned is intended to be a substitute for professional medical advice, diagnosis or treatment.