Ex-French president Sarkozy held on Gaddafi corruption claims: Reports
The former French leader has denied allegations of corruption over $60m in election funding
JAMIE MERRILL, Diplomatic Editor
Former French President Nicolas Sarkozy was placed in custody on Tuesday as part of an investigation into claims that he received millions of euros in illegal financing from the government of the late Libyan leader Muammar Gaddafi, a legal source told AFP.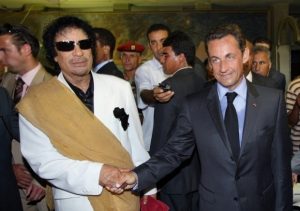 Muammar Gaddafi meets President Nicolas Sarkozy in Libya (AFP)
The news agency reported that Sarkozy was being held at the Nanterre police station, west of Paris, where he had reportedly been summoned by anti-corruption police officers.
The former French leader had until now refused to respond to a summons for questioning in the case, which drew heightened scrutiny last November when a businessman admitted delivering three cash-stuffed suitcases from the Libyan leader as contributions towards the French leader's first presidential bid.
Sarkozy and his former chief of staff have denied wrongdoing in the case, which involves funding for his successful 2007 presidential campaign.
However, investigators are examining allegations that Gaddafi gave Sarkozy $61m (50m euros) for the campaign, in breach of French laws that prohibit overseas financing of elections and limit overall funding to $26m.
'I have discovered things that should no longer be hidden. I wish to denounce the mafia state in which we are currently living'
The former president's detention comes more than a year after French-Lebanese businessman Ziad Takieddine (pictured) repeated claims that he delivered suitcases from Libya containing 5m euros ($6.2m) in cash to Sarkozy and his former chief of staff Claude Gueant.
It is alleged that three cash handovers took place at the Interior Ministry, while Sarkozy was interior minister in late 2006 and early 2007.
On each trip Takieddine carried a suitcase with around 1.5m to 2m euros in 200-euro and 500-euro notes, it is alleged.
In a film published on investigative news website Mediapart, the businessman, who introduced the two leaders, claimed he handed over cases of cash to Sarkozy and his chief of staff.
He told Mediapart: "I have discovered things that should no longer be hidden. I wish to denounce the mafia state in which we are currently living."
Sarkozy and Gueant have both denied the allegations, and the former French leader did not immediately respond to requests for comment on Tuesday.
'Active and passive corruption'
Sarkozy has not been charged, but he can now be held and questioned by police for up to 48 hours. He may then appear before a judge to face charges.
The allegations against him first emerged in 2013, when the French courts opened an inquiry into the suspected illegal financing of Sarkozy's 2007 campaign with a view to possible charges for "active and passive corruption, misuse of power, forgery, abuse of public money, money laundering, and complicity in and concealment of these offences".
Sarkozy's detention comes after his former associate, Alexandre Djouhri (pictured), was arrested in London and later released on bail.
Djouhri was returned to pre-trial detention in February after France issued a second warrant for his arrest, ahead of a hearing scheduled for 28 March.
A source close to the inquiry also told AFP that Brice Hortefeux, a top government minister during Sarkozy's presidency, was also questioned on Tuesday as part of the inquiry.
Before his arrest in January, Djouhri, a 59-year-old Swiss resident, was well known among France's right-wing political establishment, and had also refused to respond to a summons for questioning in Paris.
He has been a focus of the inquiry which opened after earlier claims by the late Libyan ruler and his son Saif al-Islam that they provided funds for Sarkozy's election effort.
The detention of the former French president also comes after Bechir Saleh, Gaddafi's former finance chief, published a book supporting the claims. He recently told Le Monde: "Gaddafi said he had financed Sarkozy. Sarkozy said he had not been funded. I believe more Gaddafi than Sarkozy."
It comes after officers from the Central Office for Combating Corruption and Financial and Tax Crimes (OCLCIFF) submitted a report to magistrates, in which it detailed how cash circulated within the Sarkozy campaign team and how it allegedly flowed from Djouhri, then close to Saleh, to Gueant.
Sarkozy has previously dismissed the allegations against him as the claims of vindictive Libyan regime members furious over his participation in the US-led military intervention that ended Gaddafi's 41-year rule.
French Prime Edouard Philippe (pictured) told French television on Tuesday that he had "no comment" on the case in the first official reaction to Sarkozy's detention.
Nadine Morano, a member of the European Parliament and former minister in Sarkozy's government, told RTL radio: "We will see if this custody was justified, what elements it will bring. Once again, I look at the facts. The reality of the facts is that, very often, he was questioned, very often, he came out by being whitened completely. I call for a lot of caution the media that are starting to get excited."
A complex relationship
Sarkozy had a complex relationship with Gaddafi. Soon after becoming the French president, he invited the Libyan leader to France for a state visit and rolled out the red carpet. But Sarkozy then put France in the forefront of NATO-led air strikes against Gaddafi's troops that helped rebel fighters topple his government in 2011.
It is not the first time that Sarkozy has faced legal troubles. In February 2016, he was handed preliminary charges by French magistrates for suspected illegal overspending on his failed 2012 re-election campaign and ordered to stand trial.
************
ER recommends other articles by MiddleEast Eye
Image of Ziad Takieddine courtesy of L'Humanité
Image of Alexandre Djouhri
Featured image courtesy of Gaddafi, Sarkozy courtesy of RFI