Pam Barker | Director of TLB Europe Reloaded Project
Facial recognition technology seems to be fraught with problems (happily?), both technically (identifying incorrectly a large percentage of the time, especially women and non-Caucasians) and in terms of privacy issues. While London Met police have announced they're rolling it out this month, the technology has already been implemented with little success in Scotland, as the RT article mentions below. Rollout in Scotland has been put on hold indefinitely, the technology deemed 'unfit for use'.
The next step is to take an existing EU database (called Prüm) of DNA, fingerprint and vehicle registration information and expand it by adding facial recognition data. According to a report by the Intercept (linked to below),
The European Commission has also, separately, paid 500,000 euros to a consortium of public agencies led by the Estonian Forensic Science Institute to "map the current situation of facial recognition in criminal investigations in all EU Member States," with the aim of moving "towards the possible exchange of facial data," according to a project presentation sent to national representatives in Brussels.
The reporting below shows a number of law enforcement officials balking at this technology on both sides of the Atlantic, which can only be a good thing. For UK residents, the roll-out planned for England and Wales will be a thing to watch.
This from a recent BBC report:
How does the software work?

New computer systems are able to watch thousands of people at an incredibly fast pace, with the most powerful able to operate at distances of over a mile.

They can do all of this in real-time, meaning everyone who passes by the camera can be scanned against a watchlist of suspects.

Last month the Metropolitan Police announced it would roll out the technology for the first time on London's streets.

The cameras will be in use for five to six hours at a time alongside bespoke lists of suspects wanted for serious and violent crimes.

An independent review of its use has shown that most matches produced by the cameras are false alarms.
Facial recognition technology is criticized for violating the principle of policing by consent, and contravenes several articles of the European Convention on Human Rights:
It [a legal challenge from 2018] argues that the use of automatic facial recognition violates articles eight, 10 and 11 of the European Convention on Human Rights – guaranteeing the rights to private life, freedom of expression, assembly and association – and is neither proportionate nor necessary.

Silkie Carlo, director of Big Brother Watch, said it was subjecting "thousands of people in the area to highly sensitive identity checks without consent".
And then there's the planned integration of this ramped-up EU-wide system with that in the US …
********
EU poised to create massive transatlantic facial-recognition database, link with US
HELEN BUYNISKI for RT
The EU is laying the groundwork for a massive international facial recognition database that may someday hook into the one maintained by the US, according to leaked internal documents.
National police forces of 10 EU member states are calling for a legal framework to create a massive system of interlinked facial recognition databases "as quickly as possible," a report leaked to the Intercept on Friday reveals. Austria is leading the way on the project, which was still in its early phases as of November, when the report initially circulated among EU officials.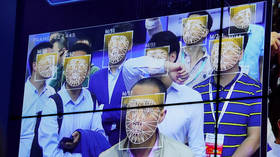 Produced as part of a project to expand Prüm, the EU-wide database-cross-referencing system that already allows for all-at-once scanning of individual DNA, fingerprint, and vehicle registration databases, the report calls for EU legislation that would create and connect country-level facial recognition databases, potentially all the way to the US. Because the US already has a Prüm-like exchange in place with countries that are part of the Visa Waiver Program, including most EU member states, some – including the alarmed EU official who allegedly leaked the report to the Intercept – believe any future facial recognition database network would include the US by default.
Brussels is pouring significant resources into plotting out this layer of the surveillance state, involving both private and public sector. Consulting firm Deloitte was paid €700,000 last year to deliver a report on upgrades to Prüm, focusing in part on facial recognition, while a €500,000 initiative bankrolled by the European Commission engaged a group of public agencies to "map the current situation of facial recognition in criminal investigations in all EU member states" with the goal of moving "towards the possible exchange of facial data."
In April 2019, legislation merged five EU databases holding fingerprints, facial scans, and other biometric data to create a single repository of information on 300 million non-EU citizens. While Deloitte recommended the EU do the same with police facial recognition databases in its November report, law enforcement officials apparently balked. However, linking the various countries' facial scan databases with a Prüm-like cross-check system would ultimately have the same privacy repercussions as merging them.
Because the US Department of Homeland Security has required participants in the Visa Waiver Program to adopt data-sharing agreements ever since 2015, any facial recognition databases constructed going forward would presumably have their contents shareable with the US. This has been something the US has pursued in Brussels since at least 2001, when Washington negotiated a pair of agreements to share both analytical and personal data between Europol and US law enforcement agencies; however, Europol's inability to collect the data itself meant it was dependent on what was supplied by member states. A facial recognition database in every nation, hooked into a central data-sharing network, creates an enviable transatlantic trough at which everyone's law enforcement can feed.
The rollout of facial recognition in Europe hasn't been smooth, however. Efforts to deploy it as a policing tool in Scotland were placed on hold earlier this month, after a parliamentary committee concluded human rights concerns made it unfeasible. A pilot program in London is expected to begin this month, despite harsh criticism from civil liberties groups, after an earlier program was declared a failure last January.
The US has also hit a few bumps in the road in its march toward a facial-recognition-enabled surveillance state. In December, the Department of Homeland Security canceled a program that would have required all Americans to submit to compulsory facial scans at airports after concerns about both privacy and whether the technology was able to perform.
Meanwhile, the US is expanding and consolidating its own biometric databases, paralleling the EU's streamlining of Prüm. Last June, DHS added DNA profiles and "relationship patterns" gleaned from social media to its upgraded Homeland Advanced Recognition Technology (HART) System, bringing the existing database – which already includes fingerprints, iris scans, and facial recognition – onto the Amazon cloud, where most other US government agencies already store their data.
************
••••
The Liberty Beacon Project is now expanding at a near exponential rate, and for this we are grateful and excited! But we must also be practical. For 7 years we have not asked for any donations, and have built this project with our own funds as we grew. We are now experiencing ever increasing growing pains due to the large number of websites and projects we represent. So we have just installed donation buttons on our websites and ask that you consider this when you visit them. Nothing is too small. We thank you for all your support and your considerations … (TLB)
••••
Comment Policy: As a privately owned web site, we reserve the right to remove comments that contain spam, advertising, vulgarity, threats of violence, racism, or personal/abusive attacks on other users. This also applies to trolling, the use of more than one alias, or just intentional mischief. Enforcement of this policy is at the discretion of this websites administrators. Repeat offenders may be blocked or permanently banned without prior warning.
••••
Disclaimer: TLB websites contain copyrighted material the use of which has not always been specifically authorized by the copyright owner. We are making such material available to our readers under the provisions of "fair use" in an effort to advance a better understanding of political, health, economic and social issues. The material on this site is distributed without profit to those who have expressed a prior interest in receiving it for research and educational purposes. If you wish to use copyrighted material for purposes other than "fair use" you must request permission from the copyright owner.
••••
Disclaimer: The information and opinions shared are for informational purposes only including, but not limited to, text, graphics, images and other material are not intended as medical advice or instruction. Nothing mentioned is intended to be a substitute for professional medical advice, diagnosis or treatment.