ER Editor: We're not entirely sure what is really going down here. Is it the ouster of a globalist WEF puppet as it seems? Why is migration suddenly the big issue when land grab and nitrogen policy, for example, seem more egregious, at least in non-Dutch news. Certainly, immigration has become a sensitive topic since video footage has been coming out of France allegedly showing immigrants rioting and destroying property. Meanwhile, the EU is trying to push through a new migration deal where countries either accept more migrants or pay up. Poland and Hungary are not willing to comply. Polish PM Morawiecki has publicly stated that he doesn't wish to see Poland become like France.
In the report below, it sounds like arch-globalist Rutte, who's been around for 13 years and probably loves mass migration, is actually trying to appear tough over it, relatively speaking. Which is most odd. It sounds a little engineered. Are we witnessing a species of what happened to Sanna Marin in Finland (election loss), Alain Berset (stepped down for no reason), Jacinda/Jack Ardern (no reason given), the arrest of Nicola Sturgeon (already out of office)?
Some tweets —
Netherlands… Mark Rutte has been forced to resign as his party no longer has control and they can not rein in immigration. Rutte was trying to seize over 3000 farms to free land for immigrants. He will resign as the most corrupt, unpopular leader in Dutch history…

RESIST… pic.twitter.com/Ba68EmMBmK

— Pelham (@Resist_05) July 7, 2023
🇳🇱 BREAKING: the Dutch government has COLLAPSED. FINALLY.

After 10+ years of Mark Rutte's globalist destruction policies, we now have a real chance of getting our country back.

From what I can tell about the situation now, I think the actual fall of the cabinet itself is all…

— Eva Vlaardingerbroek (@EvaVlaar) July 7, 2023
Breaking: The WEF- influenced Rutte Dutch government has collapsed amid deep divisions over migration and farming issues.

Reports coming in that the French administration of Macron will shortly suffer the same fate.

The fightback continues! 👍https://t.co/B1S758Br91

— UK Justice Forum 🇬🇧 Latest Video News Updates! (@Justice_forum) July 7, 2023
BQQM 🔥 Rutte, the longest-service premier of the nation, resigned in the wake of the collapse, but will remain in office until a new prime minister is chosen.

Dutch government collapses over immigration policyhttps://t.co/Wvdd7sN8xo pic.twitter.com/zOEab3n6eb

— 1776 (@TheWakeninq) July 8, 2023
There is a saying in the United Kingdom 🇬🇧.

" Every DOG 🐶 has his DAY. "

"The WEF is the RUTTE of all EVIL 👿 "#Globalists #Agenda2030 #NetZero #DepopulationAgenda pic.twitter.com/1xw9xN1DpP

— Andrew Henderson (@arhselk) July 7, 2023
********
Dutch government collapses over migrants
The tenuous ruling coalition could not agree on how to handle asylum-seekers and refugees
RT
Prime Minister Mark Rutte of the Netherlands submitted his resignation to the king on Friday, after the four-party ruling coalition could not reach common ground on migrant policy. The caretaker cabinet will hold office until a new general election.
"Migration is a major political and social issue," Rutte told reporters in The Hague on Friday evening. "Now that we have been unable to find agreement on this, we have collectively assessed that the political support under the coalition has disappeared."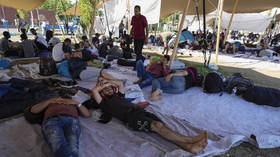 The four coalition members have "very different views on migration policy," he added. "And today, unfortunately, we have to draw the conclusion that those differences are irreconcilable."
King Willem-Alexander has been notified of the government's resignation. Rutte will stay on as the caretaker PM until a new general election, which will probably happen in November.
The main bone of contention at Friday's coalition meeting was the proposal to limit the number of refugees and asylum-seekers in the country of 18 million that is already facing a housing shortage. Rutte's People's Party for Freedom and Democracy (VVD) and the Christian Democrats wanted to limit the number of relatives who could follow asylum-seekers already in the country at 200 per year, and create a separate category for war refugees and those fleeing political persecution. The other two partners, D66 and the Christian Union, opposed "breaking up families."
The Netherlands received 46,000 asylum applications in 2022, with the government projecting it might see as many as 70,000 this year, more than the previous high recorded in 2015. The country has also taken in about 95,000 Ukrainians under "temporary protection" until March 2025.
Rutte has been prime minister since October 2010, as part of four different ruling coalitions. The most recent one was put together in January 2022, after the longest negotiations in Dutch political history. The four-party bloc ended up with just 77 seats in the 150-member parliament.
"Quick elections now," Geert Wilders, leader of the Freedom Party, tweeted after Rutte's announcement. The Green Left leader Jesse Klaver also called for a new parliament, telling the public broadcaster NOS that the country "needs a change of direction."
************
Featured image source: https://cultuurondervuur.nl/artikelen/wat-wordt-er-nu-besproken-op-het-world-economic-forum
••••
The Liberty Beacon Project is now expanding at a near exponential rate, and for this we are grateful and excited! But we must also be practical. For 7 years we have not asked for any donations, and have built this project with our own funds as we grew. We are now experiencing ever increasing growing pains due to the large number of websites and projects we represent. So we have just installed donation buttons on our websites and ask that you consider this when you visit them. Nothing is too small. We thank you for all your support and your considerations … (TLB)
••••
Comment Policy: As a privately owned web site, we reserve the right to remove comments that contain spam, advertising, vulgarity, threats of violence, racism, or personal/abusive attacks on other users. This also applies to trolling, the use of more than one alias, or just intentional mischief. Enforcement of this policy is at the discretion of this websites administrators. Repeat offenders may be blocked or permanently banned without prior warning.
••••
Disclaimer: TLB websites contain copyrighted material the use of which has not always been specifically authorized by the copyright owner. We are making such material available to our readers under the provisions of "fair use" in an effort to advance a better understanding of political, health, economic and social issues. The material on this site is distributed without profit to those who have expressed a prior interest in receiving it for research and educational purposes. If you wish to use copyrighted material for purposes other than "fair use" you must request permission from the copyright owner.
••••
Disclaimer: The information and opinions shared are for informational purposes only including, but not limited to, text, graphics, images and other material are not intended as medical advice or instruction. Nothing mentioned is intended to be a substitute for professional medical advice, diagnosis or treatment.