ER Editor: The excess mortality being reported here for 9 western European countries, which does not include France, begins in July 2021 and runs up to December 2021. We recall that general vaccine rollout started in France, however, in July 2021. To our knowledge, those already susceptible to getting 'Covid' (whatever it is) got slight, temporary reinfections around this time, even if unvaccinated. We're wondering if vaccination may be playing a bigger role here than what is immediately evident to journalist Will Jones of Daily Sceptic site. We await further analyses of this excess mortality phenomenon.
For more meat and potatoes, indicting vaccination, we highly recommend this:
********
Why Are Deaths in Europe Soaring When Covid Isn't to Blame?
DAILY SCEPTIC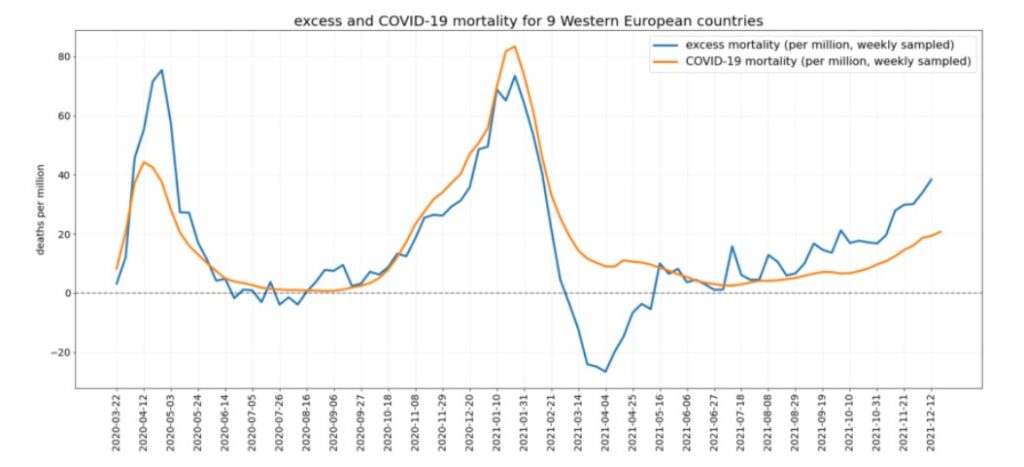 Deaths are running high across Europe this winter, particularly before Omicron came along. But it's not Covid, at least, half of it isn't.
Between the start of July and mid-December, in nine European countries, around 86,000 more people than usual died, but Covid deaths numbered around 42,000 (ER: we're not automatically buying this number; certainly, it could be lower, leaving excess mortality due to other, as yet unknown factors even higher), leaving around 44,000 above-average deaths from other causes – more than doubling the excess mortality. To put this in context, in the previous winter there were no excess deaths from other causes across these countries – there were around 5,600 more Covid deaths than excess deaths – meaning the alarming trend is new this season. The question is, why?
Why is winter 2021-22 seeing high non-Covid excess mortality when winter 2020-21 didn't see any at all?
The chart below depicts the trends in Covid mortality and excess mortality (top graph) and the difference between them, i.e., non-Covid excess mortality (bottom graph) in the nine countries. The data comes from Our World in Data, and the nine countries – Austria, Denmark, Germany, Netherlands, Norway, Portugal, Sweden, Switzerland and U.K. – are the nine Western European countries which report excess deaths data weekly and had data available up to mid-December. Between them they have a population of 218,646,258. To ensure the comparison is as accurate as possible the two curves are aligned using the peak of winter deaths in 2020-21, which allows for additional reporting delays in excess mortality. (This is why the excess mortality line is a week shorter than the Covid mortality line, and also why the figures quoted above are rounded as the estimates are not precise.)
The lack of non-Covid excess mortality in winter 2020-21 is clear here, as is its striking rise since July 2021. Other notable features include the high non-Covid excess mortality in spring 2020, which may be a mix of misclassified Covid deaths at a time of minimal testing and lockdown deaths of the frail, and the smallish hump in summer 2020, which may be heat deaths. The mortality displacement ('dry tinder') effect is also clear in spring 2021, when non-Covid excess mortality drops very low, which makes the subsequent rise all the more notable.
What could be behind the recent wave of non-Covid excess mortality? It doesn't appear to be lockdown deaths, as its appearance in autumn 2021 doesn't coincide with when strict restrictions were in place, while when there were strong restrictions in place in most countries in early 2021, non-Covid excess mortality was low and falling.
Could it be vaccine injuries? Not it seems in a straightforward way, as when the vaccine rollout was in full swing, targeting the oldest cohorts (which of course dominate all-cause and Covid mortality) during the early months of 2021, excess deaths were falling sharply. (ER: But what about when vaccination rollout started for much younger age groups?)
Significantly, however, it does coincide with the Delta Covid wave. The simplest explanation would therefore seem to be that they are misclassified Covid deaths, somehow missed by testing and doctors. However, doubt is cast on that hypothesis by the fact that it didn't happen in winter 2020-21 (as noted above, there were more Covid deaths than excess deaths that winter), and by the fact that there was more testing in late 2021, not less, making it even less likely that large numbers of Covid deaths were being missed.
What changed between the two seasons? There are two obvious candidates. One was greater exposure of the population to the virus; the other was the vaccine rollout. Both imply an immunological difference in the population. This raises the question: is the immunological state of the population, whether from vaccination or natural immunity, somehow leading to a wave of deaths triggered by exposure to the virus but not caused by detectable infection with the virus? This might seem a strange explanation – can a virus really trigger death without a detectable infection? – but it's hard to deny it would neatly explain a wave of non-Covid excess deaths coinciding with a Covid wave, particularly one that didn't occur the previous season.
Can we dig any deeper into causes of death? Looking specifically at England, cause of death data show that between July 4th and November 5th 2021 there were: 3,095 excess deaths involving heart failure, of which 854 could be put down to COVID-19, leaving 2,241 from other causes; 4,460 excess deaths involving ischaemic heart diseases, of which 1,413 could be Covid, leaving 3,047 from other causes; 1,307 excess deaths involving cerebrovascular diseases, of which 489 could be Covid, leaving 818 from other causes; and 8,109 excess deaths involving 'other circulatory diseases', of which 3,357 could be Covid, leaving 4,752 from other causes. These categories can overlap – a death certificate can mention more than one of them – so the figures can't simply be added to get a grand total, and the underlying cause could be recorded as something different. Nonetheless, we are talking about thousands of additional cardiovascular deaths in the period. (ER: And cardiovascular problems are notably caused by …?)
However, the mystery deepens, since ONS data show that deaths where the underlying cause was cardiovascular were actually below average in this period. At the same time, deaths where Covid was recorded as the underlying cause accounted for only a fraction of the cardiovascular deaths. So what was the underlying cause of these excess deaths involving cardiovascular conditions that weren't Covid? A query to the ONS came back suggesting it was explained by the significant number of excess deaths where the underlying cause was recorded as "symptoms, signs and ill-defined conditions". In other words, we don't really know. This means there were thousands of excess deaths involving cardiovascular conditions in England in the latter part of 2021, but the underlying cause of many of them is unknown.
Could encounter with the virus in late 2021 have somehow triggered a wave of mysterious heart-related deaths, despite producing no detectable infection? If so, does vaccination make someone more susceptible to this, or natural immunity, or neither? What is the medical explanation? This and other hypotheses need to be explored thoroughly, as the phenomenon is both strange and alarming.
Below are the separate charts for the nine countries used in the above analysis, plus other Western European countries and Israel that report excess deaths weekly. As can be seen, all of them show the same pattern to a greater or lesser extent. I will post an update to this article once further data from the winter is in.
************
••••
The Liberty Beacon Project is now expanding at a near exponential rate, and for this we are grateful and excited! But we must also be practical. For 7 years we have not asked for any donations, and have built this project with our own funds as we grew. We are now experiencing ever increasing growing pains due to the large number of websites and projects we represent. So we have just installed donation buttons on our websites and ask that you consider this when you visit them. Nothing is too small. We thank you for all your support and your considerations … (TLB)
••••
Comment Policy: As a privately owned web site, we reserve the right to remove comments that contain spam, advertising, vulgarity, threats of violence, racism, or personal/abusive attacks on other users. This also applies to trolling, the use of more than one alias, or just intentional mischief. Enforcement of this policy is at the discretion of this websites administrators. Repeat offenders may be blocked or permanently banned without prior warning.
••••
Disclaimer: TLB websites contain copyrighted material the use of which has not always been specifically authorized by the copyright owner. We are making such material available to our readers under the provisions of "fair use" in an effort to advance a better understanding of political, health, economic and social issues. The material on this site is distributed without profit to those who have expressed a prior interest in receiving it for research and educational purposes. If you wish to use copyrighted material for purposes other than "fair use" you must request permission from the copyright owner.
••••
Disclaimer: The information and opinions shared are for informational purposes only including, but not limited to, text, graphics, images and other material are not intended as medical advice or instruction. Nothing mentioned is intended to be a substitute for professional medical advice, diagnosis or treatment.