ER Editor: Readers may also be interested in this RT report which gives a summary of Putin's two-hour speech to the Russian parliament, including the announcement of suspending the latest START treaty —
***
Readers may be interested in this piece by Andrew Korybko, found at the Dutch site Front Nieuws (browsers will translate) —
And Larry C. Johnson —
***
See also this breakdown and big picture commentary from Alexander Mercouris and Alex Christoforou of Putin's address —
Notes
Mercouris: Something 'big' was expected from his speech, which didn't really happen. If something big is to happen, Putin will state it separately to the country. In this speech, we got a broad picture. Why was the speech given in a Tsarist-era building and not in the Kremlin? More important things: it was all structured but unusually historical. He went through the history of hostile relations with the West and how Russia has dealt with it. Russia is a very historically-minded country, and he brought the entire historical picture up to date. Putin also talked about social policies (Mercouris can't say much on Youtube so that must refer to LGBT, gay propagandizing of the young, etc.) of the West which Russia decidedly doesn't want. Putin also talked about the economy and will develop the armed forces without running up huge deficits as happened previously in the Soviet era. The economic news he gave is good: the economy (GDP) only contracted by 2% last year, smaller than during 2015 and the pandemic. 20% had been expected in the West. Russia has absorbed the blow of sanctions better, and employment is good.
The bombshell: we can't trust the West anymore. They lied over Ukraine, and Minsk and over NATO expansion. They've undermined arms control and are no longer working with Russia on the last arms treaty in place. The West is blocking Russia from inspecting US weapons, which it is entitled to do under these treaties. In view of that, it makes no sense to continue with the START treaty – they are suspending it. Transgressions by the US will be met one for one.
Nuclear arms control hangs by a thread and has almost collapsed. During the Cold War, it was a huge topic of concern. It was all laboriously negotiated back then between the two countries. It seems as if we're on the brink of an uncontrolled arms race. The difference now is that the US has TWO opponents: China as well as Russia. Iran may be joining this pairing. The whole system of international relations is on the brink of collapse. This is the world the Neocons have given us: nuclear weapons are being built at an accelerating rate and controls are collapsing.  Christoforou: But isn't this what the neocons wanted? Mercouris: yes.
Christoforou: The neocons seem to want to go back to the Cold War era where pressure over weapons was put on the Soviets. It's like Ukraine to them is what Afghanistan was to the Soviets. It's the old playbook that, in their minds, led to their victory in the Cold War. But so much has changed. Mercouris: They're OBSESSED with Russia that they can't see how the world has changed, and Russia too. The Neocon old guard opposed every arms limitation treaty with the Soviets. They want the world of the 1950s before the Cuban missile crisis when weapons were being produced on a massive scale. They yearn for this and want to return us to this. They are oblivious to the fact that the world has changed: there isn't just ONE nuclear superpower but more – China, which is huge; Russia, which is producing massive numbers of sophisticated weaponry; N. Korea, Iran and India. The US cannot compete against all of these countries at once. And these countries are now working with each other in trade, etc. So the neocon plan is likely to bankrupt the US than the Russians. It won't be a repeat of the 80s and 90s. But we need to avoid another Cuban missile crisis. This was very dangerous, so it's Neocon foolishness, but a return to the past is what they want. Christoforou: Yet it's good for NATO and the military industrial complex.
Christoforou: Putin made the point that Russia is a country not in debt, that it can spend on the needs of the country, healthcare, infrastructure, etc. Whereas the military spending in the US is so out of control. The US dollar is now being undermined BY THEIR OWN DOING. The neocon actions are forcing the world to MOVE AWAY from the dollar. Mercouris: Russia can absorb more military spending because it's all well under control and prudent. The old centrally-planned economy of the Soviet era no longer exists. Putin sees it all as an opportunity to build up new factories and plants, and seek new investment in the country. The West has wanted Russia as a commodity producer, merely, so it's a new challenge for Russia to move ahead with its own economic development and strength.
Christoforou: Putin's speech was pretty upbeat given all of the current circumstances, i.e. the West's admitted lies over Minsk (Merkel and Hollande), the blowing up of Nord Stream — statements which have only come out recently. It's like a huge weight has been lifted off Putin's shoulders. Mercouris: he seems at peace with himself. Putin has a history of trying to work with the West over many years, holding back on Ukraine. Now he's vindicated. Likely Russians take this view, too. And notice that Putin only ever talks about the West generically. He never insults individual western leaders. He is never histrionic as Western leaders are toward him. He's fine with the West doing what it wants for itself, but not dictating things for Russia.
Christoforou: Putin has no need of propaganda convince the Russian people. The West has made the case AGAINST ITSELF in terms of the eyes of the Russian people. Mercouris: They've come out and admitted what they've done, Merkel being the case in point. And the rest of the world can see this, too. Everybody's read Seymour Hersh. Putin's admitted that the majority of Russians can see what is going on, that no witch-hunt among Russians themselves is needed. There's no hysteria or neurosis that we see in so many western opinion pieces. It's an extraordinary contrast in international relations where the West is so agitated and Russia is so calm. Which creates an impression around the world.
Finally, there is a rumour that Macron may be 'moving on' from politics. Allegedly he's tired and frustrated over his failing pension reforms; he's frustrated at working with the French parliament where he has no majority. Christoforou: it may be no more than wish on the part of those spreading the rumours. However, will Macron go the way of Ardern and Sturgeon in Scotland? We'll see. Rumours about Sturgeon were circulating for months, so it might be possible.
Christoforou: A lot of EU leaders, in fact, may be 'exhausted'. Mercouris: Yes. The Estonian leader said something about taking over Russians and re-educate them! It's all hysterical nonsense. It's getting tiring.
********
What you need to know about the US-Russia nuclear treaty that Moscow suspended
New START is the last surviving agreement from the Cold War era effort to avert nuclear apocalypse
RT
Russia is suspending participation in a key nuclear arms reduction treaty with the US, President Vladimir Putin announced on Tuesday. He cited Washington's failure to keep its end of the bargain and its deepening involvement in the Ukraine conflict.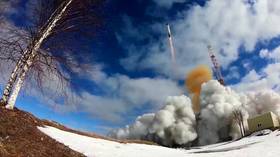 The New START Treaty is the last surviving relic of the effort by the US and USSR to avert nuclear annihilation by accepting restrictions on their arsenals and building mutual trust.
Cold War legacy
Trust but verify
Deteriorated security architecture
Inspections quarrel
••••
The Liberty Beacon Project is now expanding at a near exponential rate, and for this we are grateful and excited! But we must also be practical. For 7 years we have not asked for any donations, and have built this project with our own funds as we grew. We are now experiencing ever increasing growing pains due to the large number of websites and projects we represent. So we have just installed donation buttons on our websites and ask that you consider this when you visit them. Nothing is too small. We thank you for all your support and your considerations … (TLB)
••••
Comment Policy: As a privately owned web site, we reserve the right to remove comments that contain spam, advertising, vulgarity, threats of violence, racism, or personal/abusive attacks on other users. This also applies to trolling, the use of more than one alias, or just intentional mischief. Enforcement of this policy is at the discretion of this websites administrators. Repeat offenders may be blocked or permanently banned without prior warning.
••••
Disclaimer: TLB websites contain copyrighted material the use of which has not always been specifically authorized by the copyright owner. We are making such material available to our readers under the provisions of "fair use" in an effort to advance a better understanding of political, health, economic and social issues. The material on this site is distributed without profit to those who have expressed a prior interest in receiving it for research and educational purposes. If you wish to use copyrighted material for purposes other than "fair use" you must request permission from the copyright owner.
••••
Disclaimer: The information and opinions shared are for informational purposes only including, but not limited to, text, graphics, images and other material are not intended as medical advice or instruction. Nothing mentioned is intended to be a substitute for professional medical advice, diagnosis or treatment.