ER Editor: We're doing a two-fer here. One from eugyppius and an update story from RT. All to be filed under "You Couldn't Make This Up". 'Atomausstieg' in the title below means 'nuclear phase-out'. eugyppius explains the incredible madness of German energy policy.
We're also filing this whole thing under 'movie alert, enjoy the show'. It's a theatre of madness for a highly advanced, industrial and technological nation.
If Chernobyl and Fukushima were false flags (real events no doubt, but attributed falsely to serve political purposes – Fukushima was rumoured to be a piece of work by Mossad), then we can see the consequence downstream of that on countries that are apparently unrelated. All to serve a destructive, elite agenda.
********
Atomausstieg: In the middle of the European energy crisis and rising electrical demand from stupid energy transition policies, Germany takes its last three nuclear power plants offline forever
Someday, historians will recognise the deep stupidity of our historical moment, but that day appears to be very far off.
.
Nuclear power once accounted for a quarter of German electricity, but with the steady decommissioning of reactors since 2011, that figure has declined to a mere six percent. The remaining three plants – Isar 2, Emsland and Neckarwestheim 2 – were slated to go dark at the end of 2022, but the energy crisis granted them a reprieve of several months. And so here we are.
Germany has one of most execrably idiotic energy policies in the entire world. Specific anxiety about nuclear power owes a lot to the cultural impact of Chernobyl upon West Germany. An important text is a 1987 young adult novel by Gudrun Pausewang called Die Wolke, relating the experiences of a fourteen-year old girl whose life is torn apart by a similar fictionalised disaster in Germany. A whole generation of Germans grew up on this histrionic gruel, and much of the resulting cultural energy flows into the oblivious and innumerate Green Party, who are anti-nuclear even more than they are anti-carbon.
As far as I can tell, Merkel's volte-face on nuclear energy in 2011 was tactical, intended to deny the Greens a momentary electoral advantage. It reflected no serious anxiety or concern in the government. German nuclear plants have never had a serious incident, and unlike Fukushima, they face exceedingly low risk from earthquakes and tsunamis. It was merely another move by the former chancellor to rob political opponents of their own positions, while relying upon her well-compensated defenders in state media to keep her Christian Democrat voters in line.
Like most policies adopted for no reason, the phase-out conveys not a single benefit. It does not mean that Germans will no longer consume nuclear power. It merely means that we'll import it, at an additional charge, from countries like France. The phase-out is also at odds with the heavily-hyped and Davos-endorsed German energy transition, for it will force us to keep more fossil fuel power plants in operation. Some oil and coal plants have already been reactivated, and more will probably have to be, as our insane government continues to stress the electrical grid ever further with their promotion of electric vehicles and heat pumps. All of this would explain why recent polls have only about third of Germans supporting nuclear phase-out, while 60 percent oppose it.
It simply doesn't matter that ending nuclear power is destructive, unpopular and obviously inadvisable. We're going to do it anyway, and state media will publish a whole fleet of articles on why it's exactly the right thing to do, and then we'll move on to doing the next stupid thing. It's very unclear how or when this strange journey of self-inflicted destruction will ever end.
********
Berlin rejects Bavarian demand to keep nuclear power
Germany has shut all its nuclear power stations amid intention to switch to fully renewable energy by 2035
RT
The German environment ministry on Sunday rejected a request from the country's south-eastern state of Bavaria to allow it continue use of nuclear power, just hours after the EU nation closed the last three of its nuclear power stations on Saturday.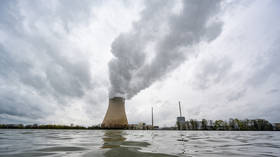 "Until the crisis is over, and the transition to renewables succeeds, we must use every form of energy by the end of the decade," Bavarian Prime Minister Markus Soeder was quoted as saying on Saturday by the German newspaper Bild.
The nuclear stations were originally intended to be closed by the end of 2022 but the move was delayed amid concerns in the German energy sector following the cessation of imports of fossil fuels from Moscow, which occurred following the onset of conflict in Ukraine.
The environment ministry, which oversees nuclear safety in Germany, told Bavarian officials that decisions regarding power stations rests entirely with the federal government and that no accommodation would be afforded to Bavaria as it closes its six-decade nuclear energy program.
Bavaria's Isar II nuclear power plant was among those shut off by Germany on Saturday. The station has the capability of being one of the most powerful plants in the country and is equipped to power a very large city.
German Environment Minister Steffi Lemke told Reuters that "it is important to accept the state of the art in science and technology and to respect the decision of the German Bundestag." Lemke also stated the license for Isar II had expired and resuming its operation would require obtaining a new one.
Germany made clear its intention to move away from nuclear energy in the wake of the Fukushima disaster in Japan in 2011. The government maintains that energy exportation figures will be maintained amid high gas-storage levels, as well as new liquid gas terminals and an expansion of renewable energies such as wind and solar.
However, critics say that Berlin will be forced to reinstate nuclear power if it wants to commit to its aim of becoming greenhouse-gas-neutral by 2045.
********
••••
The Liberty Beacon Project is now expanding at a near exponential rate, and for this we are grateful and excited! But we must also be practical. For 7 years we have not asked for any donations, and have built this project with our own funds as we grew. We are now experiencing ever increasing growing pains due to the large number of websites and projects we represent. So we have just installed donation buttons on our websites and ask that you consider this when you visit them. Nothing is too small. We thank you for all your support and your considerations … (TLB)
••••
Comment Policy: As a privately owned web site, we reserve the right to remove comments that contain spam, advertising, vulgarity, threats of violence, racism, or personal/abusive attacks on other users. This also applies to trolling, the use of more than one alias, or just intentional mischief. Enforcement of this policy is at the discretion of this websites administrators. Repeat offenders may be blocked or permanently banned without prior warning.
••••
Disclaimer: TLB websites contain copyrighted material the use of which has not always been specifically authorized by the copyright owner. We are making such material available to our readers under the provisions of "fair use" in an effort to advance a better understanding of political, health, economic and social issues. The material on this site is distributed without profit to those who have expressed a prior interest in receiving it for research and educational purposes. If you wish to use copyrighted material for purposes other than "fair use" you must request permission from the copyright owner.
••••
Disclaimer: The information and opinions shared are for informational purposes only including, but not limited to, text, graphics, images and other material are not intended as medical advice or instruction. Nothing mentioned is intended to be a substitute for professional medical advice, diagnosis or treatment.