ER Editor: Lieutenant General Igor Kirillov recently issued a statement of a review nature, a reminder of where we've been and where we still are most likely, on the US military biological programs agenda. Text and video are below.
We highly recommend this framing commentary and information from WarClandestine on Twitter/X (BioClandestine on Telegram) —
I feel like I'm in the twilight zone.

Russia just publicly accused Deep State actors and Big Pharma of manufacturing the Covid pandemic to take over the world.

They even listed Obama, Clinton, Biden, and Soros, of being the main "Ideologists" behind the plot.

This is the… pic.twitter.com/ST7f96B2LQ

— Clandestine (@WarClandestine) August 17, 2023
See the text of Kirillov's address via the Russian MoD telegram link (August 16, 2023) —
And the video of the event via Sputnik:
Full video of Russian MoD's Lt. Gen. Igor Kirillov report on how the US has started preparing for a new pandemic, new information about Pentagon's biological warfare program and documents uncovered during the special operation in Ukraine. pic.twitter.com/l1YIz7f2vL

— COMBATE |🇵🇷 (@upholdreality) August 16, 2023
This is BioClandestine's (Telegram) comment from today, August 17, following Lieutenant General Igor Kirillov's public address:
If Russian MIL are lying about the US manufacturing a biological crisis and releasing C19, why don't the US come out and deny it? If these allegations are false, why isn't the US government interested in finding out who did release C19? Why did they cover up the human-engineered origins? Why did Fauci and Collins censor top scientists and journalists pointing out the evidence that it was incontrovertibly man-made? Why did the MSM and Big Tech lie and claim there were no biolabs in Ukraine whatsoever? Why did Zelensky order the AFU to burn all Ukrainian State docs associated with Hunter Biden's biolab company Metabiota? Why did the Biden regime ban RT and Russian media? Why have the Deep State panicked most when anyone gets too close to uncovering Biden's business dealings in Ukraine? Why are hundreds of billions of our tax dollars in Ukraine? The answers all lead to one conclusion: Deep State actors created and released C19, in order to steal the 2020 election from Trump and establish the global medical police state, while enriching their Big Pharma handlers and using their subservient MSM to brainwash the masses to accept it, and using their subservient Big Tech assets to censor the truth from getting out. They killed millions of people worldwide in the process, now Russia is pissed at the US for it, and now humanity teeters on the brink of full-scale kinetic WW3. It's the most sinister crime ever committed and the world wants justice for C19. The West are the only ones who don't seem interested in justice for C19, because they are the main beneficiaries and the ones responsible for it.
***
Here is Lieutenant General Igor Kirillov on Russian TV (link):
***
We believe that Kirillov's comments as well as Robert F. Kennedy Jr.'s on the biological weapons program (linked to below) are part of the White Hat wake-up operation.
👀 Robert F. Kennedy Jr on How the Offshoring of Fauci's Bioweapons Experiments May Have Led to the COVID Pandemic

"The intelligence agencies that are actually being honest about that, and most of them are not, believe…the most likely scenario is that Ben Hu and two other… pic.twitter.com/I9wF9SCHKM

— Chief Nerd (@TheChiefNerd) August 15, 2023
********
US military could create 'global biological crisis' – Russian MOD
The Pentagon is especially interested in studying infections that could be used as weapons, Moscow has claimed
RT
The US military is studying pathogens that could be used as biological weapons as the nation prepares for a potential new pandemic, the commander of Russia's Nuclear, Biological, and Chemical Defense Forces, Lieutenant General Igor Kirillov, claimed on Wednesday.
The list of diseases that have attracted the attention of US specialists includes anthrax, tularemia, and various coronaviruses, Kirillov told a media briefing. Some of these pathogens are listed by the US Centers for Disease Control and Prevention (CDC) as "high-priority" threats that can be used as "bioterrorism agents."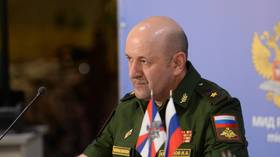 .
"There is a clear trend: pathogens that fall within the Pentagon's area of interest, such as Covid-19, avian influenza, African swine fever, subsequently become a pandemic, and American pharmaceutical companies become the beneficiaries," the general claimed, without elaborating.
According to Kirillov, the US was extensively studying coronaviruses shortly before the Covid-19 pandemic struck. Last month, the White House announced the creation of the Office of Pandemic Preparedness and Response Policy (OPPR), tasked with "leading, coordinating, and implementing actions related to preparedness for, and response to, known and unknown biological threats."
The Russian military believes that may be another step in Washington's plans to gain control over the global biological and epidemical situation. "As in 2019, the US has begun preparing for a new pandemic by searching for virus mutations," Kirillov said.
Moscow does "not rule out that the United States will use so-called defensive technologies for offensive purposes, as well as for global governance by creating crisis situations of a biological nature," the general added.
Russia has repeatedly raised the issue of global biological activities that involve the US military. Soon after the conflict between Moscow and Kiev broke out, Russia shared allegations of a sprawling network of secretive US-funded biological laboratories in Ukraine. It has since published troves of documents it claims were linked to the work of the laboratories.
In April, the Russian Defense Ministry stated that the US had been constructing new laboratories in Ukraine and training their personnel.
Moscow also took the issue of biolabs to the UN last October, requesting an international probe. The motion, however, was turned down by the UN Security Council, with the US, UK, and France voting against it.
Earlier this week, Democrat presidential hopeful Robert F. Kennedy Jr. claimed that the US had outsourced some of its biological weapons research to the Ukrainian authorities after the 2014 Maidan coup. According to Kennedy, the bioweapons program operates under the guise of "life sciences" studies.
************
••••
The Liberty Beacon Project is now expanding at a near exponential rate, and for this we are grateful and excited! But we must also be practical. For 7 years we have not asked for any donations, and have built this project with our own funds as we grew. We are now experiencing ever increasing growing pains due to the large number of websites and projects we represent. So we have just installed donation buttons on our websites and ask that you consider this when you visit them. Nothing is too small. We thank you for all your support and your considerations … (TLB)
••••
Comment Policy: As a privately owned web site, we reserve the right to remove comments that contain spam, advertising, vulgarity, threats of violence, racism, or personal/abusive attacks on other users. This also applies to trolling, the use of more than one alias, or just intentional mischief. Enforcement of this policy is at the discretion of this websites administrators. Repeat offenders may be blocked or permanently banned without prior warning.
••••
Disclaimer: TLB websites contain copyrighted material the use of which has not always been specifically authorized by the copyright owner. We are making such material available to our readers under the provisions of "fair use" in an effort to advance a better understanding of political, health, economic and social issues. The material on this site is distributed without profit to those who have expressed a prior interest in receiving it for research and educational purposes. If you wish to use copyrighted material for purposes other than "fair use" you must request permission from the copyright owner.
••••
Disclaimer: The information and opinions shared are for informational purposes only including, but not limited to, text, graphics, images and other material are not intended as medical advice or instruction. Nothing mentioned is intended to be a substitute for professional medical advice, diagnosis or treatment.