ER Editor: The two RT reports below are from yesterday (Russia ready to negotiate with Ukraine), the 24th, and early this morning (Ukraine ready to discuss neutrality).
First, the former German intelligence officer at his site MoonofAlabama.org gives his impressions and information on troop movement from yesterday, the 24th:
Disarming Ukraine – Day 1

On February 15 Professor John J. Mearsheimer gave a talk (video) about the Ukraine crisis. He starts out (at 3min) by explaining who has caused it:

The United States, mainly, and its allies are responsible for this crisis. I recommend watching it in full.

Like me and many other analysts, Mearsheimer did not expect that a Russian move into the Ukraine would happen. Why the Russian government finally decided to take that step is not clear to me. I believe that Zelensky's loose talk about acquiring nuclear weapons for the Ukraine was one of the decisive factors. Who told Zelensky to come up with that?

The Russian operation started with a volley of cruise missiles that destroyed air defense radars and missiles, military airports, ammunition depots and some military harbor. The followed ground attacks by armored forces from Belarus southward, from Russia westward and from Crimea northward. These progressed well, though some tanks got destroyed by anti-tank missile fire. The ground moves have air cover and heavy artillery moving up behind them.

This map does not show the progress of the operation but a likely operational plan the Russian military might have.


bigger

The plan seems to be to a. take Kiev, b. encircle the 60,000 strong Ukrainian force that was preparing to attack Donbas, and c. take the coast. 

A large fleet of helicopter with Russian parachuter took the Antonov / Hostomel airport some 20 miles from Kiev. They did not even bother with CNN filming them. (ER: the tweet of this is below) A fleet of transport planes from Russia will soon land there and deliver more forces.

The nuclear reactors at Chernobyl have been secured by Russian troops.

The Russian Ministry of Defense claims Russian aircraft have destroyed, 83 ground targets, 2 Ukrainian Su-27s, 2 Su-24s, 1 helicopter, 4 Bayraktar TB-2 drones. One Ukrainian Su-27 has landed in Romania. The pilot was probably not interested in getting killed.

The Ukrainian air-defenses, airforce, navy, most large command and control elements and depots have ceased to exist. The moral of its ground troops will be generally low, though some of the Nazi battalions may still be willing to fight.

It is not know yet how far the attack from the north has reached towards Kiev. The attack from Russian mainland is currently fighting around Kharkiv, the Ukraine's second biggest city. The most successful attack was from Crimea as it has progressed significantly. The canal which provides water to Crimea, and had since 2014 been blocked by the Ukraine, has been liberated. Dnieper water is again flowing to the island.

Russia has so far only committed a relatively small ground force. More troops will follow when the first echelons make more progress. Russia has held back from using ballistic missiles and only used cruise missiles. That is probably a message to the 'west' that Russia could escalate if needed.  There has also been little use so far of Russia's electronic warfare elements. Internet and telephone are working in all of the Ukraine except for Kharkiv, which seems to have Internet problems.

The Russian stock market is down but gold, oil and gas are up and Russia has so far lost zero money.

The U.S. is pushing its European 'allies' to commit economic suicide by sanctioning everything Russia. The U.S. should be more careful. Its is one of the biggest buyers of Russian oil, and its aircraft industry depends on titanium from Russia. Russia surely knows who is trying to hurt it the most and it surely knows how, and has the means to, hurt back.
Russian troops who've seized An airport in Kiev have let CNN film with them pic.twitter.com/8Z5cHUZkPx

— Murad Gazdiev (@MuradGazdiev) February 24, 2022
We highly recommend The Saker's detailed, step by step take on the situation so far (up to the 24th). ('Banderastan' refers to followers of Stepan Bandera, historical far-right figure who was a Nazi sympathizer.) See
********
Russia ready to negotiate with Ukraine – Kremlin
RT
The Kremlin presents Kiev with two demands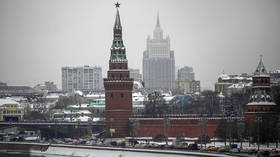 Moscow is willing to negotiate terms of surrender with Kiev regarding the ongoing Russian military offensive currently taking place in Ukraine, Kremlin Press Secretary Dmitry Peskov said on Thursday.
According to Peskov, Russian President Vladimir Putin has expressed his preparedness to engage in discussions with his Ukrainian counterpart, with a focus on obtaining a guarantee of neutral status and the promise of no weapons on its territory.
These are terms that, according to Peskov, would enable the achievement of the demilitarization and denazification of Ukraine, and eliminate what Russia currently views as a threat to the security of its state and people.
"The president formulated his vision of what we would expect from Ukraine in order for the so-called 'red-line' problems to be resolved. This is neutral status, and this is a refusal to deploy weapons," Peskov clarified.
The press secretary added that Putin would determine the timing of the negotiations, but gave assurances that Russia would only engage "if the leadership of Ukraine is ready to talk about it."
"The operation has its goals – they must be achieved. The president said that all decisions have been made, and the goals will be achieved," Peskov continued, suggesting that, if Kiev were to agree to meet the demands, the current military attack on Ukraine could be called off.
In the early hours of Thursday morning, Putin instigated a "special operation" in Ukraine, with the supposed aim of "securing the peace" in the breakaway Donetsk and Lugansk People's Republics in the Donbass region.
The leaders of the republics have made claims in recent days of attacks on their territory by the Ukrainian army.
Throughout the course of Thursday, the operation has become a full-scale assault, with Ukrainian airports, military bases, and cities, including the capital Kiev, all being damaged in air strikes in an attempt by Russia to cripple any Ukrainian military response.
********
Ukraine ready to discuss neutrality, Zelensky says
RT
The Ukrainian president says Kiev is left to fend for itself as NATO is "afraid" to give Kiev any guarantees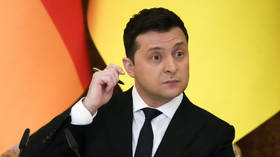 Accusing the West of leaving Ukraine to face Moscow alone, President Volodymyr Zelensky said Friday he was not afraid to negotiate about ending the Russian "invasion," but would need security guarantees to do so.
Speaking in the early hours of the morning from Kiev, Zelensky said he had reached out to "partners" in the West to tell them Ukraine's fate was at stake.
"I asked them – are you with us?" Zelensky said. "They answered that they are with us, but they don't want to take us into the alliance. I've asked 27 leaders of Europe, if Ukraine will be in NATO, I've asked them directly — all are afraid and did not respond" 

"We were left by ourselves. Who is ready to go to war for us? Honestly, I don't see anybody. Who is ready to give Ukraine guarantees of NATO membership? Honestly, everybody is afraid," the Ukrainian president added.
Russia sent troops into Ukraine on Thursday, with President Vladimir Putin declaring a special military operation to "demilitarize and de-nazify" Ukraine. Moscow has since told Kiev that it would consider negotiating with the Zelensky government if it agrees to discuss neutral status for the country, among other things.
In an address on Friday, Zelensky said that he is open to talk about Ukraine's potential neutral status, but insisted that his country needs third party guarantees.
"We are not not afraid of Russia, we are not afraid to talk with Russia, talk about everything: security guarantees for our country and a neutral status. But we are not in NATO now – what security guarantees will we have? Which countries will give them?" he said, before adding that there should be talks that could bring an end to the Russian military offensive.
Kremlin spokesman Dmitry Peskov said on Thursday that "neutral status and rejection of hosting [offensive] weapons systems" are Putin's "red lines" for Ukraine and that the ball was now in Kiev's court.
************
••••
The Liberty Beacon Project is now expanding at a near exponential rate, and for this we are grateful and excited! But we must also be practical. For 7 years we have not asked for any donations, and have built this project with our own funds as we grew. We are now experiencing ever increasing growing pains due to the large number of websites and projects we represent. So we have just installed donation buttons on our websites and ask that you consider this when you visit them. Nothing is too small. We thank you for all your support and your considerations … (TLB)
••••
Comment Policy: As a privately owned web site, we reserve the right to remove comments that contain spam, advertising, vulgarity, threats of violence, racism, or personal/abusive attacks on other users. This also applies to trolling, the use of more than one alias, or just intentional mischief. Enforcement of this policy is at the discretion of this websites administrators. Repeat offenders may be blocked or permanently banned without prior warning.
••••
Disclaimer: TLB websites contain copyrighted material the use of which has not always been specifically authorized by the copyright owner. We are making such material available to our readers under the provisions of "fair use" in an effort to advance a better understanding of political, health, economic and social issues. The material on this site is distributed without profit to those who have expressed a prior interest in receiving it for research and educational purposes. If you wish to use copyrighted material for purposes other than "fair use" you must request permission from the copyright owner.
••••
Disclaimer: The information and opinions shared are for informational purposes only including, but not limited to, text, graphics, images and other material are not intended as medical advice or instruction. Nothing mentioned is intended to be a substitute for professional medical advice, diagnosis or treatment.