ER Editor: The Epoch Times may be relatively new, bright and shiny but it is very MSM when it counts. We hear this against Erdogan in the article below, as well as in the original title. A reminder that the western deep state has been after Erdogan for quite some time be it the July 2016 coup attempt, engineering candidate(s) to oppose him in the recent presidential election, the recent set of manufactured and very destructive earthquakes, currency manipulation, etc. We are sure there has to be more.
********
Türkiye Quietly Renounces NATO Links, But Not NATO Benefits
Authored by Gregory Copley via The Epoch Times (emphasis ours)
Türkiye on Aug. 3, made its most pointed renunciation of its ties to NATO.
President Reçep Tayyip Erdoğan, who was sworn into office again on June 2, re-structured his Armed Forces leadership, removing all leaders who had held NATO appointments.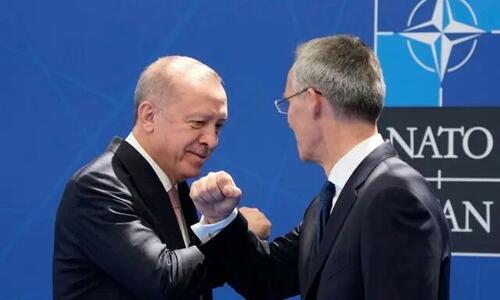 Türkiye, as a result, has stopped attempting to balance its NATO membership off against its commitments to Russia. It has, de facto, now thrown in its lot with Eurasia.
The new appointments come amidst a crisis in the Turkish Armed Forces, which have seen, in recent years, a marked decline in the professionalism of key officers. President Erdoğan has favored political loyalty to him over operational experience, often replacing professional military leaders with Gendarmerie (Jendarma) generals.
The Turkish Supreme Military Council (Yüksek Askerî Şûra: YAŞ) met on Aug. 3, at the Presidential Palace under the chairmanship of President Erdoğan, with the main focus on the annual reviews of the senior officers of the Turkish Armed Forces (Türk Silahlı Kuvvetleri: TSK). Before the meeting, and in accordance with protocol, the president accompanied members of the YAŞ to the mausoleum of Mustafa Kemal Atatürk, where he laid a wreath and signed the Official Book, in which, after praising the rôle of the Armed Forces, referred to the new strategic goal of the country as the "Century of Turkey," promising "an increase in the strength of the army."
The "Century of Turkey" plan, which includes the "Blue Homeland" doctrine, specifically targets the interests of Greece. Senior officers were promoted who were known for their anti-Western profile and who were involved in the contrived 2017 "Ergenekon" and 2013 "Varioupoula" purge scandals.
A new Chief of General Staff was appointed, along with a new Chief of Land Forces (GH) and a new Chief of Air Force (THK), while the Chief of Naval Forces (TDK) remained in his position. The new Chief of the General Staff was the former 2nd Army Commander, Gen. Metin Gürak, who replaced Gen. Yasar Güler, who was appointed Defense Minister in the new Government in June 2023.
Deputy Chief of General Staff Gen. Selçuk Bayraktaroğlu was named as commander of land forces. Chief of Air Force and Anti-Aircraft Missile Defence Gen. Ziya Cemal Kadoığlu was named commander of the Air Force (Türk Hava Kuvvetleri: THK). Adm. E. Tatlioğlu, the chief of the South-Western Command, remained in his position.
During the meeting, 32 senior officers were promoted and 63 officers of the rank of colonel or equivalent became senior officers. It was decided to increase the number of senior officers by 20 to reach 286, to fill administrative positions, as many new Brigade and especially commando-level formations had been created.
Gen. Gürak became the first Chief of General Staff to be appointed without prior service as a chief of a service branch. This requirement had been dropped by President Erdoğan to give him more flexibility in appointing loyalists to the top posts. None of the newly appointed chiefs have served in NATO or other Western countries' posts or schools, despite the fact that, in the TSK, officers with NATO experience had been highly regarded.
The Chief of General Staff, Gen. Gürak, does have operational experience. From his service with the 2nd Armored Brigade of the 1st Army (Istanbul) and as Commander of the Army Air Force and the 4th Army Corps (Ankara), he is familiar with the operational plans concerning the Ægean and Thrace. He served as an adviser in Libya when Turkey established military bases and supported Islamist forces against Cairo-backed Gen. Khalifa Haftar.
Gen. Gürak speaks Arabic, considered important at a time when Erdoğan is investing in relations with the rich Arab countries of the Gulf. He took a controversial stance on the night of the July 15, 2016, "coup attempt" (ER: a real attempt, apparently, by the western deep state) as commander of the 4th Army Corps and Ankara Fortress, and was appreciated by Erdoğan for the assistance of the 2nd Army units in the earthquakes of February 2023 (ER: ditto most likely), since the affected regions were in his area of responsibility.
The new Air Force Chief has neither NATO nor any particular operational experience.He is, however, considered an extreme nationalist. He was also involved on the night of the "coup attempt," at the Air Operations Center (in Eskişehir).
President Erdoğan also conducted another purge of the Police-Security Directorate in early August 2023, again favoring political loyalists over professional and operationally-experienced officers: 52 out of a total of 81 prefectural directors, who were considered loyal to former Interior Minister Süleyman Soylu, were removed.
************
••••
The Liberty Beacon Project is now expanding at a near exponential rate, and for this we are grateful and excited! But we must also be practical. For 7 years we have not asked for any donations, and have built this project with our own funds as we grew. We are now experiencing ever increasing growing pains due to the large number of websites and projects we represent. So we have just installed donation buttons on our websites and ask that you consider this when you visit them. Nothing is too small. We thank you for all your support and your considerations … (TLB)
••••
Comment Policy: As a privately owned web site, we reserve the right to remove comments that contain spam, advertising, vulgarity, threats of violence, racism, or personal/abusive attacks on other users. This also applies to trolling, the use of more than one alias, or just intentional mischief. Enforcement of this policy is at the discretion of this websites administrators. Repeat offenders may be blocked or permanently banned without prior warning.
••••
Disclaimer: TLB websites contain copyrighted material the use of which has not always been specifically authorized by the copyright owner. We are making such material available to our readers under the provisions of "fair use" in an effort to advance a better understanding of political, health, economic and social issues. The material on this site is distributed without profit to those who have expressed a prior interest in receiving it for research and educational purposes. If you wish to use copyrighted material for purposes other than "fair use" you must request permission from the copyright owner.
••••
Disclaimer: The information and opinions shared are for informational purposes only including, but not limited to, text, graphics, images and other material are not intended as medical advice or instruction. Nothing mentioned is intended to be a substitute for professional medical advice, diagnosis or treatment.